With the x570 being the latest to join the AMD x-series of motherboard chipset even the entry-level boards are way above the average for a cheap gaming motherboard.
Nevertheless, since some of you might want an x570 I rounded a few of the cheapest options, and that's what you'll find on this best budget x570 motherboard piece.  
Product Roundup
|   | Motherboard | Form Factor | CPU slot | Expansion Slots | Storage | Ports (Rear Panel) | RAM | Price  |
| --- | --- | --- | --- | --- | --- | --- | --- | --- |
| | ASUS AM4 TUF Faming x570 - Plus | ATX | 2nd and 3rd Gen AMD RYZEN | 2 PCle x16 | 2 PCle x1 | 2 x M.2 | 8 x SATA3 | 1 x HDMI & DisplayPort | 1 x PS/2 | 4 x USB 3.2 Gen 1 | 1 x USB 3.2 Gen 2 Type C | 2 x USB 3.2 Gen 2 Type A | 1 x LAN | 5 x Audio Jacks | 4 x DDR4 (Max 128GB) | CHECK PRICE |
| | ASRock X570M Pro4 | Micro-ATX | 2nd and 3rd Gen AMD RYZEN | 2 PCle x16 | 1 PCle x1 | 2 x M.2 | 8 x SATA3 | 1 x HDMI & DisplayPort | 1 x PS/2 | 6 x USB 3.2 Gen 1 | 1 x USB 3.2 Gen 2 Type C | 1 x USB 3.2 Gen 2 Type A | 1 x LAN | 3 x Audio Jacks | 4 x DDR4 (Max 128GB) | Check Price |
| | ASUS Prime X570-P | ATX | 2nd and 3rd Gen AMD RYZEN | 2 PCle x 16 | 3 PCle x1 | 2 x M.2 | 6 x SATA3 | 1 x HDMI | 1 x PS/2 | 2 x USB 2.0 | 2 x USB 3.2 Gen 1 Type A | 4 x USB 3.2 Gen 2 Type A | 1 x LAN | 3 x Audio Jacks | 4 x DDR4 (Max 128GB) | CHECK PRICE |
| | MSI MPG x570 Gaming Plus | ATX | 2nd and 3rd Gen AMD RYZEN | 2 PCle x 16 | 3 PCle x1 | 2 x M.2 | 6 x SATA3 | 1 x HDMI | 1 x PS/2 | 2 x USB 2.0 | 4 x USB 3.2 Gen 1 Type A | 1 x USB 3.2 Gen 2 Type A | 1 x USB 3.2 Gen 2 Type C | 1 x LAN | 3 x Audio Jacks | 4 x DDR4 (Max 128GB) | CHECK PRICE |
| | GIGABYTE X570 Gaming X | ATX | 2nd and 3rd Gen AMD RYZEN | 3 PCle x16 | 3 PCle x1 | 2 x M.2 | 6 x SATA3 | 1 x HDMI | 2 x PS/2 | 2 x USB 2.0 | 4 x USB 3.2 Gen 1 Type A | 1 x LAN | 3 x Audio Jacks | 4 x DDR4 (Max 128GB) | CHECK PRICE |
Product Reviews
This in my opinion is the most popular and best value x570 motherboard in the market right now. The Wi-Fi variant is a tad bit expensive and since we are on a budget, I'm covering the non-Wi-Fi version.
The board has good VRM's for overclocking 2nd and 3rd Gen RYZEN processors. You also get ample RAM capacity with 4 DDR4 slots with a maximum of 128GB. In terms of storage, the device offers 8 SATA 3 slots and 2 M.2 slots for SSDs.
Out of the 2 PCle x16 slots, one runs at an x8 speed while the other runs in x16 mode.
The only x570 micro ATX motherboard on our list comes from ASRock.
For a budget price getting a micro-atx board is hard and you don't have that many options. So naturally, this is in my opinion the best micro-atx motherboard below $200.
You can overclock this perfectly with the RYZEN 7 3700X and 3800X. You can try using it with the 3900X but without overclocking that is.
The boards support a maximum of 128GB spread across 4 DDR4 slots, 8 SATA 3, and 2 M.2 slots out of which you get armor on one of the slots.
The giant VRM heatsink is an impressive feature of this motherboard.
The cheapest x570 motherboard on our roundup comes from ASUS.
All the boards on our roundup support 2nd and 3rd Gen with overclocking up to a certain processor and the rest works on the stock clock.
The board's heat management is top-notch for its price. The heatsink easily manages the heat from high AMD CPUs along with the heat from the fast PCle 4.0.
You get 2 M.2 slots, 6 SATA 3, and again a max RAM capacity of 128GB divided amongst 4 DDRR4 slots.
The design is quite flashy with ASUS Aura Sync support allowing you to control the RGB headers.
A gaming topic wouldn't be complete without a product from MSI.
The MPG x570 Gaming Plus is the budget version younger brother of the MSI Gaming Edge motherboard.
Like all the other boards on our roundup, this too supports 2nd and 3rd gen AMD RYZEN processors and has 4 DDR4 slots @ 4400MHz giving a maximum of 128GB. The board has 2 PCle x 16 and 2 PCle x 1 slots along with 2 M.2 and 6 SATA-3 slots.
Like the ASUS Aura Sync, MSI has their own Mystic light support which lets you customize the RGB headers and also add light strips.
GIGABYTE is another brand we can't miss out on and the x570 Gaming X is probably GIGABYTE's cheapest motherboard with x570 chipset in the market right now.
This too supports all 2nd and 3rd Gen RYZEN CPUs and also PCle 4.0 like all the other boards on our roundup.
The board has 2 M.2 and 6 SATA 3 slots similar to the MSI and also 4 DDR4 RAM slots.
It has the highest number of expansion slots on our roundup with 3 PCle x 16 and x1 slots. One of the x16 slots run in the x4 mood, one in the x8 mood while the other one runs at an x16 speed.
Related Posts:
Motherboard Buying Guide
Usually, we tend to emphasize more on the GPU and CPU and not pay enough attention to the motherboard which holds all these components and provides the interface for them to run.
The size of the motherboard will decide the size of your build and the number of components you can fit in, and the CPU socket will dictate the type of CPU. The CPU and GPU must be compatible with not only each other but also the motherboard.
Just like GPU's, the main chipset will be either from INTEL or AMD and the various features will depend on the board manufacturer. You can get the same chipset from different manufacturers for two different prices due to the difference in features.
So, let's get into a few basics to consider before making your decision.
Budget
Motherboards can start from as low as $50 and go over $500 for premium builds. Let me give you a breakdown of what you can get at different budgets.
For around $100 or less you can get decent motherboards that are capable of overclocking with build-in AMD chips. The AMD B450 is a good chipset to look out for in this range.
On the other hand, when it comes to INTEL, you'll have a hard time getting an overclockable motherboard at this price range. You can find some INTEL 300-series chipsets in for this price.
For this price range, you'll get various features but for onboard Wi-Fi, you'll have to move towards the higher end of the budget.
For around $150 or less you'll start seeing more INTEL chipsets that able to overclock but with AMD you'll already start having high-end choices like the X470 and much better features.
For $200 or less the features and the types of ports take a substantial jump. The motherboards will look fancier with RGB lights, bigger heatsinks, and much more. The AMD x570 which we will be reviewing today will start around this range.
Going above this price range you'll find the top end chipsets like the INTEL Z490 with so many features that are not needed sometimes.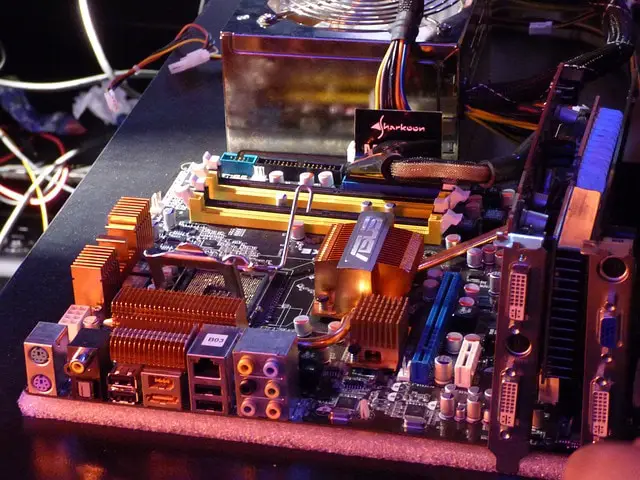 Type of CPU
Even though the motherboard is the first thing that goes into the PC during the build don't start deciding from which motherboard to pick from. Instead, take a top-down approach and start from which CPU you want in your build.
Why do I say this?
Because the type of CPU you want to use narrows down the motherboard options for you. This is because the CPU socket on the board will only work with the processor chip is was made for.
For example, if you were looking at an INTEL 10-gen processor then you'll need a board with an LGA 1200 socket.
This socket matching job is much easier when it comes to AMD processors because they have stuck to the same AM4 socket for all of their mainstream processors but there might be an issue with installing new gen CPUs on older motherboards.
Sometimes a BIOS update does the job but it's just sometimes so you shouldn't gamble on this and get an up to date CPU and motherboard.
INTEL always switches up their socket from one generation to another and is quite annoying to keep up with it.
Ports and Slots
First up are the RAM slots.
Usually, you'll find around 4 RAM slots in most mainstream motherboards these days while the smaller boards (See Size factor) will only have 2. The HEDT supporting boards with have 8. This isn't something you should pay attention to much because a 16GB capacity is more than enough for gaming and it can easily be installed using 2 slots.
The other type of slots we have is the expansion slots used for storage devices and graphics cards.
Most mainstream motherboards will have a minimum of 1 x16 slot and around 2 x1 slots. This is more than enough if you plan on just installing a single graphics card and some storage drives. The problem arises when you try to load the motherboard with components because even if you have plenty of slots available there is a limited bandwidth limitation.
To open up one slot another slot might switch off. This bandwidth depends on the model and you should check this before deciding on the number of components you want to install.   
The input/output area is where all the ports are present, and it dictates the number of USB, HDMI, and other ports your PC will have.
Look out of USB 3.1 Gen 2 ports, these ports are much faster than the popular USB 3.1 Gen 1 ports, but not may devices support this yet.
Size Factor
Now this will decide the number of ports, slots, and most importantly the size of your PC build. There are 3 main types of form factors,
I'm sure most of you are probably thanking the heavens for how limited this choice is compared to all the other factors above.
Motherboards often are found in ATX, Micro-ATX, and Mini-ITX. Here is an image which gives you a better idea of the dimensions.

With that, we come to the end of our read on the cheapest x570 motherboards out there. We hope you learned something new from our guide.
All in all, the choice should be based on your needs rather than the budget so make sure to look at all the specifications and remember not to pay for unnecessary features.