The 3700x and 3800x belong to the latest generation of Ryzen processors, boasting higher power efficiency and clock speeds. As a result, they're well-suited for high-end gaming, video editing and 3D modeling PC builds where they may be overclocked often.
Furthermore, both come with 8 cores and 16 threads, making them excellent for multi-tasking with heavy software.
However, to get the best use of such powerful processors, you need to pair them up with the right motherboard.
So what's the best motherboard for Ryzen 7 3700x and 3800x? In this post, I'm going to be reviewing some fantastic B450, X470, and X570 options that I've personally tried out:
Product Reviews
The Strix B450-F by Asus is a gaming motherboard but sports many features that make it great for other demanding applications as well. One of the first things to note about the motherboard is that there's a lot of focus on RGB lighting, which should undoubtedly appeal to some hardcore gamers. The heat sink, for instance, displays a large RGB ROG logo and you can customize its colour and lighting effect using Asus' Aura Sync Technology.
The heat sink isn't just aesthetically pleasing though. Thanks to its large surface area, it's able to get rid of heat much faster than your average sink, protecting your CPU from damage even if you push it for hours on end.
On top of that, this motherboard comes with Fan Xpert 4 software that's able to sense internal temperature and keep your fans spinning at the optimal RPM. It also allows you to manually override fan speeds if you want to lower the noise output or increase the cooling effect.
The Strix B450-F is very overclock-friendly, thanks to the handy 5-Way Optimization software that it ships with. A 5-Way Optimization is a tool that automatically configures the right internal setting for overclocking. It detects which settings are best for your processor, taking into consideration factors such as the internal temperature and voltage levels.
Another great feature of the B450-F is that it contains Asus' SupremeFX technology which allows it to cut static out of the noise output. In addition, it's powered by dual amplifiers which make for a powerful and detailed sound output. This motherboard really shines when you're playing a game with an amazing soundtrack like DOOM Eternal.
The Asus ROG Strix B450-F comes with 4 DIMM modules, supporting a total of 128GB. This should be more than enough for gamers and creative professionals. The motherboard features 4 SATA ports and a single M.2 socket for hooking up NVMe SSDs. Lastly, it comes with 2 PCIe 3.0 x 16 slots meaning it can support a couple of large graphics cards.
Pros:
Excellent RGB Lighting
Great thermals
Very easy to overclock
Powerful and detailed sound output
Cons:
Comes with only a single M.2 Connector
Needs a BIOS update to work with the 3700x and 3800x
Best Gaming Motherboard for Ryzen 7 3700x/3800x
This motherboard comes with a lot of features that are focused on gaming, as its name might suggest. For starters, it has a gaming port that was specifically designed for connecting gaming peripherals. You can use included MSI software to tweak their settings. For instance, Mouse Master is a tool that lets you easily adjust the dpi and polling rate of your gaming mouse.
The Gaming Plus comes with a variety of other MSI gaming tools as well. This includes the MSI App Player, hot keys (which allows you to program in-game commands to single keys), voice boost, and my personal favourite: one-click overclocking. One-click overclocking, as its name suggests, allows you to configure an overclock-ready environment with a single click.
Another handy feature is the DDR4 Boost which increases the performance of any DDR4 RAM modules that you mount. This is due to a direct connection between the CPU and the memory slots, resulting in a signal path with little to no interference. This means faster signals between the CPU and RAM for quicker data retrieval.
The Gaming Plus X470 comes with 4 DIMM slots which allow you to have up to 128GB of RAM. It has 6 SATA III ports for storage drives and dual M.2 Connectors. It has three PCIe 3.0 x 16 slots, which is great if you've got multiple GPUs that you want to mount.
Despite being the cheapest motherboard for ryzen 7 3800x/3700x on this list, it still has a lot to offer.
Pros:
A wide variety of gaming-specific features
Dual M.2 connectors
Features a durable build
Easy overclocking
Supports up to 3 graphics cards
Cons:
The lighting system isn't great
Will require a BIOS update to work with the 3700x or 3800x
Best Asus Motherboard for Ryzen 7 3700x
The Strix X570-E is the most powerful and expensive motherboard on this list. Because of this, I'd only recommend it if you're planning on building a very high-end PC with other powerful components.
Just like with the Strix B450, there's a lot of focus on RGB lighting in this motherboard. Its heat sink also features an RGB logo as well as a customizable light strip. With Aura, you can toggle between different lighting effects for these.
You can also use the Aura app to sync up any compatible Asus Hardware with Philips Hue light bulbs. That way you can have the same lighting effects for both your motherboard and your room, setting a cool ambiance for gaming.
The X570-E also comes with 5-Way Optimization software so you don't have to manually configure the internal environment for overclocking. In addition, Fan Xpert 4 helps keep things as cool as possible while you're pushing your CPU to its max boost speed.
One of the best things about the X570-E is that it comes with PCIe 4.0 slots which are twice as fast the older PCIe 3.0 ports. This can be very useful if you're thinking of getting a newly-released graphics card and want to take advantage of its high transfer speeds.
Speaking of fast ports, you also get dual M.2 connectors with this motherboard which means that you'll be able to store a ton of games and software on NVMe SSDs for faster boot-up.  
The X570-E has 4 DIMM ports for mounting up to 128GB in RAM modules. It also features two PCIe 3.0 x16 slots which means that you can hook up a couple of large graphics cards to it.
Lastly, the X570-E features the same SupremeFX audio technology that you get with the B450-F, making for excellent sound reproduction for gaming or anything else that involves audio playback.
Pros:
Comes with PCIe 4.0 ports
Very easy to overclock
Contains dual M.2 connectors
Cons:
It's pretty expensive
Does not require a BIOS update to work with third-generation Ryzen processors
So far, all of the motherboards I've talked about have had ATX form factors, the largest size of motherboard available. The Gigabyte B450 Aorus M, on the other hand, has a smaller micro-ATX form factor, making it suitable for compact PC builds.
Despite being a smaller motherboard, the B450 Auros M does come with a lot of handy features. For starters, it felt extremely sturdy when I first picked it up. It's made out of very durable components including plated power connectors and glass fabric with humidity protection so you can be assured of its longevity.
In addition to being sturdy, the motherboard looks good as well, thanks to the RGB Fusion lighting technology. The Fusion application that comes with it gives you complete control over its LEDs, allowing you to set the colours and the lighting effects.
The Auros M has a dual BIOS feature which means that the motherboard provides a 'MAIN BIOS' as well as a 'Backup BIOS' which boots up if there's a virus or a hardware/power failure. This ensures that the user isn't locked out of the BIOS for troubleshooting.
This motherboard features excellent thermals largely in thanks to the included Smart Fan 5 software. It works very similarly to Fan Xpert 4 in that it gives you control of the fan speeds as well as automatically adjusting them as the internal temperature changes.
The Auros M comes with a dedicated thermal guard for its M.2 slot. This is a great feature as NVMe SSDs do tend to generate a lot of heat and throttle when they're transferring data at extremely high speeds. The thermal guards dissipate the heat quickly so that your SSD can work for longer periods. 
The Auros M comes with 4 DIMM modules with a maximum RAM capacity of 64GB. While this is half the capacity of what you get with the other motherboards I've mentioned, this is still more RAM than most people will need. When it comes to storage, you get 6 SATA slots in addition to the aforementioned M.2 connector.
Lastly, the motherboard comes with a single PCIe 3.0 x 16 slot which can support a large graphics card.
Pros:
Suited for more compact builds
Excellent lighting system
Sturdy build
Backup BIOS
Excellent thermals
Cons:
Only comes with one M.2 connector
No support for multiple large graphics cards
The Strix X470-F is essentially a less-expensive version of the X570-E. It features the same etched RGB Logo and a light strip on the heat sink, giving it a very futuristic aesthetic. Just like with the X-570-E and the B450-F, the X470-F is also integrated with Aura so you can fully customize the lighting effects for the logo and all other LEDs present on the motherboard.
The X470-F comes with 5-way optimization which means that you don't manual have to optimize CPU performance, power consumption, and fan speeds in preparation for overclocking. Instead, you leave it all to the software to adjust automatically.
As you might expect, this Strix model also comes with Fan Xpert 4 so you don't have to worry about tweaking fan speeds by yourself. But that option is available to you via Fan Xpert's interface if you need it.
You also get the same SupremeFX technology that the other Strix models had. It's a wonderful feature especially when you've got a pair of capable headphones and you're playing a game with an epic soundtrack.
Moving on to the ports on this motherboard, you get 4 DIMM slots for mounting a total of 64GB in RAM modules.  Storage slots consist of a single M.2 socket plus 6 SATA ports. Lastly, it comes with two PCIe 3.0 x 16 slots which means that it's possible to have two large graphics cards mounted on it.
Pros:
Great thermals
Easy overclocking with the 5-way optimization tool
Superb audio quality
Support a dual large graphics cards configuration
RGB Lighting
Cons:
Slow software updates
Needs to be compatible with a Ryzen 7 3800x or Ryzen 7 3700x BIOS update is required
What's the best Mobo for 3700x and 3800x Ryzen Processors?
All the motherboards I've mentioned above are fantastic overall. They've got excellent cooling systems, sturdy builds and are great for overclocking your processor.
But what's the best one?
That depends. If you're going to be building a true powerhouse of a PC then the ASUS ROG Strix X570-E is probably the best choice. My favourite thing about the X570-E is that it has PCIe 4.0 ports which provide incredibly fast data transfer speeds. While PCIe 3.0 ports are fine for now, they will be outdated soon.  
In addition to having fast ports, the Strix X570-E also provides easy overclocking, fantastic lighting, and superb sound reproduction. It's the best x570 motherboard for 3700x and 3800x processors that I've come across.
If you're planning a micro-ATX PC build, then obviously the Gigabyte Auros B450 M will be the most suited for you. If you're only focused on getting the best gaming experience on a reasonable budget, then I'd highly recommend the MSI Gaming Plus.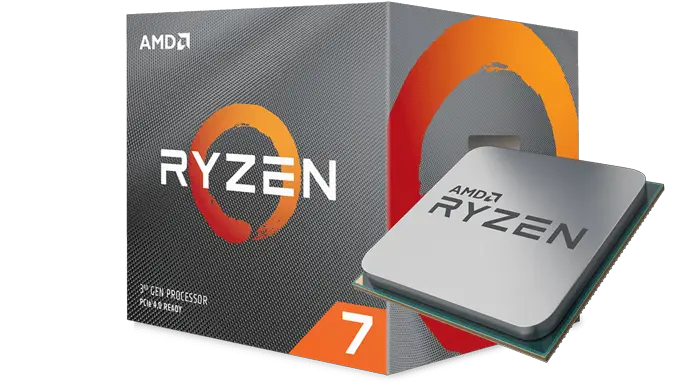 Related Posts:
Frequently Asked Questions
What motherboards are compatible with Ryzen 7 3700x/3800x processors?
It all boils down to the Ryzen 7 3700x socket type and the chips it supports. Ryzen 7 processors in general are only compatible with motherboards that have AM4 sockets. When it comes to chipsets, they're compatible with a small variety of them including X470, B450, and X570.
So to sum it up, you need AMD motherboards for AMD Ryzen 7 and other AMD processors. You can't for instance, pair up a motherboard that contains an intel socket with an AMD processor.
3700x or 3800x: Which one should you get?
In all honesty, there isn't much of a performance gap between the 3700x and the more expensive 3800x. The latter's boost clock frequency is 100 MHz faster which only translates to a 2% increase in performance. However, the 3800x has more TDP headroom (105 W compared to the 3700x's 65W TDP).
For most users, the upgrade from the 3700x to 3800x isn't worth it in my opinion since they feature the same cores and threads count.
What factors should you consider before you buy a Motherboard?
To make sure that your motherboard suits your needs perfectly, you need to consider a few things:
Form factor
You might have a compact PC build that can't house an ATX motherboard. Then, depending on the exact dimensions of your PC case, you might have to go for either a micro-ATX or mini-ITX motherboard.
Number of expansion slots
Are you planning to add more components to your build in the future? In that case, you'll need to make sure the motherboard you're buying has enough expansion slots in the right size. For instance, if you plan on having an additional large GPU mounted, then you'll need to make sure that you have an extra PCIe x 16 slot in your motherboard.
Memory
If you're a creative professional or a gamer then memory is an important consideration. These days, you need to have at least 16GB of RAM to run the latest games and software smoothly. Fortunately, most mid-to-high-priced motherboards support at least 64GB in RAM.
Storage
Storage is important for professionals like video editors who deal with large files daily. Speed is a concern as well as size. You want your applications to install and boot up quickly which is why a lot of professionals these days prefer SSDs over HDDs.
Most motherboards come with SATA ports that you can use to connect either SSDs or HDDs but then you also have M.2 connectors that support the extremely fast NVMe SSDs.
If you want to read more tech hardware reviews, check out the other blog posts on our website.