The AMD Ryzen 5 3600 is part of the relatively 'new' Zen 2 line of processors from AMD. It's a powerful processor that can keep up with the latest games and heavy applications like Adobe Premiere Pro or Cinema 4D. However, to tap into its full potential, you'll need to pair it up with an appropriate motherboard.
But what's the best motherboard for Ryzen 5 3600? This is going to be the subject of this blog post.
Product Reviews
Motherboard Compatibility
For a motherboard to be compatible with the Ryzen 5 3600, it'll need to have a B450, X470, or X570 chip as well as an AM4 socket. The units in my list below all meet these requirements.
What about Ryzen 5 3600x motherboard compatibility?
Since the 3600x is the same generation as the 3600, it has the same chip and socket requirements. Hence any motherboard that's compatible with the 3600 will also support the 3600x.
Best B450 Motherboard for Ryzen 5 3600
Even though the MSI B450 Tomahawk is technically a budget motherboard, its features appear to say otherwise. It's packed with a ton of gaming-specific features, courtesy of MSI. First of all, it's got a gaming device port that allows you to plug in high-quality peripherals and easily tweak their settings. For instance, the 'Mouse Master' software allows you to tweak the dpi and polling rate of your gaming mouse on the fly.
Other gaming tools include hotkeys, which allows you to program frequently used actions into specific keys and boost that improves the quality of your voice output during live matches.
The B450 Tomahawk has excellent thermals as well, largely thanks to the extended heat sink. It provides greater surface area for faster heat dissipation. 
Also, you get total control of your fans through a simple graphical interface that can be accessed through the BIOS. You can set 'temperature targets' to automate the process. This is great news if you're someone who likes to game for long stretches at a time or a creative professional with a never-ending hustle.
This ATX motherboard features MSI's Core Boost Technology which refers to a more streamlined and isolated layout for circuits. This way there's less interference between signal paths, meaning power is delivered to components more efficiently. This is very handy when you're trying to overclock the processor because you'll need to supply as much power as possible.
The B450 Tomahawk comes with 4 DIMM slots, supporting up to 128 GB of RAM. It features 6 SATA III slots but only 1 M.2 Slot which means you can only have one NVMe SSD. Lastly, it comes with 2 PCIe x 16 slots which is great news if you want to hook up a couple of large graphics cards.
Pros:
Gaming-specific features
Excellent thermals
Great for overclocking the Ryzen 5 3600
Supports large graphics cards
Cons:
It needs a BIOS update before you can have it working with the Ryzen 5 3600
Comes with a single M.2 slot
Best Budget Motherboard for Ryzen 5 3600
The Gaming Plus comes with pretty much the same built-in gaming features as the B450 Tomahawk, including the dedicated gaming port and the hotkeys. Also, it has the same Core Boost technology which makes overclocking easier and more effective.
The B450M has a micro-ATX form factor, which means it's great for more compact builds but it does mean fewer slots. For instance, you only get 2 DIMM slots instead of 4 like with the B450 Tomahawk. However, it still supports a maximum of 64GB of RAM which is still more than enough for most people. In addition, you get a single M.2 Slot and 4 SATA III ports for permanent storage. This is pretty good for a micro-ATX motherboard in my opinion.
Fortunately, the B450 Gaming plus has a single PCIe 3.0 x16 slot which means that you can mount a large graphics card on it. However, if you want to have multiple GPUs, then you're better off getting the Tomahawk.
This M-ATX motherboard has a relatively large heat sink which means that you don't have to worry about overheating with prolonged use. Like with the Tomahawk, you also get complete fan control via the BIOS.
Pros:
Useful gaming-specific features
Supports large graphics cards
Excellent thermals
Cons:
Can't mount multiple GPUs
Only one M.2 Slot
Needs a BIOS update to work with the Ryzen 5 3600
One of the most-standout aesthetic features of the Strix X470-F is its heat sink. It's etched with an RGB ROG logo and a light strip, giving it a rather futuristic spin. In addition to being a good-looking heat sink, it's also a very effective one, with a large surface area for faster heat dissipation.
I found overclocking to be pretty easy with the Strix X470-F, all thanks to its 5-Way Optimization feature. It's a software that keeps track of CPU performance and environmental conditions like voltage and temperature in real-time. With this information, it is then able to tweak and optimize settings like power consumption and fan speeds, essentially preparing the CPU for overclocking.
The Strix X470-F comes with Fan Xpert 4 – an easy interface for controlling your case fans.  With this, you can easily increase or decrease fan speeds, depending on whether you want better cooling or to reduce noise levels.
This ASUS ROG motherboard comes with 4 DIMM slots which allow you to have a maximum of 64GB in RAM. When it comes to storage, you get a single M.2 socket plus 6 SATA ports for regular SSDs.  You can mount two large graphics cards onto it because it offers two PCIe 3.0 x 16 slots.
Finally, it features full RGB lighting control. This allows you to control all LEDs in compatible ASUS hardware as well syncing up with Philips Hue light bulbs using the Aura app. So if you wanted to, you could have your entire room flashing in sync with the motherboard's lights. 
Pros:
Excellent cooling system
Comes with 5-way optimization for easy overclocking
Supports large graphics cards
RGB Lighting
The X570-E is essentially for people who like the X470-F but wish it had more to offer. This motherboard comes with numerous upgrades. First of all, it has the newer PCIe 4.0 expansion slots which gives you double the transfer speeds of the 3.0 (2GB/s compared to 1GB/s, respectively).
The Strix X570-E includes 2 M.2 connectors which mean that you can have more programs and files stored in NVMe SSDs for faster boot-up. You get a higher amount of RAM with the X570-E as well, when compared to the X470-F. While it also has 4 DIMM slots, you can mount a 32GB module into each slot, adding up to 128GB.
This motherboard ships with the Armoury Crate software which is sort of a control panel for a ton of ROG gaming products. It has a dedicated feature for adjusting RGB lighting modes in different ROG products and syncing them up with using the AURA Sync App.
Like the X470-F, the X-570-E also sports the 5-Way Optimization technology. This means that you can just let the motherboard handle all the CPU optimization, getting it ready for overclocking.
Pros:
Includes the much-faster PCIe 4.0 ports
Supports up to 128GB of RAM
5-Way optimization
2 M.2 connectors
Cons:
Pretty expensive compared to the other motherboards on this list
This micro-ATX B450 motherboard from AsRock is a great 'not-too-expensive' option for the Ryzen 5 3600. First of all, it appears to have a sturdy build, featuring a High-Density Glass Fabric Circuit Board that'll withstand getting thrown around during shipping without a problem.
Features-wise, it's quite similar to the MSI B450M Gaming Plus. It offers 4 DIMM Slots which support a maximum RAM capacity of 64GB. In terms of permanent storage, it comes with 4 SATA III slots and 2 M.2 slots. However only one of these M.2 slots (the 'Ultra') supports NVMe SSDs.
The ASRock B450M has a single PCIe 3.0 x 16 slot which means it'll support large graphics cards. However, it does feature a couple of other smaller PCIe slots that can hold smaller VGAs.
Pros:
Durable build
Supports large graphics cards
Cons:
Only one NVMe-compatible M.2 Connector
The Aorus Pro is one of those motherboards that instantly feels solid and durable to the touch. It contains a stainless steel reinforced PCIe 3.0 x16 connector for holding your graphics card. These will prevent your graphics card from sagging over time, which sometimes larger cards like my RTX 2080Ti tend to do when the ports are flimsy.
The Aorus Pro comes with dual NVMe-compatible M.2 connectors, allowing you to ditch the slower SATA SSDs. Furthermore, each M.2 connector comes with its own heat sink. This is a well-thought-out addition because NVMe SSDs can heat while transferring data at really fast speeds.
Another great cooling feature is the Smart Fan 5 which helps you optimize the internal temperature by changing up the fan headers.
In terms of RAM, the B450 Auros 4 comes with 4 DIMM slots, supporting a max capacity of 64GB. This should be enough for all sorts of intensive tasks from gaming to Bitcoin mining.
Pros:
Solid build quality
Dual M.2 connectors with dedicated heat sinks
Excellent cooling
Supports large graphics cards
Cons:
Only one graphics card slot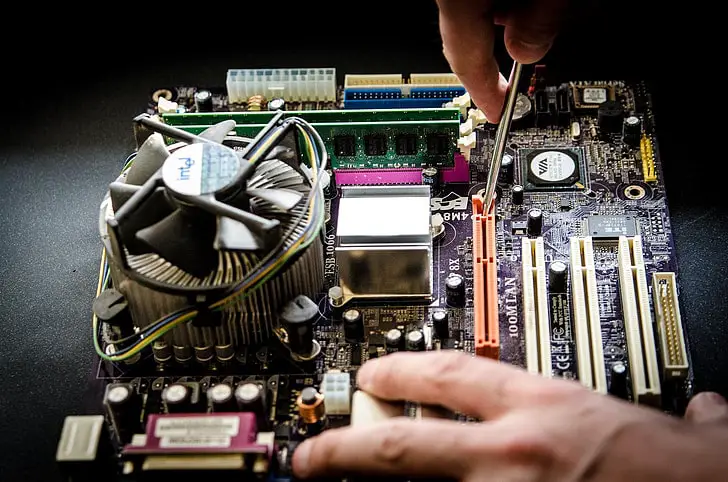 Motherboard Buying Guide
Buying a motherboard is harder than it seems because there are so many technical factors to consider. I've already talked about what makes a motherboard compatible with the Ryzen 5 3600 (i.e. the type of chips and socket it needs to have) but what else is there?
Form Factor
Motherboards come in three different sizes or 'form factors': ATX, Micro-ATX, and Mini-ATX, with ATX being the largest. The first thing you should check when looking for a motherboard is whether it's going to fit in your PC case. Since PC cases also come in these three exact form factors, this should be easy to determine.
Larger motherboards tend to have more space for components. So if you want to have a build with a ton of RAM, storage, and multiple GPUs, then an ATX motherboard would probably be the best choice.
Expansion Slots
If you plan on upgrading your PC rig in the future by adding in more components, you'll need to make sure the motherboard has plenty of expansion ports. These allow you to add more VGAs, RAM modules, and SSDs/HDDs.
Peripheral Component Interconnect Express or PCIe is the commonest standard for expansion ports. Motherboards can contain various PCIe slot sizes so you'll first want to make sure that they can support the type of components you want to add in the future. For example, large graphics cards need PCIe x16 ports.
Graphics Card Support
If you're a gamer, then it's a good idea to buy motherboard with a PCIe x16 slot. However, there is one scenario where you could fit a PCIe x16 graphics card into a smaller slot. That is if the slot is open-ended, meaning it contains a stopper at the end.
That being said, this is very hard to determine if you're unable to check out the motherboard in person before you buy it. Hence, just to be safe, I recommend always buying a motherboard with a PCIe x16 slot.
Memory
To have a smooth experience with most modern games and other processor-intensive applications, you'll need at least 16GB of RAM. Fortunately, all of the above-mentioned motherboards support at least 64GB which is overkill for most purposes.
RAM modules are mounted to the motherboard via dual in-line memory module (DIMM) ports. Most motherboards come with 4 DIMM slots but the capacity they support can vary.
Storage
Storage is something that a lot of creative professionals like video/photo editors and 3D animators struggle with. This is because they generally deal with very large files that can fill up a storage drive pretty quickly.
These days you have two options when it comes to permanent storage: hard disk drives (HDDs) and solid-state drives (SSDs). HDDs are usually cheaper but SDDs are much faster when transferring data. That's why a lot of creative professionals and gamers prefer the latter.
Most motherboards come with multiple SATA drives which you can use to hook up regular SSDs. However, if you want to mount a much-faster NVM Express (NVMe) SSD, then you'll need an M.2 connector.
What do I consider to be the best Mobo for Ryzen 5 3600?
I would pick the ASUS ROG Strix X570-E simply because it offers the best features out of tall the motherboards on this list. Having PCIe 4.0 connectors seem to give it an edge over the rest and it's a great way to future-proof your rig.
If you're on a much-stricter budget, then I'd recommend the MSI B450 Tomahawk, especially if you're a gamer. It's a powerful motherboard with excellent thermals.