A lot of people have asked me whether I thought the Ryzen 5 2600 is still worth it. In my opinion, it's still one of the best mid-tier processors around. First of all, it's got enough cores and threads for processor-intensive applications like gaming, video editing, or 3D Modeling. Also, it's got a decent boost speed and is well-suited for overclocking.
To make full use of this processor, you'll need to pair it up with the right motherboard. So what's the best motherboard for Ryzen 5 2600 you can buy? Let's find out!
Product Reviews
A motherboard compatible with Ryzen 5 2600 will have a B450, X470, or X570 chip as well as an AM4 socket. Those listed below fit both requirements and they've been personally tested to make sure they suit the Ryzen 2600.
The first thing you'll notice when you take the Strix X470-F out of its packaging is the uniquely-styled heat sink. It's etched with an RGB ROG logo as well as a light strip, giving the entire motherboard a cyber-punk-like aesthetic. Looks aside though, it's a very capable metal heat sink, consistently keeping the internal temperatures as low as possible.
IF you've overclocked a processor before, you'd know that you need to optimize a lot of things like CPU performance, power consumption stability, fan speeds, and so on before you can push the processor to its max clock speed. With the ROG Strix X470-F, this arduous task can be delegated to the 5-Way Optimization feature that comes with the Asus AI Suite. It'll automatically detect which settings are best for your processor based on factors like voltage levels and internal temperature.
Also, the X470-F comes bundled with Fan Xpert 4, which gives you full control of the fans. Hence, you can increase or decrease their speeds on the fly, depending on whether you want to turn down the fan noise or increasing cooling.
One of my favourite things about the X470-F is its sound quality. It contains ROG's proprietary SupremeFX technology which maintains an optimum signal to noise ratio, cutting out the static from the output. Furthermore, the X470-F comes with a low-dropout voltage which is used to make sure that the audio components receive a steady voltage supply, regardless of variations in input voltage, load impedance, and temperature.  As a result, the quality and volume of the audio will remain consistent throughout.
Now, onto the more technical specifications of this motherboard:
The X470-F contains 4 DIMM slots, allowing you to have a maximum of 64GB in RAM. This is more than enough to play all the latest game titles and for other data-heavy tasks like video editing. In terms of storage, it includes a single M.2 Socket which means that you can plug in an NVMe SSD, allowing you to achieve extremely fast read/write speeds. Also, you get 6 SATA ports for regular SSDs.
It's got two PCIe 3.0 x 16 slots which means that you can mount large graphics cards on it (like my NVIDIA Geforce RTX 2080Ti).
Lastly, this motherboard comes with full RGB lighting control. Not only can you control the built-in RGB LEDs and other ASUS hardware, but you can also sync up the controls with Philips Hue light bulbs using the Aura app. This allows you to make you the entire room part of the overall gaming experience.
Overall, this is a good motherboard for Ryzen 5 2600 and you certainly can't go wrong with it.
Pros:
Excellent thermals
Comes with 5-way optimization for easy overclocking
Fan Xpert 4
Excellent audio quality
Supports large graphics cards
RGB Lighting
Best B450 Motherboard For Ryzen 5 2600
The MSI B450 Gaming Plus has a lot of gaming-focused features to offer. For instance, it comes with a gaming port which lets you hook up high-end peripherals and then adjust their settings. There's also a handy software called 'Mouse Master' which lets you adjust things like the dpi and polling rate for a much smoother gaming experience.
In addition to these, you get a whole variety of other MSI gaming tools including the MSI App player, on-second overclocking, hotkeys, and voice boost. I particularly like having hotkeys so I can avoid a ton of button mashing when I'm playing video games.
The MSI B450 Gaming Plus appears to be very sturdily built. For instance, it's got steel-reinforced PCIe slots for holding graphics cards. So once you've got your card mounted, you don't have to worry about it sagging over time.
The Gaming Plus offers more mounting flexibility if you've got an MSI graphics card. This means you have a better chance of setting up your VGA in such a way that it doesn't obstruct any other components. This means better airflow inside the motherboard.
However, this is not to say that temperatures are going to spike with other graphics cards. Thankfully, the B450M supports up to 6 fans and they can be controlled using the BIOS. In addition, the motherboard ships with a software called 'Hysteresis' which monitors the internal temperature for you and adjusts the speed of the fans accordingly.
The B450 Gaming Plus can carry up to 4 DDR4 RAM modules, totaling 64GB. It's got two PCIe 3.0 x 16 slots which means that you can either have two large graphics cards or one with an external power supply.  Also, you get one M.2 Slot and 6 SATA slots.
Pros:
Gaming-specific features
Supports large graphics cards
Great cooling system
Cons:
Not the best RGB lighting I've seen
Best motherboard for overclocking Ryzen 2600
This is essentially the X470 version of the MSI B450 Gaming Plus. Like its B450 counterpart, the Gaming Plus X470 has a lot of built-in gaming-specific features, including hotkeys and voice boost.
It features a Turbo M.2 connector which can push your NVMe SSD to max speed, allowing games and other applications to boot up much faster.
Also, this motherboard supports DDR4 Boost, which improves the communication between your processor and the memory slots in several different ways. For example, a direct connection is established between the CPU and the memory slots, leading to less interference in the signal path. In addition, motherboards with DDR4 Boost have fully isolated memory circuits. This means that they won't come into contact with outside interference either. The DDR4 Boost makes the Gaming Plus X470 optimized for overclocking. This is because due to the lack of interference, signals can travel significantly faster to their destinations.
The Gaming Plus X470 has 4 DIMM slots that support up to 128GB of RAM. Furthermore, it features 3 PCIe x 16 slots which is great news if you're looking to hook up multiple GPUs for either gaming, video-editing, or even applications like Bitcoin mining. Like with the B450 version, these slots are steel-reinforced to prevent graphics card sagging.
Pros:
Lots of gaming-specific features
Turbo M.2 Connector
Durable build
Great for overclocking
Supports up to 3 graphics cards
Cons:
Not the best lighting system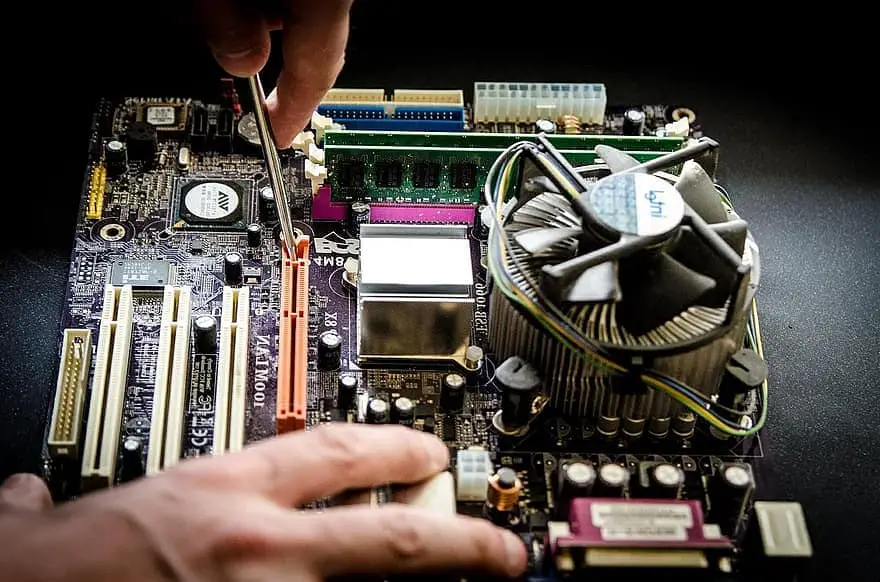 The Strix X570-E is the more advanced version of the X470-F, albeit for a higher price tag. With the X570-E, the expansion slots have been upgraded to PCIe 4.0 which means that we're going to get double the speed. PCIe 4.0 provides up to 2GB/s per lane while PCIe 3.0 ports tend to max out at 1GB/s.
This means that the X570-E will be able to support the fastest NVMe SSDs on the market. Also, it's got two M.2 connectors compared to the single one you got with the X470-E which means larger permanent storage.
The ROG Strix X570-E is better for higher amounts of RAM too. While it also only has 4 DIMM slots, these are 32GB ports. Hence you can add up to 128GB in RAM, essentially making sure that your PC can handle the most data-intensive tasks.
The X570-E Motherboard ships out with new software as well, like the Armoury crate which acts as a central control panel for compatible ROG gaming products. For example, it lets you easily tweak the RGB lighting modes of all ROG hardware you own and then sync them up using the Aura Sync app.
This ATX motherboard from ROG is DIY-friendly in a couple of ways. First of all, its I/O shield is pre-mounted right out of the package so you don't have to spend any time on it. Also, it features SafeSlot PCIe slots which are stronger and much easier to mount devices onto.
Last but not least, like the X470-F, this motherboard also comes with 5-Way Optimization technology. Hence, you can just let ASUS' AI Suite handle the CPU optimization and have the processor ready for overclocking.
Pros:
Features the much faster PCIe 4.0 slots
Supports up to 128GB of RAM
5-Way optimization
DIY-friendly
Cons:
Pretty expensive compared to the other motherboards on this list
The Gigabyte B450 AORUS PRO is built like a tank, containing a stainless steel reinforced PCIe connectors that will make sure that your large graphics cards won't sag. This was perfect for housing my NVIDIA Geforce RTX 2080Ti.
Another thing that I liked about the B450 AORUS is that it has 3 M.2 ports, like the ASUS ROG X570-E. Also, it comes with a thermal heat sink for each of these M.2 ports. This is well-thought-out because NVMe SSDs tend to produce a lot of heat while they're operating at blazing fast speeds. These heat sinks will ensure that your SSDs and surrounding components are always protected.
According to the product specifications, the Gigabyte B450 AORUS PRO is compatible with AMD's Store MI technology, which separates the storage into tiers for faster application boot-ups. However, as of March 31, 2020, this software is no longer available for download via AMD's official website. Instead, you get a notice that they're planning to release a new version of it with brand new features in the second quarter of this year.
The AUROS PRO comes with Smart Fan 5 which allows you to change up the fan headers to reflect different thermal sensors at different spots on your motherboard. This should help you better optimize cooling inside the motherboard.
The Gigabyte B450 AUROS PRO comes with 4 DIMM slots for a maximum of 64GB in RAM. In addition, it contains 1 PCIe 3.0 x16 which means that you can only connect one graphics card to it.
Pros:
Durable build quality
Supports large graphics card
Dual M.2 connectors with heat sinks
Cons:
Only one graphics card slot
The StoreMI technology is deprecated
Motherboard Buying Guide
If you haven't shopped for motherboards before then it can be a daunting experience, especially if you don't know what all these technical terms mean. However, this buying guide should hopefully answer the questions you have. I've explained what factors you need to consider when you're buying a motherboard for a Ryzen 5 2600 and any other processor for that matter:
Form Factor
Form factor refers to the size of the motherboard. The commonest motherboard sizes are (in order of largest to smallest) ATX, Micro-ATX, and Mini-ATX. The motherboard's form factor should correspond with the size of your PC case. If you've got a large ATX tower case, then you can fit in any size of motherboard but if you've got a smaller case, then you're restricted to either a Mini-ITX or Micro-ATX.
The larger the motherboard, the more space there is for components. For instance, ATX motherboards may be able to accommodate up to 3 graphics cards, which is why hardcore gamers prefer them.
The number of Expansion ports
If you think you might add more components to your PC rig in the future, then make sure the mobo has enough expansion ports to support these upgrades. Expansion ports allow you to add more graphics cards, RAM modules, and SSDs or HDDs. Currently, the commonest type of expansion ports is Peripheral Component Interconnect Express (PCIe) ones.
PCIe slots come in different sizes so you want to make sure that they can support the type of components you want to have in the future. For instance, if you want to mount a second large graphics card, you'll need at least one more PCIe x16 slot, which is the largest size.
Compatibility with your Graphics Card
Before you buy a motherboard, make sure that it has a large enough slot to support your graphics card. Some of the most powerful GPUs need an external power which would also need to be mounted into the motherboard. In that case, you'll need two PCIe slots, with one being a PCIe x16.
Note: there is one situation where you could fit a PCIe x16 graphics card into a smaller slot. That is when the PCIe slot in the motherboard is open-ended, meaning that it doesn't have a stopper at the end.
Related Posts:
Memory and Storage
RAM is one of the most important considerations when you're buying a processor, especially if you're a gamer or a creative professional. For most modern games and Adobe software, you'll need at least 16GB to keep everything running smoothly.
Motherboards have dual in-line memory module (DIMM) slots which are where you mount your RAM modules. Most gaming motherboards come with 4 DIMM modules and will support up to 64GB in RAM if you're so inclined to turn your PC rig into a powerful beast.
Permanent storage is a big concern for video editors, 3D animators, and pretty much anyone who works with large files daily. When it comes to permanent storage hardware you have two options: hard disk drives (HDDs) or solid-state drives (SDDs). The former is cheaper but the latter is faster when it comes to reading and writing data.
If you prefer SSDs, then you have two options: SATA or NVM Express (NVMe). The latter is much faster than the former, reaching up to 3GB/s and 1.5GB/s in read and write speeds while most SATA drives aren't even half as fast. For most modern NVMe drives, you'll need an M.2 connector on your motherboard.
What do I think is the best mobo for Ryzen 5 2600?
All things considered, I would go with the MSI Gaming Plus X470. I already own its B450 counterpart and I just think this is a step above it. It's got 3 graphics card slots which is great if I wanted to add more in the future plus it can take more RAM and is better optimized for overclocking.
Out of all the motherboards on this list, I would also recommend it as the best motherboard for 2600x, which is more powerful than the Ryzen 2600, especially in terms of clock speeds.
Feel free to share this article if you found it helpful.