A 24-inch monitor usually comes in at around 20 inches wide and 12 inches tall. There are a couple of factors that will affect its screen size, like aspect ratio and bezel size.
I was thinking of building my own PC setup recently and was looking into buying a new display. I ultimately settled on a 27-inch monitor, but I did some digging on 24-inch ones while doing my research.
I'll tell you everything you need to know, especially how big they really are.
How Big is a 24-Inch Monitor?
There are 3 measurements that determine the actual size of any monitor, regardless of whether it's 24 inches or not. These are width, height, and thickness.
Most 24-inch monitors come in at around 20 inches wide and 12 inches tall.
Thickness-wise, they come in at around 2 to 7 inches - the brand you buy from will play a role in this.
These dimensions of course do not include the dimensions of their stands.
The 24 inches that is advertised is basically the display size measured diagonally.
Various factors will affect how big your computer screen will be, like aspect ratio and bezel or trim size.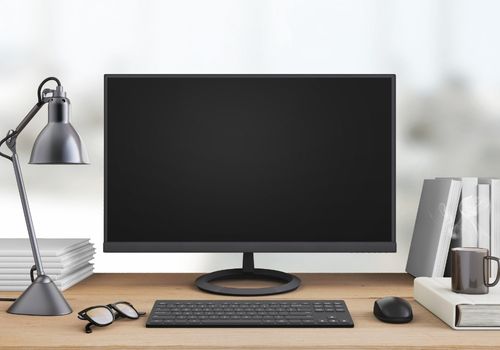 How Does a 24 vs 27-inch Display Compare?
Most users go for 24-inch monitors if they have less space and want more room to work.
The next best alternative would be 27-inch monitors. I think they are great for office work as they don't take up much room but are still not too small - they are the standard size.
27-inch monitors are usually around 24 inches wide and 17 inches tall. Once again, this does not include the dimensions of their stands.
Just keep in mind that there is a difference in price. Due to their bigger screen, 27-inch options are more expensive.
Is a 24-inch Monitor Big Enough for Gaming?
Gaming is all about immersing yourself in whatever you're playing. You will be able to do this with a 24-inch monitor. They are compact enough that you can focus on everything that is going on, unlike with a 27-inch monitor.
Is a 24-inch Monitor Big Enough for Editing?
I personally don't think 24-inch monitors work that well for photo or video editing. They are too small to get a good view of specific areas.
There are also many functions in editing tools for scrolling and navigating the timeline which would be easier with a wider display.
You can mitigate this if you want and go for a dual monitor setup, but this will be more work.
What are the Best 24-Inch Monitor Displays?
There are a couple of great 24-inch computer monitors out there, and I've touched on 3 of my favorites below.
Let's get to it.
The Sceptre 19203R comes with a 24-inch screen and a 75hz refresh rate. Its bezel is pretty thin, which helps you immerse yourself in what you're watching or playing.
It also is full HD so you know that you will get great colors. And it comes with a 1920 x 1080 pixel screen resolution so it is sharp.
You also get Adaptive Sync technology with it. This is a special feature that eliminates the gap between your graphics card and the monitor's HZ.
The Sceptre 19203R comes with some built-in speakers which work well. You get multiple ports and even a blue light filter to make sure your eyes are not strained.
The LG 24MP400 is another good choice. I personally am a big fan of LG screens, so I just had to recommend it.
It comes with a 1920 x 1080 screen resolution so it is sharp. It also comes with anti-glare technology to help you get a better viewing experience.
The LG 24MP400 is borderless and super thin. Plus, it comes with an IPS panel and is Full HD, so colors will pop.
There is a blue light filter on it which makes it great for office work, as you won't have to worry about your eye strain.
It comes with AMD FreeSync technology, which is a superb choice on the market. It will prevent tearing and keep stuttering at bay.
The LG 24MK430H is another great option. It has a 24-inch screen size and rocks a 1920 x 1080 display. This means that it's sharp.
You also get Full HD with an IPS panel. The special IPS display will highlight its liquid crystals to make sure that you get good brightness and vividness.
It comes with both AMD FreeSync and Dynamic Action Sync technology. Basically, you would have a more fluid viewing experience. The AMD FreeSync is especially useful for gamers, as it can prevent tearing.
You won't have to struggle with dark scenes as the LG monitor comes with a black stabilizer. It works by detecting dark scenes in games, then automatically brightens them.
You also get a split screen which will help if you want to multitask and use the monitor.
Related Posts:
FAQ
Answered below are some popular questions.
What is the Ideal Monitor Size?
The answer to this depends on who you speak to. I recommend that you go for a monitor that has a screen size of at least 22 inches. You won't be able to focus on your display that well otherwise - it would just be too small.
Most office professionals opt for 27-inch computer monitors. I recommended them earlier and think they are the best of both worlds. They are not too small or too big. You will still be able to use them if you don't have much desk space.
Final Thoughts
If you don't have enough space, you will need a monitor that's on the smaller size. The 24-inch monitor size is more on the petite side compared to others, but not too small at the end of the day.
Although the monitor size is 24 inches diagonally, its overall dimensions depend on aspect ratio and bezel size.
I also compared 24-inch computers to 27-inch displays. From the two monitors, I personally think that the latter is the better choice as they offer the best of both worlds when it comes to size. You will be able to immerse in high resolution games pretty well, as a result.
Of course, when it comes to 27 inch displays, like any other, the quality of the image that you will get all depend on the exact model that you buy.
I also discussed 3.24 inch displays, and the Sceptre E248W-19203R takes the cake - you get some quality images.