27-inch monitors are the ideal monitor size as they are not too big or too small. The 27 inches in their name is how big their screen size is diagonally. They usually are around 24 inches wide and 17 inches tall. This of course does not include the dimensions for their stands.
I was building my own PC setup recently and was deciding between 24 and 27-inch screens. I went with a 27-inch one because I thought it was the best choice.
I decided to run you through 27-inch monitors and their exact size, and everything else that you need to know.
How Big is a 27-Inch Monitor?
There are multiple factors that affect how big a 27-inch monitor will be, like bezel size, aspect ratio, and trim size.
27 inch monitors are usually around 24 inches wide, and 17 inches tall. Their overall width varies by like 2-7 inches. The exact dimensions that you get differs depending on different brands.
As mentioned earlier, 27 inches is the diagonal length of the monitor screen.
None of the above dimensions include the stand, however. The monitor stands usually are around 4-6 inches tall.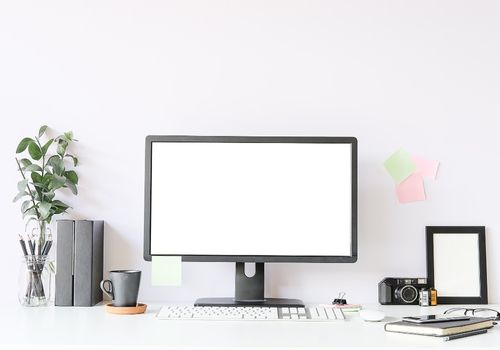 How Big is a 27-Inch Monitor Compared to a 24-Inch One?
27 inch monitors are obviously the bigger options. But they also come with higher resolutions (most of the time). They are 1440p/ 4K, while 24 inch monitors are 1080 P/Full HD. This means you will get more detail from whatever you're watching or playing.
Depending on how much space you have, which of the two monitor sizes you should go for will differ.
If it's not that much space, I would recommend 24 inches. They usually come in at around 20 inches wide and 12 inches tall. Of course this does not include the dimensions for their stands.
How Good Is a 27 Inch Monitor for Gaming?
If you go with a 24-inch gaming monitor, you will have a compact screen that will let you focus on everything that is happening at once. This can make or break whether you win a competitive match.
That being said, you will be able to enjoy high-resolution games better due to the 1440 P resolution on 27-inch screens. And their screen size means that you will comfortably be able to sit away and game.
Is 1080p Good for the 27-inch Monitor?
1080p also known as full HD is pretty high quality. But 1440p is a higher resolution that, as mentioned, 27 inch monitors can handle. Unless you have a slow internet connection, there is no reason for you to watch 1080 P on 27 inch screens. You get better pixel density with 4K image quality.
1080p is not a good choice for monitors that are larger than 27 inches. Pixels would look stretched so you would have not a good viewing or gaming experience.
What are the Best 27 Inch Monitors?
There are a couple of great 27 inch monitors on the market, and I've run through 4 favorites that you should know about.
Let's get to it.
LG is one of my favorite brands out there so I just had to include the LG 27QN600-B 27. It has a sharp display, as its screen resolution is 1440 x 2560 p.
You not only will get a sharp display but also some really vivid colors - it is HDR10.
Here are its dimensions - 24.1 in x 8.2 in x 19.1 inches.
You don't have to worry about not immersing in whatever you're watching as the 27QN600-B virtually has no borders.
It comes with an anti glare display so you will be able to play and watch movies even when it's bright out.
And it comes with a 75 HZ response time which you may like.
You are getting the AMD FreeSync technology with it. So it won't lag or tear. This means you can play graphic-intensive games without worrying about your display acting up.
Related Posts:
The ViewSonic monitor is 2560 x 1440 p so its display is sharp. The fact that it comes with 144 HZ refresh rates means that its screen will be very fluid.
There are special modes and other features built in that will help optimize whatever you're watching or playing.
The OMNI VX2768-2KP-MHD comes with an excellent blue filter that will keep your eyes safe. It also has anti-flicker technology built in to help with this.
Just like the option above, it has AMD FreeSync Premium technology inside to prevent tearing.
Its dimensions are 7.9 in x 17.7 in x 24.1 inches so it's sufficiently big.
The AORUS FI27Q-P works great for dual monitors because of its fluidity. You are getting an incredible 165 HZ refresh rate.
It rocks a 1440 P display. Plus, you will get some good colors as it rocks HDR 10 technology.
You don't have to worry about whatever you're playing getting stuck as it comes with the NVIDIA G-SYNC and all kinds of other cool gaming oriented features too.
The FIQ7Q-P has an ergonomic design as it can swivel and tilt easily.
And it comes with RBG LED backlighting to make your setup look better.
Its dimensions are 2.36 in x 24.21 in x 14.61 inches.
Lastly, we have the LG 27MP450-B. It comes with a 75 HZ refresh rate and a full HD IPS panel. So you will get great color. The fact that it comes with 1080 P/ full HD resolution helps with this too.
The computer monitor has a thin bezel which will help you immerse in whatever you're watching.
Its dimensions are 24.1 x 8.6 x 19.4 inches and it's measured diagonally 27 inches across.
It comes with a bluelight filter so that you won't strain your eyes. The filter is especially useful when you've been on the computer for hours.
AMD FreeSync technology is inside of the screen so you don't have to worry about your display stuttering when playing games.
It has a good user interface as you can move through its many display settings thanks to the Onscreen Control software that it has.
FAQ
Answered below are some popular questions.
How Far Should You Sit From a 27-inch Screen?
The answer to this depends on who you speak to. However, you should sit at least three feet away from a 27 inch screen to get the best viewing experience.
If you sit any closer, you won't be able to focus on the entirety of what's going on - you'll need to move your head constantly to track details.
This constant head movement is not only annoying but can cause fatigue and neck pain. Plus, you'll start to notice individual pixels.
Final Thoughts
27-inch monitors usually come in at around 24 inches wide and 17 inches tall. The 27 inches in their name is their measurements in the diagonal direction.
I even compared 27 desktop monitors to 24-inch ones, and discussed which would be the best for gaming. If you go with the latter, the smaller screen would mean that you would need to be close to your screen which can hurt your eyes.
Although you won't be able to sit at a normal viewing distance, the smaller screen means that you can have an easier experience when you play games, as you would see everything at once.
But 27 inch displays can handle 4k which means you will get a sharper viewing experience.
At the end of the day, I recommend going for the 27 inch monitor size - you will get a computer monitor that is neither a small nor big monitor - it will be the best of both worlds.