Your monitor screen can keep going black for a few reasons, like your screen's HDMI cable being loose, or your drivers being outdated. If it's a loose cable you're dealing with, you have to turn your computer off, and then re-attach your HDMI cable properly. Meanwhile, you'll have to update your drivers if they're outdated.
I've dealt with my monitor turning black before. The first time around, it was due to loose wires, so I was able to meddle with them and fix the problem. But it did strike a second time, and this time it took longer to fix. Turns out, I had some serious problems with my graphics card.
I did take care of it in the end, though, and decided to tell you all the reasons the issue can pop up, including how you can try and fix them.
Why Does My Monitor Keep Going Black Randomly?
If your monitor randomly goes black, there are a few different reasons why this can happen.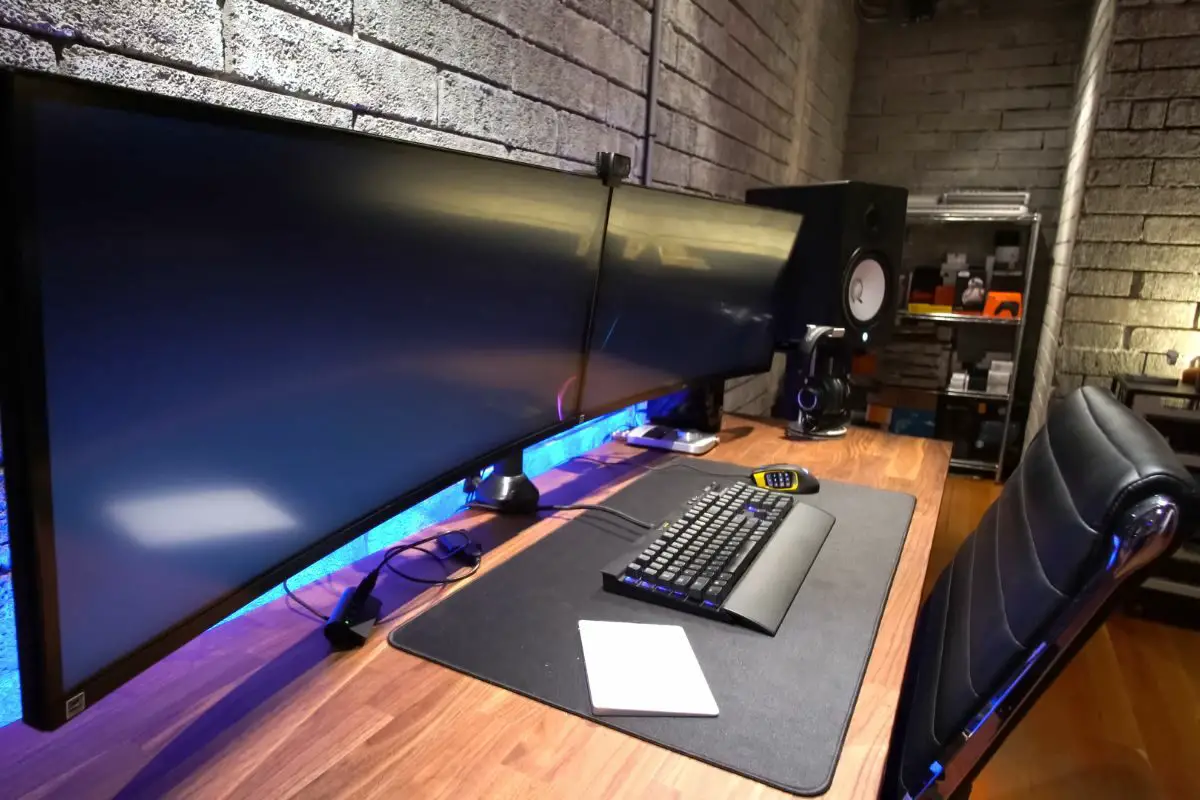 1. Loose Connections
A lot of the time, monitors randomly go black when the cables attached to them are loose. From all the possible reasons for the monitor issue, this is probably the easiest to fix. Here's what you do:
Go to the start menu, and then turn your computer off
Pull the cables connecting your computer screen out, which are the Power and HDMI cable
Re-attach them, and then make sure that they are securely placed - you can give them a gentle tug to make sure of this
Turn your computer back on, and then check whether you're still dealing with monitor issues
Also, the issue might be due to the power cable that's running from your PC's power supply. It might be loose, so your PC can't transmit data to your screen properly. You'll know if this is the case, if your whole PC stops working instead of just your screen - check your CPU's lights and see if they're still on.
To fix this, you once again have to remove, and then make sure that the cable is properly connected in place.
2. Outdated Operating System
Your monitor might randomly be turning black because of a system issue. It most probably isn't anything serious, but just your OS needing an upgrade. You probably already know if you need one, because update prompts would've been popping up.
Here's how you can fix this on Windows computers:
Open Start
Click on Settings
Click on the Windows Update button
Select the Check for Updates option
Download the latest firmware that might be available
Here's how you can do this on Mac computers:
Click on the Apple Menu
Choose System Settings
Click on the General tab from the sidebar
Click on the Software Update button on the right
Download the latest firmware that might be available
3. Outdated Graphics Drivers
Your computer's graphics drivers might be what's responsible. If you didn't know, graphics cards are in charge of all the video rendering that a computer does. So, if they're outdated, your computer display would obviously not work properly.
On Macs, you don't have to look for a way to specifically update your system drivers. This automatically happens the moment you update your Mac OS. So, follow the steps I mentioned earlier.
There are 2 different ways that you can take care of outdated drivers on Windows. Here's method 1 (the easiest):
Go to the Avast tool website
Download it, and then run it
Click on the Scan Drivers button
Click on the Download button next to the outdated graphics driver that pops up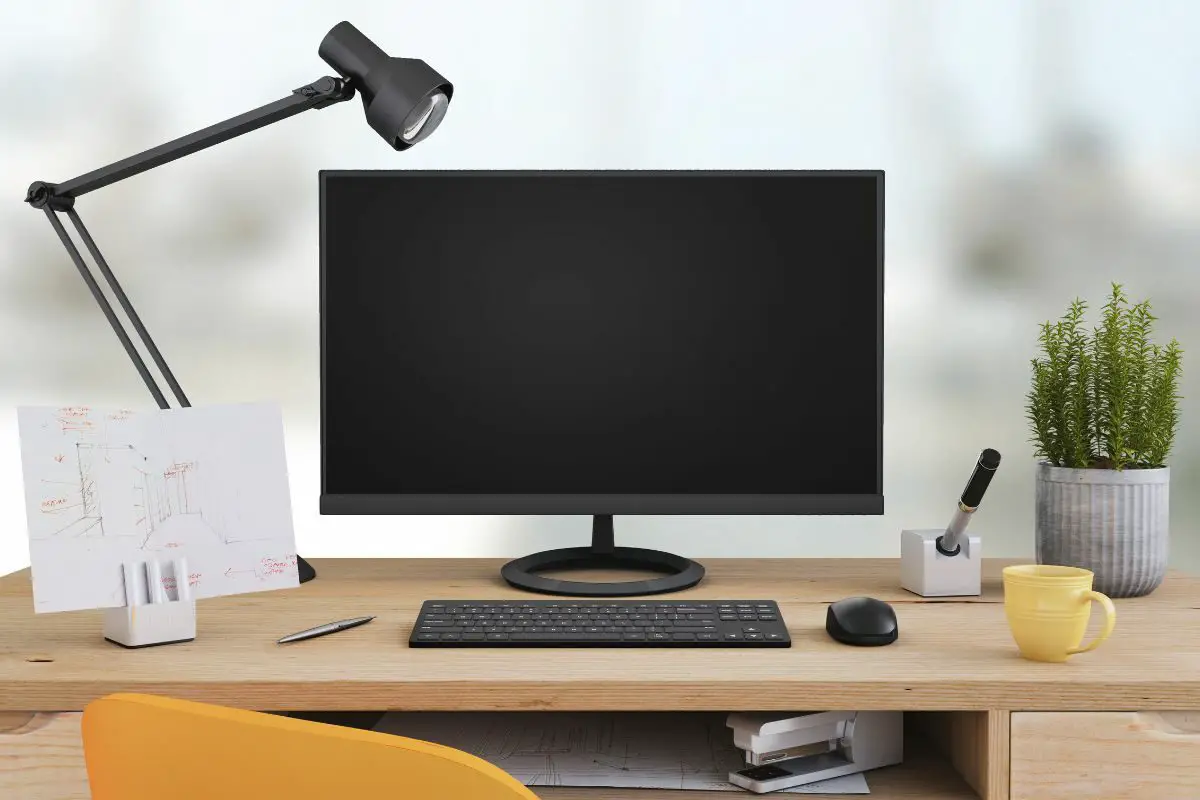 Here's method 2 to fix your video card drivers:
Open the search bar from your PC taskbar
Search for Device Manager
Click on the Device Manager option when it pops up
Click on the Category button
Right-click your graphics card driver
Tap the Search Automatically for Updated Driver option
Click on the Update Driver button, and wait for the latest firmware to install
4. Overheated Computer
Your computer might be overheating and causing your GPU to malfunction. In turn, your display may be acting up.
There are a couple of possible reasons for the overheating, but your computer's cooling fans not working is a major one. Usually, this happens when there's dust stuck inside of its blades. Here's how you can take care of this on Windows:
Turn your computer off
Open your PC case's back panel
Look for your CPU fan
Use a screwdriver to remove your CPU fan from its connector pins from the motherboard circuit
Clean off any dust with a microfiber cloth
Get a compressed air can and blow at your fan's blades
Re-attach the CPU fan to its matching slots, and then make sure that everything is seated properly
Turn your computer back on and then check whether the same issue pops up
On Mac computers, here's what you do:
Shut down your Mac
Remove the bottom cover of your computer using a screwdriver
Locate the CPU fan - should be located toward the top of your device
Use the compressed air can on the fan's blades, and vents
Re-assemble your Mac desktop and then press the Power button
5. Faulty System Files & Apps
If you're dealing with some kind of corrupted app or file, you should be able to fix it by going with a system restoration. I think going with a third-party application like Restoro for this makes things easier, but you can also try this trick out the manual way.
Just know that you will have to pay to use the Restoro software. It costs around $30, but it comes with a 60-day money-back guarantee.
Here's how you can fix your external monitor with Restoro (work on both Windows and Mac)
Download the Restoro tool, and then install it
Launch it and then run a free scan of your PC
Wait for the software to be done - this can take a few minutes
You will get a summary of all of the issues detected after the scan is complete
Click on the Start Repair button to begin the repair process
Wait for the software to work its magic and take care of any broken files
You can only try the manual way on Windows. Here's what you do:
Click on the Windows start menu
Type Control Panel into your window's Search bar
Click on Control Panel, and then search for Recovery
Click on the Open System Restore option
Click on a past restore point, and then choose the Next button, and then finally Finish to wrap things up
6. Invalid Monitor Settings
You might have meddled with your screen's settings and caused the problem. But if it's been a while and you don't know what you changed, you might have to reset your display to its factory settings.
Now, the specific process to follow depends on the monitor that you have on hand. So, you'll need to check your monitor manual for reference.
I use an LG LCD monitor, so I thought about running through how to reset its system configuration:
Press Menu on the monitor to open the Monitor Setup Window
Click on Menu again
Press the Down arrow button to highlight Factory Reset
Press either the Left or Right buttons to select Yes
Press Menu again to confirm and reset your monitor's settings to a factory default state
7. Inconvenient Power Settings
Just like you might have meddled with your screen's settings, this might have also been the case for some of your computer's power settings. You might have enabled the 'Turn Off Display' option, and set a timer to regularly turn your screen off.
Here's how you can disable and fix this on Windows computers:
Click on the Windows Start menu
Enter in Control Panel into the search bar
Select the Hardware & Sound button
Click on Power Options
Choose Balanced
Choose Edit Plan Settings
Change the Turn Off the Display button to Never
Apply the changes, and then confirm
Here's how you can do this on Macs:
Click on the Apple Menu
Go to System Settings
Click on Lock Screen from the sidebar
Scroll down
Disable the Turn Display Off On Battery When Inactive option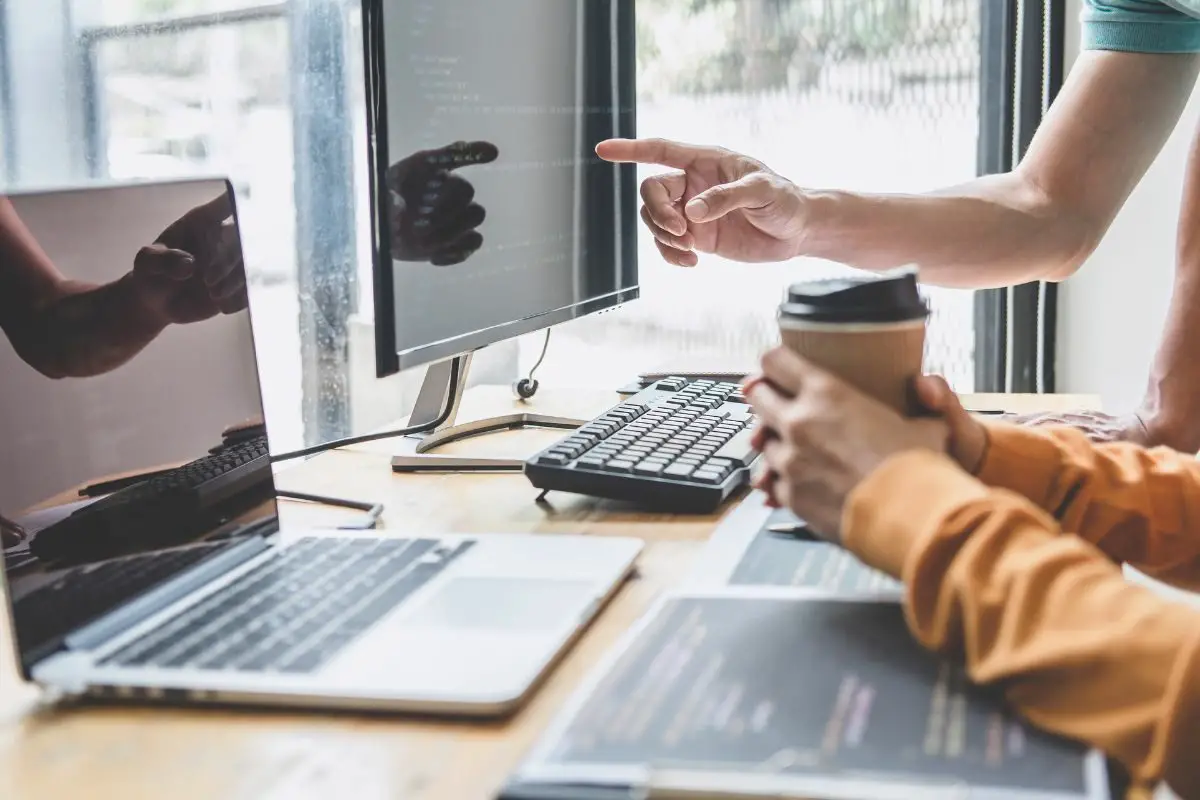 8. Overclocked Components Inside
I can understand how tempting it might be to overclock your CPU - you'd be boosting your PC's performance. But it can cause your computer's components to overwork, and potentially lead to your GPU to malfunction. In turn, your screen can go black.
Now, you can't really overclock Mac computers. So, this potential cause is only for Windows users. Here's how you can try and stop the overclocking on them:
Restart your computer
Look for the specific key to access BIOS on your computer (it can differ, but is usually either the Del, F2, F10, or Esc keys)
Use the arrow keys to navigate, and look for an option related to overclocking - its name and location can be different depending on your PC model, like 'CPU Settings' or 'Performance', 'Overclocking', or something similar (you may have to check your computer's manual)
Disable the Overclocking option
Save the changes, and then exit the BIOS menu. You can typically do this by pressing the F10 key
9. Conflicting Software Working in the Background
There's also the chance that some kind of software that's working in the background is the culprit. It might be eating up too much of your system's resources, and causing the problem.
Here's how you can fix this on Windows computers:
Press the Win and R buttons at the same time to open your computer's Command Prompt
Type msconfig into the command box, and then hit Enter
Go to the General tab
Disable the Load Startup Items option
Click on the Services tab
Select Hides All Microsoft Services
Click on the Disable All button
Finally, click Apply and then restart your computer
Here's what you do on Macs:
Open the Spotlight search
Go to System Preferences
Click on Users & Groups
Click on Login Items
You should see all the apps that start up automatically now
Highlight each one, and then hit the minus button to remove it
10. Faulty Hardware
Last but not least, the issue can be hardware related. Your screen might be broken - you should be able to figure this at a quick glance. You might see cracks or lines if there's something wrong with it.
To sort this out, call the shop that you got your PC from and ask them to take a look at your display. Depending on when you got your computer, you might be able to get the hardware damage on it fixed for free.
Unfortunately, this also means that you might need a second monitor if your first one can't be fixed.
FAQ
Answered below are some popular questions.
1. Why is One Monitor Turning On and Off?
If you have multiple monitors but only one of them turns on and off, this might be due to its video cable being loose. I've already touched on how to fix this earlier. But the display might also be acting up because of faulty settings, or even your computer's display adapters needing an update.
At the same time, some kind of hardware damage can also be the culprit. There's really nothing that you can do, other than inspect your screen carefully, and then getting third-party help.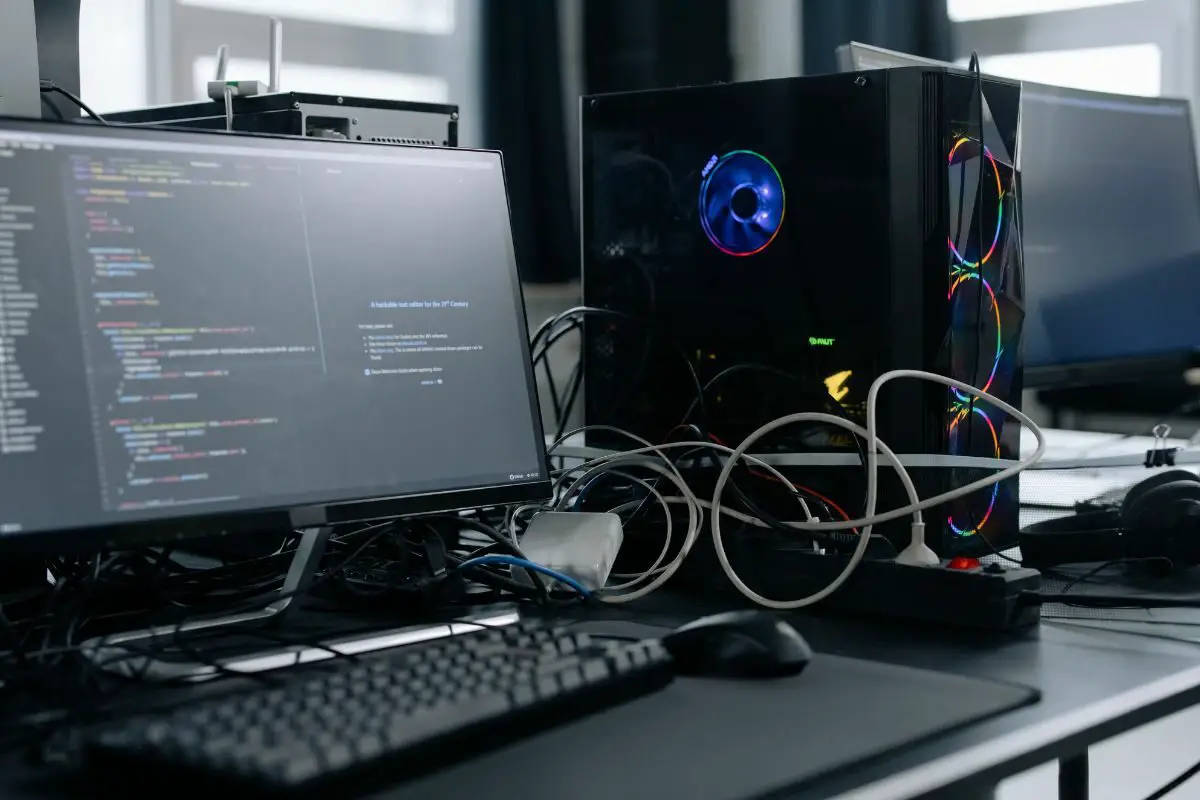 Final Thoughts
Your computer monitor can randomly turn black for a couple of different reasons. Now, one of the most common is the cable connecting your monitor to your PC being loose. This is easy to fix, as all you have to do is remove it, and then make sure that it's securely plugged in.
But also, the issue can be due to your graphics driver needing to be updated, or likewise, your Mac or Windows settings needing an upgrade.
Sometimes, hardware damage can cause the issue. If this is the case, you may have to speak to a repair shop, and even get a new monitor.