If you want to print a large image like a poster over multiple pages using a regular printer, there are three ways to get this done. You can use Microsoft Paint, which has a nifty feature for this, Adobe Reader, or simply use a web tool like Rasterbator, which is made for this purpose.
One of my nephews wanted to print large images from his favorite anime and hang them on the wall. However, every time he tried, he could only print it on a single A4 paper. He came to me to see if I had expertise in printing large images over multiple pages, and lucky for him, I did. It took less than five minutes, and he already had multiple sheets ready for his wall.
If you've been trying to figure out how to print a large image on multiple pages, I've put together this guide to show you three easy and effective ways to get this done. Let's get into them!
How Do I Print a Large Image Size Poster on Multiple Pages?
It can be difficult figuring out how to print a picture with a large image size on multiple pages of paper instead of just one.
For instance, you might want to use your home printer to get an image stretched across four pages instead of just one.
The good thing is that this is a lot easier than it might seem. The first time I learned about these options, I was shocked at how easy it was. I'll show you three great ways to print an image on multiple pages.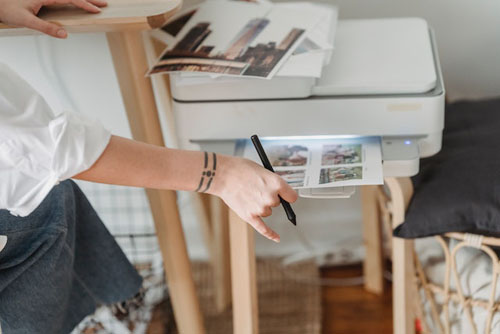 1. By Using Microsoft Paint
Every Windows computer comes with Paint. It doesn't matter whether you have Windows 7 or Windows 11, MS Paint will always be present.
Regardless of which of these versions of Paint you're using, you'll be able to print an image on multiple pages. The app is free, so this is the most accessible method to use.
Follow the steps below to get this done:
Open Paint on your Windows PC. You can do this by simply typing the app's name into your search bar and opening it when it appears.
Now that Paint is open, click the "File" menu in the upper-left corner.
Click "Open".
Browse through the folders and files on your computer until you find the image that you want to print on multiple sheets.
Double-click the image, or single-click and press "Open", to open the image in Paint.
The original image should appear in the program. Now it is time to set up the printing so that it happens over multiple pages. To start, click the "File" tab in the upper left.
Click "Print".
Choose "Page Setup" on the right.
Now that the Page Setup window is open, you'll see multiple settings, such as paper size, orientation, margins, and more. Look at the "Scaling" section and click "Fit to:".
In the text boxes here, enter the number of pages that you want for the width and length. Note that choosing "4 by 4", for instance, will print the image over 16 pages, and not just 4.
Once you're satisfied, press "OK".
Now that you've changed the Page Setup, it is time to actually print.
From the Print section in the File tab, click "Print" instead this time.
Select the printer you want to use for your poster.
Press the "Print" button.
That's it. You will now have an image that you've been able to print across several pages of paper. You can use scotch tape to stick them together and put it against your wall like a poster.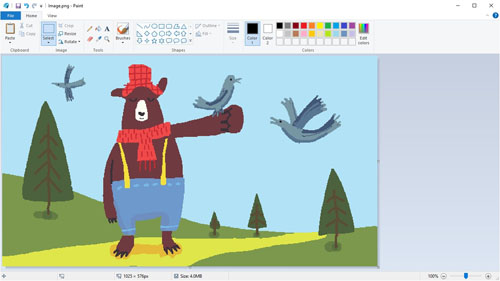 2. By Converting to a PDF File
You might not know this, but you can use a free app like Adobe Reader to print an image on multiple pages.
Adobe is known for excellent image editing software like Adobe Photoshop, but it's actually Adobe Reader that provides one of the easiest ways for printing images across multiple papers.
You will need to convert the image into a PDF file, but thankfully, this app makes that easy. Simply follow the steps below:
Download and install Adobe Reader.
Open the program once it's done installing.
Click "File" in the upper-right corner.
Press "Create".
From the Create menu, select "PDF from File".
This will bring up a window allowing you to browse and select the picture you want to split across pages. Click the image when you find it and press "Open". This will open the selected image in Adobe Reader, but as a PDF.
Open the "File" menu.
Press "Print".
Under the "Page Sizing & Handling" section, pick the "Poster" option.
Now, using the "Tile Scale" option, adjust the image to fit the panel at the right sidebar.
With this method, just press "Print". The image will be printed across multiple sheets of paper.
3. By Using a Web Tool
In the event that you can't use Paint, maybe because you're not on Windows, or you can't use Adobe Reader, there is an online tool like Rasterbator for printing a large image.
Just follow the steps below:
Open The Rasterbator in your web browser of choice.
Click on the big "Create your poster" option.
This will show a window asking for the source image. You can either enter a URL that links to an image or upload an image from your PC. If you just want to test out the tool, you can use one of their example images.
Once selected, it is time to edit the paper size. Most people use A4 paper, so set it to that, unless you're using a different size of paper.
You can then choose landscape or portrait, which depends on the orientation of the image you want to be printed.
Your printer at home probably doesn't print edge-to-edge, so margins of 10mm are fine. You may simply need to trim the papers once they are printed. You can also tick the Overlap option to make joining the sheets into a poster easier to do.
Now, choose how large you want the poster that you're printing to be. You can either choose how many sheets wide or high you want it to be.
Press "Continue".
Choose whichever style you want the image to be printed in. "No effects" is the choice if you simply want the original image blown up for you.
Select "Continue".
You can then change your color settings. Note that these only work if you choose a "rasterbation" style.
From the final page, you have your last chance to adjust the photo. Choose "Enlarge" from the drop-down menu if you don't want any effects, and change the others as you please. Press the "Complete" button when you're done!
This tool will now put the image together for you as a PDF. Save it to your PC once it's done.
Now, open the file in PDF software like Adobe Reader.
Open "File".
Select "Print".
Choose your printer from the drop-down menu.
Choose "Fit" from the "Page Sizing & Handling segment.
Press "Print", and that's it!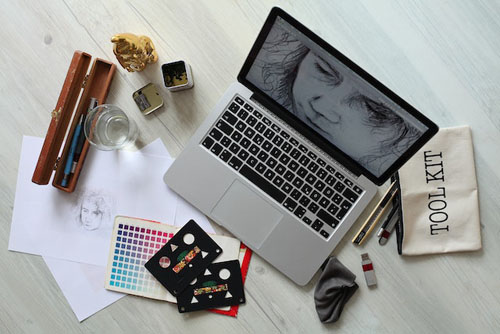 Final Words
On your Windows PC or Mac, there are different ways to print large pictures across sheets of paper. There are many reasons why you might want to do this, one of which is for homemade posters.
You can use Microsoft Paint on a Windows PC, Adobe Reader, or web tools like The Rasterbator. The best part is that these methods work a lot easier than you might think.