Adobe Flash Player is no longer supported in Chrome browser, or any other internet browser, since Adobe discontinued its support in 2019.
While the Flash Player is obsolete, there are users like my younger brother, who only want to play flash content like games in his browser. Luckily, I was there to explain that Flash isn't supported anymore and introduce him to the workaround.  
In this guide, I'll show you how to unblock the Adobe Flash player in Chrome, step-by-step, so you can master the method and use it anytime your Chrome browser refuses to play Adobe Flash content. Without further ado, let's begin.
How to Unblock Adobe Flash Player in Chrome?
Since Adobe Flash Player isn't supported by various internet browsers anymore, you can't unblock it in modern versions of Chrome, Firefox, Edge, or any other browser. The workaround is to install an older version of Google Chrome, which you have to download from third-party websites and use its built-in Flash Player.
However, before we proceed, know that outdated browsers often have security issues with malware, trojans, keyloggers, and other digital threats. So use them at your own risk.
With that said, there are two ways you can unblock the Adobe Flash player in Chrome. We'll start with the first method:
Open the Google Chrome Menu by clicking Customize and control Google Chrome menu (the vertically aligned ellipsis) located in the top-right corner of your browser window.
Once the drop-down menu appears, click on Settings to open the Settings Page in a new browser tab.
Select the Privacy and Security section located on the left-hand pane in your browser window.
Click Site Settings to open a drop-down menu.
Scroll to the Content option, and click Flash to open the Flash option window.
Toggle the Block sites from running flash button to Ask first.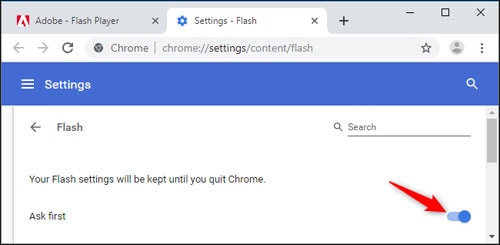 Congratulations, you managed to unblock the Adobe Flash player in Google Chrome. The browser started blocking Adobe Flash content from playing some time ago as means to preserve the battery life of laptops. The method you employed will prompt you to allow or block the detected Flash content on the web page you're currently viewing.
The alternative method to access Site Settings and enable Flash Player goes as follows:
Open the web page you want to unblock Flash content on.
Click the information icon or the lock icon at the left side of the address bar in your browser. This will trigger a drop-down menu.
Select Site Settings from the drop-down to open the Site Setting page.
From the menu that appears, locate the Flash option, and select Allow.
Next, close the Site Setting page and reload the page you want to enable Flash content on.
Unlike the first method, the second method only applies any changes in the settings specific to the particular website you were viewing. This method, however, circumvents the browser's built-in feature to ask for permission to let you watch Flash content. However, it will continue to ask you for all pages that weren't individually and manually set.
Unblock Adobe Flash Player in Microsoft Edge
In January 2020, Microsoft released a Chromium-based Microsoft Edge browser and began removing the old EdgeHTML-based Edge entirely through cumulative updates in April 2020. The new Chromium-based Edge began gaining lots of attention as it's fast and doesn't consume as many resources as Chrome does. So I thought I should include Edge in this guide as well.
Since both browsers are very similar now, the settings process isn't significantly different from one another. Here's how to enable Adobe Flash player in Edge:
Click the Settings and more menu (the horizontally aligned ellipsis) located in the upper right-hand corner of the window to trigger a drop-down menu.
Click on Settings located near the bottom of the drop-down menu to open the Settings Page in a new tab.
Select Site Permissions, located on the left-hand side pane, and then select Adobe Flash.
To unblock Adobe Flash in Microsoft Edge, switch the Block sites from running Flash button to Ask first.
Enable Flash Player in Mozilla Firefox Browser
Here's how to unblock flash player in Mozilla Firefox:
Click on the Open application menu button (the hamburger icon) in the upper-right corner of the window to trigger a drop-down menu.
Select Add-ons and themes to open the Add-ons Manager page in the new tab in your web browser.
Select the Plugins tab, and click the Options button (the horizontally-aligned ellipsis) next to Shockwave Flash.
Select the Ask to Activate or Always Active option to enable Flash content on your frequent websites.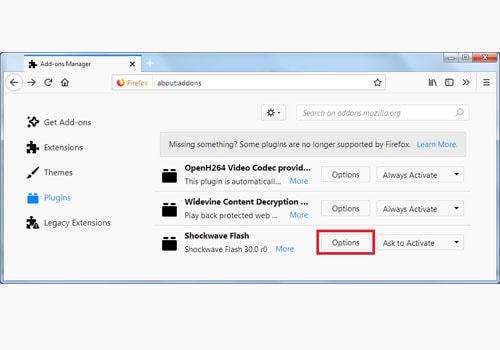 Although Firefox isn't exactly based on Chromium, it's the last among major browsers that haven't switched to Chromium.
What is Adobe Flash Player?
Adobe Flash Player, also known as Shockwave Flash among internet browsers, is computer software used for viewing multimedia content such as games, internet apps, and streaming video and audio. It was mostly run from web browsers where they were distributed as web browser plugins. Alternatively, one could always download Adobe Flash Player and use it independently on supported devices.
The platform once had a massive user base but became increasingly criticized for poor performance and consumption of battery life and precious system resources. Adobe Flash Player reached the end of its life when Adobe ended its support for the software in 2019.
Google soon followed but continued to make new versions of Chrome with a built-in Flash player, as some content on the web still ran using Flash.HTML5 was a viable substitute for the missing Flash Player, and Google discontinued its support of Flash Player after Google Chrome version 87, which was released in 2020.
Flash was officially dead, and no one mourned it since it was pretty unreliable software that lost its pace with modern times. It's still widely used in mainland China.
How to Enable Flash Player: Final Thoughts
Playing content can be frustrating when your Flash Player is blocked by default. However, as we have explained, there are plenty of ways to unblock Flash on Chrome or any other browser for a more enjoyable internet experience. Just follow the steps described in this guide, and you'll be able to play Flash content in no time.