Crystal UHDs are regular LCD LED TVs that can handle 4K. The "crystal" processor that they come with is just a marketing gimmick. On the other hand, QLED TVs are a display technology that uses quantum dot film for ultra-high definition picture quality.
My cousin was looking at monitors recently, and wanted to either use a QLED or Crystal UHD TV on her computer. I showed her everything she needed to know, and have done the same for you.
Crystal UHD vs QLED TVs - Which is Better?
Now that we've run through what they are, let's get into what you're here for - which of them is the better choice.
To do this, I've discussed how QLED and Crystal UHD stack up in different categories.
1. Image Quality/ Resolution
Crystal UHDs are Samsung's entry-level LCD LEDs that come with 4K resolution. At the end of the day, they are capped at 4K resolution, while some QLED models can support 8K.
Also, QLED TV panel technology offers a better viewing experience. You'll get brighter images, super color gamut and color accuracy, and a high dynamic range.
Compared to other LCD TVs, Crystal UHD TVs are really reflective too. So they are not the easiest to watch during the day, while QLEDs are known for how well they can handle glare.
Winner: QLED panel
The Hisense U8H is a particularly popular QLED because of its display.
2. Gaming Features
It's a bit tough to compare QLED and Crystal UHDs when it comes to gaming. The brand and model you buy will play a major role in who wins this round.
Both QLED and Crystal UHD TV models come with gaming modes. Basically, they are optimized to handle lag better.
Some Samsung QLED TVs also come with G-Sync and advanced Motion smoothing.
We have to pick a winner, so I would go with QLEDs. They come with a more rich color reproduction which means a lot when gaming.
Winner: QLED TVs
The Samsung QN85QN90BAF is a particularly popular QLED with gamers.
3. Power Consumption
Power consumption is a major factor that not many people consider when buying TVs. At the end of the day, it will affect how high your electricity bill is, so it's quite important.
Quantum dot processors don't consume much power, so they take the crown here.
Winner: QLED TVs
The Samsung QN55Q70AAFXZA QLED TV is known for its energy efficiency.
4. Price
Samsung's crystal UHD sets are their entry-level 4k TVs. They produce some high-quality images, and are not that expensive. So they definitely win when it comes to price.
Winner: Crystal UHD Samsung TVs
The Samsung TU-8000 is an all-round excellent crystal UHD for its price.
Verdict
As a result, it's clear that QLEDs win the Crystal UHD vs QLED debate.
A QLED TV will make a great addition to your house, regardless of whether you're going to use it as a television or a monitor for your computer.
The Samsung QLED QN32Q60AAFXZA model is a personal favorite, as it comes with Alexa built-in to make it even easier to use.
What is Crystal UHD?
Crystal UHDs are Samsung's entry-level 4k televisions. They are pretty much the same as any other entry-level 4K LCD TV on the market.
However, Samsung won't tell you this:
They swear that their crystal UHDs are different because of their crystal processors, but this actually isn't the case.
If you do some digging, you'll see that the processor is just a marketing gimmick to help them stand out in the TV market.
Are Samsung Crystal UHDs Any Good?
Crystal UHDs have an LED backlight on top of their LCD panel, along with several layers of film to diffuse any light that passes through. You can expect an ultra HD viewing experience, as you get excellent sharpness and brightness.
The Samsung TV is also large, so this adds to your viewing experience. Most Crystal UHD TVs come in anywhere between 43 to 85 inches.
What Are QLED TVs?
QLED stands for Quantum dot light emitting diode - it is a color output technology that some LCD LED TVs have.
They use a quantum dot filter and colorless crystals to control color output when blue light passes through.
Although Samsung's QLED televisions are the most popular, other brands like Hisense and LG sell them too.
Are QLED TVs Any Good?
Yes. Your television screen will be vivid and sharp.
If you happen to buy one of Samsung's QLEDs, you will get their Quantum processor inside. This is good news, as you'll have an AI to upscale images and adjust brightness for you.
Some QLED TVs come with Object Tracking Sound, and other cool features like 8K resolution, improved local dimming, as well as smooth motion tracking.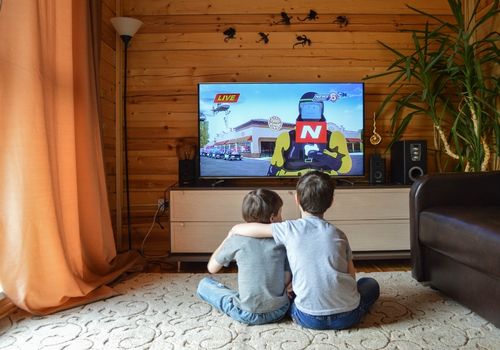 What is the Difference Between the Crystal and QLED Processors?
Depending on the QLED TV you buy, the processor you get will differ. Samsung QLED Tvs come with the Quantum processor.
It's pretty good as it uses AI to upscale images, as well as help its quantum dot filters to produce some vibrant colors.
On the other hand, the Crystal processor is nothing but a marketing gimmick. Samsung states that you'll get a superior experience when watching movies, as it upscales 4K. However, the processor is not that special compared to other UHD processors on the market.
However, keep in mind that when you buy a Samsung QLED or Samsung Crystal UHD Smart TV, they both come with Bixby support, thanks to the processors inside. You will get a personal assistant to maneuver through your smart TV.
What is the Difference Between QLED and OLED TVs?
I know what you're wondering - are OLED TVs the same as QLEDs? Most people confuse the two because they have similar names. But they're two different technologies.
Let me break it down for you:
QLED TVs are basically LCD panels with improved color boosting. Meanwhile, OLEDs are not LCD. They use organic light emitting diode technology, or LEDs for their display.
I'm not talking about an LED backlight, as even QLEDs come with them. I'm talking about each individual pixels being tiny LEDs that can can emit light.
Ultimately, you get a superior contrast ratio and much darker blacks.
However, OLEDs do have a couple of issues with burnout.
What are NEO QLED, Micro LED and Mini LED TVs?
NEO QLEDs are like regular QLEDs, except that they come with tiny LED layers inside. These LEDs can dim the brightness in certain parts of the backlight, and give you a more dramatic viewing experience.
So far so good, but here's the thing - NEO QLEDs are the same as Mini LED TVs. They're another fancy marketing gimmick by Samsung to make their product look better.
Micro LED TVs on the other hand are completely different. They use pixel sized LEDs to create a higher contrast and brighter image, without consuming much power. Plus, they're so good that they're known as a direct competitor to OLEDs.
Is OLED Better than Crystal UHD?
Before moving onto the next section, let's compare Crystal UHD with OLED.
OLEDs are some of the best TVs on the market. They come with dynamic crystal color, as well as really rich dark tones. They beat out quantum dot filter technology, so they are automatically superior to Crystal UHDs too.
Quite a few TV brands produces OLED TVs, so you won't just be restricted to Samsung products, unlike with Crystal UHDs.
Just note that they are more expensive. Crystal UHDs are entry-level, while OLEDs are more premium.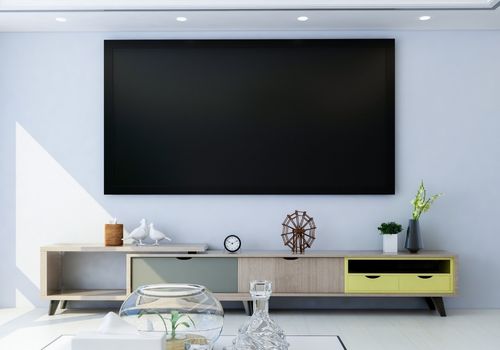 Related Posts:
FAQ
Answered below are some popular questions.
Will a QLED TV Last Longer Than an OLED TV?
Most QLED TVs can last for around 10 years, especially if you buy a particularly good model.
If you constantly binge-watch shows on it, however, it won't last as long. You can expect it to last for around 7 years.
When it comes to QLEDs, the first part that will malfunction is usually their LED backlights.
What about OLEDs? Once again, the TV manufacturer and model that you buy will affect how long your TV will last. However, you can expect it to last around 10 years on average.
If you don't take care of it or are heavy-handed with usage, it won't last as long, like with QLEDs.
Final Thoughts
There are quite a few differences between Crystal UHD vs QLED. First up, Crystal UHD is a special feature, while QLED is a color output technology. Crystal UHDs are marketing gimmicks to stand out in the TV industry, as they're just ordinary UHDs.
According to Samsung, they have a special crystal processor, but it doesn't actually do anything. They're essentially LCD TVs that have an LED back light that can handle 4K television.
On the other hand, there is also Quantum dot technology. QLED Technology basically means that you will be getting an LCD screen that uses a special quantum dot layer to enhance colors, which results in more vibrant picture quality.
At the end of the day, I recommend QLED TVs. QLED panels come with better picture quality and also have a deeper black.
In my opinion, Samsung QLED QN32Q60AAFXZA TV is especially good - quite a few TV manufacturers make their own.
I also touched on how Crystal UHD TVs compare against OLED display panel technology, and whether the picture quality is different between OLEDs and QLEDs. Hopefully you found all the points discussed useful.