If you play Minecraft Java Edition and you want to play multiplayer with your friends who play the Windows 10 edition of the game, unfortunately, you can't do that. You can only play Minecraft Java Edition with other people who are playing the Java Edition of the game, and since the Windows 10 version is the Bedrock Edition, it simply can't work.
I have a nephew who has been playing Minecraft Java Edition for ages. He's built so much in his Minecraft world, so he doesn't want to switch over to the Windows 10 version. I play Minecraft in my spare time too, so when he came asking whether he could play multiplayer with me, I had to tell him it wasn't possible since I play Minecraft Bedrock Edition.
If you've been asking yourself, can Minecraft Java play with Windows 10, this is the place to find the answers. Let's get right into what you need to know.
Can Minecraft Java Edition Play Together with the Windows 10 Version?
If you run Minecraft Java on your computer and want to have fun in multiplayer over a local area network with a friend using the Windows 10 version, it simply isn't possible.
Minecraft Java Edition does not support cross-platform play, which means you can only play Java with other people who are on Minecraft Java.
The Windows 10 version of the game can be downloaded from the Windows Store, and it's not the Java Edition of Minecraft. Instead, it is what is known as "Bedrock Edition" or Minecraft for Windows 10, which refers to essentially every other version of Minecraft apart from Java.
If you really want to enjoy Minecraft with others, consider switching to Minecraft Windows 10. One of the biggest advantages is that it supports cross-play, which means that you can play with all other platforms that have Minecraft Bedrock Edition.
This version of Minecraft can be found on Playstation, Xbox, Android, iOS, iPadOS, and Nintendo Switch. This means that you can cross-play with friends, even if they have a different device!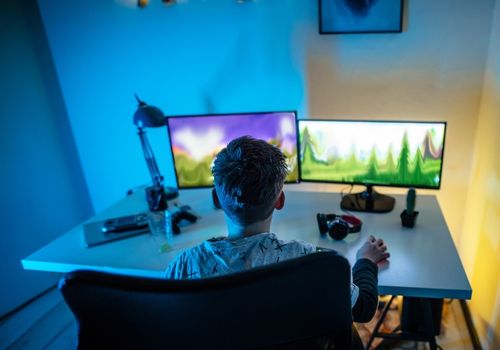 Does Minecraft Java Edition Work on Windows 10?
Now, you've asked can Minecraft Java play with Windows 10, but you may be wondering, can Minecraft Java Edition even run on Windows 10?
It might seem a little confusing, but Minecraft Java Edition works on most newer versions of the Microsoft Windows operating system, as well as macOS and Linux. This means that even if you have Windows 10, you can still play Java Edition.
To make things easier, simply look at Minecraft Java as being an exclusive, but separate, version of Minecraft available for computers only.
Bedrock is also available for computers, and on other platforms.
Where Can I Download Minecraft for Windows 10?
If you wanted the Java version of Minecraft in the past, you may have had to get the Minecraft launcher from their website.
However, all you need to do now is go to their website. There, you get the latest version of both Java and Bedrock, under the same purchase. You can choose to install whichever one you want, so you no longer need to download variants like in the past.
What Are the Differences Between Minecraft Java Edition and Bedrock Edition?
I think it is important to know the differences between Minecraft Java Edition and Bedrock Edition, especially as switching to Bedrock on Windows 10 will open you up to cross-platform play. This is one of the best reasons to go for it.
Below are some features that make Minecraft Java a different game:
Minecraft Java is only available for computers.
Multiplayer is only supported by Java Edition, which means there is no cross-platform with game consoles like the Nintendo Switch, Xbox, or Playstation.
Java allows you to download and make your own custom skins to use in the game.
Java also supports mods made by the community.
Minecraft Java requires a PC with slightly better specifications.
Here are some of the things which make Bedrock unique:
This version of Minecraft is available for Windows 10 and 11, Mac, Linux, Xbox, and other consoles.
Supports play across platforms with anyone else who has the Bedrock version of the game.
Doesn't support custom skins, but has a marketplace where skin packs can be bought.
Better optimized and requires fewer resources to run smoothly.
It has support for a controller out of the box.
Since Minecraft was purchased by Microsoft, you will require an Xbox Live account to play the game.
Another advantage of Minecraft being owned by Microsoft means that the online experience is better for younger players as there is better moderation and parents can choose to put parental controls in place.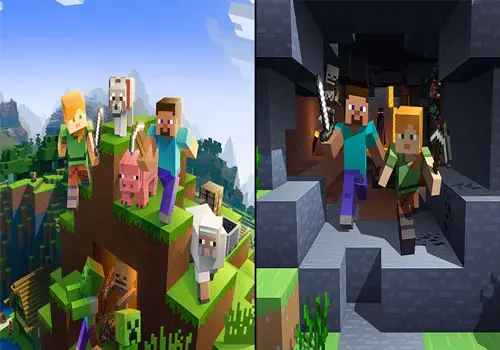 Final Words
If you're wondering whether Minecraft Java can be played with the Minecraft Windows 10 Edition that you can download from the Windows Store, the answer is no. Minecraft Java can only be played in multiplayer mode along with people who also have the Java version, which limits you to Windows, Mac, and Linux players.
However, Minecraft Java can still be played fully on a Windows 10 or even Windows 11 PC. You might want to download the Windows 10 version, though. This lets you play with other devices with the game, including Xbox, PS5, and smartphones.