Please note that prices on this website are subject to variations, therefore some prices could be over the price limit mentioned in the post.
If you're a casual gamer or just getting into gaming, you might feel reluctant to invest a lot of money in an activity you won't spend much time on. High-end graphics cards can range from $700 to $3000 while mid-range ones can cost you anywhere between $300 and$500. However, if you don't care about playing the latest triple AAA titles, then a good graphics card under 100 should serve you just fine.
Even with the very best graphics card under 100, you're going to have some significant trade-offs. The biggest is that most of the time, you'll be gaming at lower resolutions like 720p and 900p. You may be able to play some older games at 1080p however, and esports titles like CS: GO and League of Legends should work just fine since they don't have amazing graphics, to begin with.
100 dollar graphics cards are also suited for video and photo editing and other creative work that rely on graphics-intensive software. They're a big step above integrated graphics. In this blog post, I'm going to be reviewing what I consider to be the best $100 GPUs from both Nvidia and AMD that you can get.
Best Video Card Under 100 – Product Reviews
A brief note on how I made this review:
As always, I make it a point to only recommend products I've personally tested. So a couple of months ago, I broke out the old' piggy bank, called a couple of friends and got my hands on a big pile of sub-$100 graphics cards. I then spent a couple of days putting each card through the paces, trying out all sorts of games and photo/video/3D applications. This allowed me to more accurately choose which graphics cards I could confidently recommend to anyone.
| | |
| --- | --- |
| Graphic Card | Chip |
| MSI Gaming GeForce GT 710 | NVIDIA |
| The MSI AMD Radeon R7240 | AMD |
| GIGABYTE GeForce GT 1030 OC | NVIDIA |
| XFX RX 550 2GB DDR5 | AMD |
| EVGA GeForce GT 1030 SC | NVIDIA |
| ASUS R7250-1GD5-V2 | AMD |
| Asus GeForce GT 710 | NVIDIA |
Best Budget GPU (NVIDIA)
Specs
NVidia GeForce GT 710 Chip
DirectX 12 Support
2GB DDR3 V-RAM
GPU Clock: 954 MHz
Memory Clock: 800 MHz
GA, DVI D Dual Link, HDMI
PCIe 2.0 x16 socket
More Info on the GT 710 Chip
The Thermal Design Power (TDP) is rated at 19W which means that it doesn't require any additional power.
192 Shading Units
16 Texture mapping units
Note: if you don't know what to make of all these technical terms, take a look at the buying guide towards the end of this post for easy explanations.
The MSI GT 710 is a great option for the low price bracket it retails at. It's got 2GB of DDR3 RAM which means that you're not going to be able to play high-end games at a reasonable frame rate. However, this should support indie titles like 'Life is Beautiful', Steam titles and other less graphics-intensive games just fine. GT 710 is great for all types of creative work as well. I tested it with a few Adobe software including Illustrator, Animate and Dimensions and the performance was smooth.
This graphics card comes with MSI's proprietary Afterburner technology, which allows you to do numerous things. It simplifies overclocking, which is the process of pushing your GPU's clock speed to its upper limit (If you want to know more about clock speed, read my handy buying guide below). This essentially allows your card to render graphics faster, resulting in a smoother gaming experience. Also, Afterburner allows you to monitor and tweak the graphics card's temperature, keep an eye on the frame rate and record in-game footage using an add-on app called 'Predator'.
Pros
Can be overclocked
Comes with heart-monitoring technology
No external power supply; requires only one PCIe slot
As an alternative, MSI also offers a GeForce GT 710 graphics under with 1GB V-RAM.  It also features a low profile design and supports HDMI output. While it might not be as great for gaming and 3D rendering as the 2GB variant, it's still great for people on very tight budgets and who just plan on running software like Photoshop and Illustrator.
Specs
AMD Radeon RX 550
DirectX 12 Support
2GB GDDR5
GPU Clock: 1071MHz
Memory Clock: 1500Mhz
1x DVI, 1x HDMI
PCIe 3.0 x16 Socket
More Info on the AMD Radeon RX 550
The TDP is 50W so it doesn't need extra power.
512 Shading Units
32 Texture Mapping Units
The PowerColor AMD Radeon RX 550 is priced comfortably under the $100 mark, saving you several dollars. Don't let this relatively low price point fool you though, as this graphics card packs quite a substantial punch.
Let's start with the VRAM. This graphics card comes with 2GB of RAM, which is good for what you're paying. It would have been nicer if they had priced it a bit higher and equipped it with double that. Even then, you get GDDR5 memory, which means relevant game files can be loaded into the GPU memory much faster than with GDDR3 models.
The RX 550 can play more games than you might have guessed. If you're a fan of competitive online games like Fortnite, League of Legends, Overwatch, etc., then you will have no issues whatsoever with this card. That's a great deal if you ask me.
Pros
Uses GDDR5 RAM
The price point is highly competitive
Comes with a standard and low-profile bracket
Cons
Does not have DisplayPort or VGA
Specs:
AMD Radeon HD 5450
DirectX 11 Support
2GB GDDR3
GPU Clock: 650MHz
Memory Clock: 1000Mhz
1x DVI, 1x HDMI, 1x VGA
PCIe 2.0 x16 Socket
More Info on the AMD Radeon HD 5450
The TDP is 19W so it doesn't need extra power.
80 Shading Units
8 Texture Mapping Units
The AMD Radeon HD 5450 is an inexpensive GPU that has its strengths in its versatility. It is an affordable card, and as a result, you shouldn't expect too much when it comes to its gaming prowess. However, those who need a graphics card for other purposes, such as high-resolution video playback and multi-monitor support, will be pleased with this.
You get three video output connections here, with HDMI, VGA, and DVI. DisplayPort is notably absent, but considering the age of this card and what you pay for it, it's easy to let slide.
There are a bunch of AMD technologies supported on this card to make it more efficient. This includes AMD's Avivio HD Video and Display Technology which makes Full HD video playback super smooth, as well as AMD PowerPlay tech, which can help you conserve power. Although it uses GDDR3 RAM, you get 2GB of it, which is fine for what this card can do.
Pros
Very affordable
This GPU is great for productivity in multi-monitor setups
Three video output options
Cons
Lacking in gaming performance
Specs:
Nvidia GeForce GT 730
DirectX 12 Support
4GB GDDR3
GPU Clock: 902MHz
Memory Clock: 1600Mhz
1x DVI, 1x HDMI, 1x VGA
PCIe 2.0 x16 Socket
More Info on the GeForce GT 730
The TDP is 25W so it doesn't need extra power.
384 Shading Units
32 Texture Mapping Units
The GT 730 is a graphics card from 2014, but in recent years, due to a graphics card shortage, some manufacturers have opted to bring this affordable card back to the forefront. If your budget is $100, getting this card won't leave you with much space to breathe, but that's for good reason. The performance it brings to the table is worth it.
You get 4GB of VRAM with the ZOTAC GT 730, and even though it is only GDDR3, there's no reason to complain when you consider the gaming performance. If you play competitive titles at 1080p resolution, you'll find that this can handle the most popular ones at high settings. This includes games like PUBG, Fortnite, Overwatch, and even Grand Theft Auto V. If you're playing anything more intense, you'll need to dial down to low settings.
Another great thing about this card is that if you're into multiple monitor setups, you can use all three ports on this one simultaneously, so you have a total of three monitors running off your computer.
Pros
Allows for a triple monitor setup
Gaming performance is quite admirable
4GB of VRAM allows for smoother and faster graphical rendering
Cons
Price is on the higher end of the spectrum
Specs:
AMD Radeon HD 7750
DirectX 12 Support
2GB GDDR5
GPU Clock: 800MHz
Memory Clock: 1125Mhz
2x DisplayPort
PCIe 3.0 x16 Socket
More Info on the AMD Radeon HD 7750
The TDP is 65W so it doesn't need extra power.
512 Shading Units
32 Texture Mapping Units
One important thing to keep in mind is that when people buy lower-priced graphics cards, it's not always for gaming purposes. These cards are not the best for modern gaming, and sometimes all you need is a card that can support a multi-monitor setup at high resolutions.
If this sounds like you, and you're a fan of Radeon GPUs, then you're going to have an excellent time with the VisionTek Radeon 7750. It packs 2GB of fast GDDR5 VRAM and comes with support for DirectX 12 out of the box. Depending on who you are, you might be pleased that it comes with two DisplayPorts. This output standard is great if you want good video quality.
This card is capable of pushing video data to two separate displays at the same time, and what makes it even better is that it can support resolutions of up to 4K on both simultaneously. This takes a lot of heavy lifting, so cheaper GPUs might not be able to handle it. Plus, since DisplayPort handles sound too, you can get 7.1 Surround Sound in the same package, as long as you have the speaker setup to handle it.
Pros
Supports up to 4K resolution
Uses GDDR5 VRAM
Has DisplayPort, which is rare in this price range
Cons
Gaming performance leaves a lot to be desired
The fan can be noisy
Specs:
Nvidia GeForce GT 1030
DirectX 12 Support
2GB GDDR5
GPU Clock: 1227MHz
Memory Clock: 1502Mhz
1x DVI, 1x HDMI
PCIe 3.0 x16 Socket
More Info on the Nvidia GeForce GT 1030
The TDP is 30W so it doesn't need extra power.
384 Shading Units
24 Texture Mapping Units
More modern cards get the benefit of better performance and power efficiency, so that's just part of the reason why you should take a look at the ZOTAC GeForce GT 1030. It launched in May 2017, which makes it the most recent card on this list.
With 2GB of GDDR5 VRAM and DirectX 12 support, this card can be expected to have some degree of gaming prowess. However, it is important to keep your expectations in check at this price point. This card can play very few games from 2022 on low settings, so you shouldn't expect it to blaze through newer titles. However, if you're into e-sports, you'll find that those competitive games are little trouble for the GT 1030, even on high settings. You also get Nvidia GPU Boost 3.0, which lets the card overclock itself when you need extra performance.
Plus, if you need a card that supports two displays, this has got your back on that account as well. Considering how modern it is and the comparatively high price, it would have been nice if it had at least one DisplayPort.
Pros
Gaming performance is rather good
Opts for GDDR5 VRAM
Power efficiency is great, especially considering the performance
Cons
Doesn't support 4K resolution
Specs:
AMD Radeon HD 6570
DirectX 11 Support
1GB GDDR3
GPU Clock: 650MHz
Memory Clock: 1334Mhz
2x HDMI
PCIe 2.0 x16 Socket
More Info on the Nvidia GeForce GT 1030
The TDP is 60W so it doesn't need extra power.
480 Shading Units
24 Texture Mapping Units
The AMD Radeon HD 6570 is a relatively dated card at this point, but that's partly why you can get it so cheap. Getting this card leaves you with a lot of headroom to buy other things for your new PC build. If you mainly need this GPU to connect two monitors, you're going to love it. It uses HDMI for both and can support up to 1080p resolution.
However, if you're looking to put this in a gaming rig, you'll need to know that this card won't be winning any awards. If your gaming is limited to titles like Minecraft, Roblox, Counter-Strike, League of Legends, and Overwatch, this card will handle them with ease. Even though you only get 1GB of VRAM, which is GDDR3, you shouldn't have any problems with simpler games. Don't bother trying to play The Witcher 3 or CyberPunk 2077, though.
Pros
This graphics card is very affordable
Comes with 2 HDMI ports, which allows for wide compatibility
Cons
1GB of GDDR3 VRAM is too basic
Buying Guide for Best Video Card Under 100
Before you buy a graphics card, it's important that you understand what it can do and whether it fulfills your needs. For instance, if you're just going to be doing photo editing and you're not at all interested in gaming, then you may not have to go for the most expensive card within the $100 range. So understanding the specifications of a GPU can help save you some money.
If you haven't researched graphics cards in the past, you might understandably be confused by some of the technical terms thrown around in this post. So in this section, we're going to look at what some of these common jargons mean and why they're important.
Video RAM
Simply put, Video RAM or V RAM is the temporary memory found in your graphics card. While regular RAM modules are needed for the general loading and running of programs, V-RAM's job is to help the computer render images. When instructions are given to the computer, asking it to display a graphic on the screen, the particular image is first read by the processor and then written into the V-RAM. Finally, a digital-to-analog converter converts this data into an analog signal and sends it off to the display.
The more complicated the graphics are, the greater the amount of data, which in turn requires more V-RAM. We recommend buying a graphics card with at least 2GB of VRAM for games while you won't need that much for creative work unless you're running sophisticated software like Houdini or Cinema4D.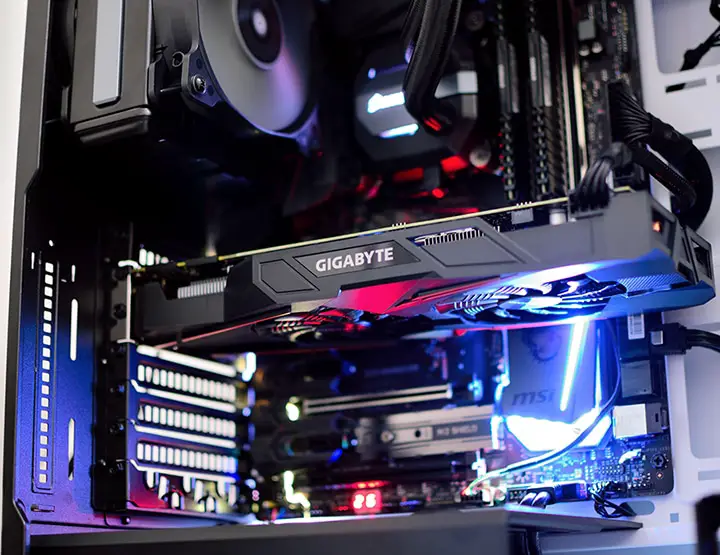 Clock Speed
All GPU's have components called 'cores' whose task is to render graphics. GPU clock speed, measured in MHz and GHz, simply measures how fast these cores can do their job. Another type of clock speed known as 'memory clock speed' indicates how fast the V-RAM can transmit data. The faster the clock speeds are the 'smoother' your experience will be as there will be no lags in rendering times. This is important when you're gaming and can save you a ton of time when you're doing photo and video editing.
Most graphics cards under $100 will have a max GPU clock speed ranging from 600 to 1000 MHz. The very best budget GPUs will have faster speeds.
Connectors
The connectors present in a graphics card determine how you can connect it to your PC. The most common connectors you'll find in graphic cards are HDMI and Display Ports. If you want flexibility, we recommend that you get a unit that has both ports. The downside is that these graphic cards typically cost more money.
PCIe ports
Graphics cards are connected to motherboards via PCIe ports present on the latter. Before you buy a GPU, you need to make sure that it's compatible with the type and size of the PCIe sockets that your motherboard contains. For instance, some cards require PCIe 3.0 while others need the older 2.0 variant. Depending on the form factor of the graphic card, you might need an x16 socket (larger) or an x8 socket (smaller).
DirectX
If you've played games on a PC before, you might have dealt with DirectX before. But what is it? To put it simply, DirectX is a software from Microsoft which communicates with your PC's hardware and completes tasks that are related to rendering 2D and 3D graphics, rendering video and playing audio.
Currently, DirectX 12 is the latest version and therefore you may most likely need it to run the latest applications and games.
Shading Units
GPUs have programs called 'shaders' that produce a range of effects on 2D and 3D structures, including altering the lighting, saturation, hue, brightness as well as adding things like blur, distortion, and shadows. Game developers and animators these days, spend a lot of time fine-tuning and making sure that their models have a lot of realism to them. For your PC to accurately render these nuances, your GPU will need to have a specific number of shading units. So, the greater the number of shading units, the more accurate the rendered graphics will be.
Texture Mapping Units (TMUs)
Games use textures to generate virtual environments such as fields, roads, walls, beaches, lakes…etc. Graphics cards have these components called 'Texture Mapping Units' or TMUs that apply textures and texture behaviours to each pixel that is rendered on the screen. So not only does it render the look of the textures used but also animates and responds to the user's actions. When you're comparing two graphics cards, take a look at how many TMUs they each contain. The one with more TMUs will be faster at processing textures.
AMD vs NVIDIA – which is better?
This is a tough question to answer and internet warriors have been arguing about this one for decades. Here's my take on it: instead of focusing on the brand, just look at the specs. AMD is said to be better if you're budget is low-to-mid-tier and NVIDIA is best if you've got more money to shell out.
However, this hasn't been true in my experience. NVIDIA does put out some killer entry-level GPUs and this post is proof of that.
In Conclusion, what's the best GPU under 100?
In all honesty, you can't go wrong with any of the graphics cards that are listed above. Just make sure that they fit your needs. For gamers, I'd highly recommend the GIGABYTE GeForce GT 1030 OC if you're an NVIDIA user and the XFX RX 550 if you're going to go with AMD. In my opinion, they're the best overall picks on the list.
So the next time your elitist gamer friend tells you there's no such thing as a 'good' $100 Graphics Card, just show them this list!