Please note that prices on this website are subject to variations, therefore some prices could be over the price limit mentioned in the post.
The CPU and GPU are like the heart and soul of a PC gamer. So, picking the right GPU that is compatible with the CPU while restricted by a budget can be quite a daunting task.
That's why we've done the hard work and curated this best graphics card under $150 article for our gamers.
Product Roundup
GPU Base Clock
OC Mode: 1290MHz Gaming Mode:1265MHz
Product Reviews
Let's start with the GPU with the highest number for cores from ZOTAC, which uses the Nvidia GeForce GTX 1650.
The GPU is quite small and can easily fit on most gaming systems. The unit comes with a 90-mm fan and doesn't overheat much thanks to a sunflower heatsink. The small fan barely makes any noise.
In terms of power the unit only can hold 1 PCL power supply.
Overall, the GPU has a base clock speed of 1485MHz and can be boosted to 1695MHz. A 4GB GDDR5 VRAM is also quite rare in this price range.
Pros
Silent operation
High number of cores
Cons
Clock speed should be a bit better
Now, this doesn't look like your everyday GPU with a nice covering and design. It just has the bare minimum to give you a good visual experience.
With the highest clock speed, the VisionTek Radeon also naturally has the highest TDP on our list and the second-highest number of cores.
The chip inside is the AMD Radeon HD 7750 paired with a disappointing GDDR3 VRAM of 1GB.
What makes this device special is the 11 drivers built into this despite the size and it fits almost all types of systems.
Pros
Cons
Bare unit, should be handled with care
A lightning design from Gigabyte brings you the Nvidia GeForce GT 1030.
Gigabyte is a renowned name in gaming and this another exception entry-level unit from them. This GPU is just a couple of dollars more than our cheapest entry but is much better with its one-click super overclocking feature.
Heat management is also well done with its 80mm fan coupled with a 3D fan-stop technique.
Pros
Solid design
Good heat management
Price
Cons
RAM capacity is a bottleneck
If you're looking for a 50 dollar graphics card, I present to you the Gigabyte Nvidia GeForce GT 1030 OC 2GB.
Again, for this price, you really can't expect a solid build. The unit is bare and should be handled with care. MSI is a renowned brand when it comes to gaming so naturally, most of their products are top-notch.
However, this chip does struggle even at medium graphics but what can you expect from the cheapest device on our round-up.
It has the lowest number of cores, clock speed, and power consumption.
Pros
DVI, HDMI, and display ports
Nvidia Adaptive VSync technology
Price
Cons
Might struggle with certain games
This probably wins the award for the best value from all our entries. At this price, a 4GB GDDR5 is a sweet deal.
The GPU from XFX features the AMD Radeon RX 550 with 512 stream processors and a base clock speed of 1203MHz. The 128 bit VRAM is more than enough for a GPU in this range.
The unit is powered through your motherboard and only has a 50W TDP.
Pros
Supports 4K video resolution
Price
XFX True Clock Technology
Cons
Design is not low profile
Buying Guide and FAQ
Now, remember when moving down into the lower price range, your GPU isn't going to be that powerful. If you continue reading, you'll find out how good a budget GPU is and what to expect from a one.
The CPU and GPU affair
New gamers tend to get lost in the GPU world and then forget that show is run by the CPU so you need to find a GPU that matches.
Even if you buy the most expensive graphics card but your CPU can't support it, what's the point?
So, to avoid bottlenecks, the first point to remember when getting a GPU is to find compatible components.
Brand
When it comes to CPU's, it's usually AMD or Intel.
So, when we talk about the chips inside the GPUs the best comes from either NVIDIA or AMD.
They've allowed other manufacturers to sell their products coupled with their innovations, so the same chip could have different clock speeds or cooling systems depending on the manufacturer you buy it from.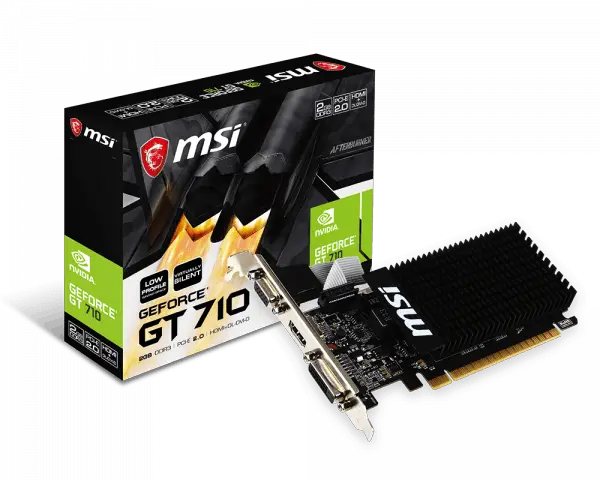 Clock Speed
This is basically how fast the card works and is given in MHz. The high-end fast graphics card will have a high number of cores working at high speeds while even some of the best low budget GPUs have unsatisfactory clock speeds.
Cores
For the most part, GPUs with a higher number of cores will give you a better experience. There are exceptions but this would be the general rule.
If you're looking for the best budget NVIDIA graphics card, you'll see the cores referred to as CUDA while AMD prefers the term stream processors.
Both cores use different architecture.
Memory
Again, the more the merrier. If you want to play games in high settings, you're going to need at least 4GB of VRAM, but this is not going to be possible with low budget GPUs.
For $150, the maximum you are going to get is a 4GB RAM. Anything more and well you must've stumbled on to a seasonal clearance sale.
Also, pay attention to the type of VRAM. Having a lower GDDR5 is better than a higher GDDR4.
TDP (Thermal Design Power)
Power management is quite important if you don't want to mess your system up.
Make sure you have a power supply that matches the power requirement and more in case you want to overclock it.
A big drawback when it comes to budget graphics units is their heat management. They have small heatsinks which make it difficult to maintain optimum temperatures.
Can a $150 GPU run games on max graphics?
Ah, the question you've been waiting for.
It mostly depends on the game you are playing. If the game requires less graphics then you could run it on high settings but,
I'm sorry to burst your bubble, but if the game has high graphics you're probably going to have to explore more expensive units like the ones we've listed on our best GPU for 1440p 144hz article.
You're probably here because you are strapped for cash or just getting into the gaming arena and building your first PC. We all have to start from the entry-level anyway. Plus if you are just upgrading your PC and you have an entry-level CPU, you can't help but get an entry-level GPU, right?
We hope we were able to enlighten you and help you make a good choice.
Game on.