Is Fortnite CPU intensive?
The answer is no.
Fortnite isn't the sort of game that requires a lot of powerful hardware to run. In fact, you should be able to run in just about any PC that was released within the past five years.  The minimum Fortnite spec requirements include an Intel HD 4000 or a better GPU and a Core i3 processor with a clock speed of 2.4 GHz. Hence, technically, you could run it on a budget laptop with an integrated graphics card.
However, if you've ever played Fortnite, before then you know that having a high FPS rate can give you an enormous edge over other players.
What's the best graphics card for Fortnite?
In this blog post, I'm going to be reviewing several GPUs that go above and beyond the minimum requirements, allowing you to have the smoothest gaming experience when playing Fortnite or any other popular e-sports title.
Product Reviews – The Best GPU for Fortnite
I managed to get my hands on a big pile of graphics cards from both NVIDIA and AMD. I then tested each one with the same PC rig, playing Fortnite at least an hour a day. Needless to say, I'm pretty sick of seeing the 'loser dance' by now.
The graphics cards listed below are the ones I've shortlisted from my testing. I believe it's a good mixture of cheaper and more expensive cards. Considering that the minimum graphics card for Fortnite is an Intel HD 4000, you can't go wrong with any of these recommendations.
Specs
Nvidia GeForce GT 1050 Ti Chip
4GB DDR5 V-RAM
1328 MHz Base Clock Speed
1442 MHz Boost Clock Speed
1x DVI, 3x HDMI, 1x DisplayPort
PCIe 3.0 x16 socket
About the Nvidia GeForce GT 1050 Ti Chip
The Thermal Design Power (TDP) is rated at 75W which means that it doesn't require any additional power
768 Shading Units
48 Texture Mapping Units
The GTX 1050 Ti from Gigabyte comes in both 2GB and 4GB V-RAM versions. I recommend going for the 4GB version because it means that you won't have to upgrade further down the road as Fortnite editions get more advanced.
The Gigabyte GTX 1050 Ti is a low profile graphics card, reaching only 167 millimeters in length. While it still requires a PCIe x16 slot, this means it's less likely to obstruct other components on your motherboard.
This graphics card has a base clock speed of 1328 MHz and a boost clock speed of 1442 MHz. This allows it to run Fortnite at around 150 FPS on average on 1080p Medium settings. However things change dramatically if you switch to the 'Epic' settings and all of a sudden, you'll notice that the FPS barely stays above 60.
The Gigabyte GTX 1050 Ti is super easy to overclock thanks to the XTREME Engine Utility interface it ships with. It allows you to keep an eye on the clock speeds, voltage, and fan performance and tune them on the fly.
The GTX 1050 comes with Lower RDS(on) MOSFET, which assists in cooling. Lower RDS, which is an acronym for "Lower Resistance(drain-to-source)", basically means that the circuit board is more power efficient and as a result, less heat is produced as waste.
This helps a lot when you're overclocking for long periods because it'll keep the GPU from overheating.
Pros
Can be overclocked
Low-profile design
No additional power requirement; requires only one PCIe slot
Cons
No support for 4K
Wouldn't recommend using this to play Fortnite in Epic Mode
Specs
AMD Radeon RX Vega 64
8GB GDDR5 V-RAM
1272 MHz Base Clock Speed
1575 MHz Boost Clock Speed
1x HDMI, 3x DisplayPort
PCIe 3.0 x16 socket
About the AMD Radeon RX Vega 64 Chip
The Thermal Design Power (TDP) is rated at 295W which is quite high. If you don't already own one, I highly recommend you get a power supply with a rating higher than 600W to run this graphics card.
4086 Shading Units
256 Texture Mapping Units
The Radeon RX Vega 64 is quite a powerful GPU chip from AMD. First of all, it's got impressive clock speeds: 1272 MHz Base and 1575 Boost which allows you to have Fortnite running at around 260 FPS on 1080p Medium settings and around 128 FPS on Epic. So not only can you play the game without any stuttering whatsoever, you can also have the graphics on high at the same time.
Having 8GB in V-RAM affords you more flexibility when choosing games. In addition to e-sports titles like PUBG and Fortnite, you'll also be able to explore Triple-A titles like the new Doom Eternal and Resident Evil.
Something that impresses me a lot about the RX Vega 64 is that it has an incredibly high amount of Shading Units and Texture Mapping Units: 4086 and 256 respectively. This allows it to render all the different textures found in the Fortnite maps with blazing speeds and a ton of detail. You're also going to get better lighting and shadow effects thanks to the shading units but of course, Fortnite isn't the type of game that gives you time to stop and admire the quality of the CGI. So if you load up something like Witcher 3, you'll see what I'm talking about.
This graphics card comes bundled with MSI's Afterburner technology which makes various tasks a lot easier. Most importantly it simplifies the process of overclocking the GPU by giving you easy access to settings like the clock frequency, voltage, and fan speed. Afterburner also makes in-game recording much easier which is great if you want to get into streaming.
Pros
Fast and powerful, allows you to play in Epic Mode in 1080p
Renders very realistic graphics
Easy to overclock
Cons
No support for 4K
Draws a lot of power
Specs
NVIDIA GeForce RTX 2060
8GB GDDR6 V-RAM
1365 MHz Base Clock Speed
1750 MHz Boost Clock Speed
2x HDMI, 2x DisplayPort
PCIe 3.0 x16 socket
About the NVIDIA GeForce RTX 2060 Chip
The Thermal Design Power (TDP) is rated at 160 W which is quite high. A power supply unit with at least 450W is recommended.
1920 Shading Units
120 Texture Mapping Units
The GeForce RTX 2060 from Asus gives a performance that's comparable to the MSI RX Vega 64 AIR Boost. This RTX 2060 also comes with 8GB of V-RAM but its chip is in the much-faster GDDR6 standard.
GDDR6 offers twice the read/write speeds of GDDR5 while drawing also being more energy-efficient. However, you're unlikely to see a significant difference when it comes to current editions of Fortnite.
The ASUS Geforce RTX 2060 features a high boost clock of 1710 MHz, which makes for some impressive Fornite benchmarks. For instance, it allows you to achieve an FPS of around 270 on average when you've got the game running on Medium settings on 1080p.
If you bump it up to Epic, you're still going to get an impressive 140 FPS. The RTX 2060 isn't just great for fast performance, it can render some high-quality graphics as well. It comes with 1920 Shading Units and 120 TMUs which is enough to render every little detail inside the game.
This graphics card comes with GPU Tweak II software which allows you to switch between different performance settings. There are three default performance modes: silent, gaming and overclock. Overclock mode lets you push your card's performance to the max but the trade-off is that it's going to generate a lot of excess heat. On the other hand, gaming mode preserves the default settings allowing you to game for long stretches.
Silent mode sets a performance threshold, giving your GPU a break while you're doing simple tasks like listening to music or watching videos. Using GPU Tweak, you can create your own performance mode, altering the clock speeds, max GPU voltage, and fan speeds to your liking.
Pros
Fast and powerful, allows you to play in Epic Mode in 1080p with a high FPS
Renders very realistic graphics
GPU Tweak II makes it easy to overclock
Cons
No support for 4K
Draws a lot of power
Specs
AMD Radeon RX 570
8GB GDDR5 V-RAM
1168 MHz Base Clock Speed
1286 MHz Boost Clock Speed
1x DVI, 1x HDMI, 3x DisplayPort
PCIe 3.0 x16 socket
About the AMD Radeon RX 570 Chip
The Thermal Design Power (TDP) is rated at 120 W which is quite high. A Power supply unit with at least 350W is recommended.
2048 Shading Units
128 Texture Mapping Units
Despite being a relatively low-cost graphics card, the XFX Radeon RX 570 RS has a lot to offer. First of all its got a base clock of 1168 MHz and a boost clock 1286 MHz which lets you keep the FPS running close to 200 FPS on the 1080p Medium mode on Fortnite. If you bump it up to 1080p Epic, you'll still be able to keep the FPS at around 75.5 which means no stuttering while you're playing.
This graphics card comes with XFX's True Clock software which is essentially an overclock optimizer. It directly communicates with your PC's hardware so that it can accurately read your graphics card's potential clock speed at any given time. Hence it makes sure not to overexert your GPU by relying on real-time data.
Despite being much cheaper than the RTX 2060, the XFX Radeon RX 570 RS has more 2048 Shading Units. Hence, you're likely to see much more realistic graphics even if they're slightly slower to load.
Pros
Decent FPS in 1080p Epic Mode
High-quality Graphics
Overclock-friendly
Specs
NVIDIA GeForce GTX 1070
8GB GDDR5 V-RAM
1519 MHz Base Clock Speed
1708 MHz Boost Clock Speed
1x DVI, 1x HDMI, 3x DisplayPort
PCIe 3.0 x16 socket
About the NVIDIA GeForce GTX 1070 Chip
The Thermal Design Power (TDP) is rated at 150W which is quite high. A Power supply unit with at least 350W is recommended.
1920 Shading Units
120 Texture Mapping Units
With boost and base clock speeds of 1519 MHz and 1708 MHz respectively, the GTX 1070 Mini from Zotac is rather fit for past-face competitive games like Fortnite.
With GTX 1070, you'll get an average FPS of around 268 on 1080p Medium mode on Fortnite. If you switch to the 1080p Epic mode you're still going to get a very comfortable 130 FPS.
This Zotac graphics card comes with a software called 'Freeze' which automatically controls your fans based on temperature. For instance, Freeze can turn the fans on/off when a certain threshold temperature is reached. Hence, it can help to reduce fan noise and also improve the lifespans of the fans because they're not operating continuously.
The GTX 1070 has the same amount of Shading Units as the RTX 2060 which means that you're going to see pretty much the same quality of graphics.
Pros
Fast FPS even in 1080p Epic Mode
Detailed graphics
Automated fan-control software
Buying Guide for Graphics Cards
Purchasing a graphics card can be a bit of a daunting experience if you're not tech-savvy. There's a lot of jargon being thrown around in product specs which can be very confusing. That's why this short buying guide explains what these terms mean and why they're important to know about.
Video RAM
Video RAM is commonly shorted to 'V-RAM' in the product specifications and it refers to the amount of temporary memory that your graphics card contains. The V-RAM's job is to help your computer render 2D and 3D graphics. Here's how it works:
When you load up a video game, for instance, the code inside the game files instructs your computer to render the graphics on the screen. These graphics are first read by the processor and then written into the V-RAM. Lastly, a digital-to-analog converter changes this data into an analog signal which can then read by the display.
Games with a huge open map like Fortnite need a decent amount of V-RAM because there's a lot of textures and objects to render. That's why I recommend going for graphics cards with at least 4GB of RAM.
Clock Speed
Clock speed is essentially a measure of how fast your GPU can render graphics on the screen. The slower the clock speed, the more lag you'll experience. For instance, have you ever noticed that certain in-game 3D objects don't appear until you're avatar or character comes close enough to it? This isn't much of a problem when you're playing single-player campaign games but with competitive e-sports like Fortnite, you need to know the full scope of your environment to have an edge.
When it comes to clock speeds, you want to make sure that the GPU's base clock speed is above 1000MHz. This will ensure that there's no lag in render times, especially when paired up with a fast processor.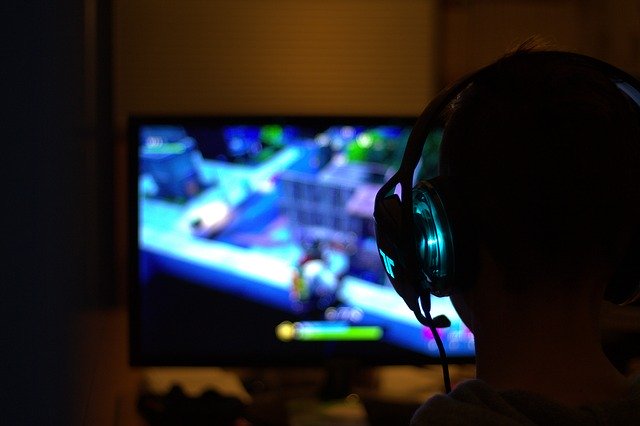 Connectors
A lot of graphics cards come with HDMI and Display Ports. However, if you're a 4K purist, then you'll likely have to spend more money getting a graphics card which supports very high resolutions.
Form Factor and PCIe ports
Graphics cards are connected to the PCIe ports on motherboards. Typically these come in a variety of different sizes, denoted by 'x4', 'x8', 'x16'...etc. PCIe x16 is the largest size and you'll need one of these to connect very high-end graphics cards like a Geforce RTX 2080 Ti. Most of the time, you'll need either an x8 or an x16.
In addition, you should pay attention to the type of PCIe port required by the graphics card as well. For instance, most modern ones will be compatible with PCIe 3.0 while older ones may require a 2.0 port.
DirectX
PC gamers are pretty familiar with DirectX, which is a software created by Microsoft. It communicates with your PC's hardware and helps it with tasks related to rendering 2D and 3D graphics, video, and audio.
At the time of writing, DirectX12 is the latest version so make sure that the graphics card you're buying is compatible with it.
Shading Units
GPUs have programs known as 'shaders' which are tasked with creating various effects on both two-dimensional and three-dimensional structures. For example, shaders are responsible for tweaking the lighting, hue, saturation, and brightness on objects as well as adding effects like blur and shadows.
Modern games have 3d objects with a ton of detail and for your PC to accurately replicate these nuances, it needs a lot of shading units. Hence, in summary, the more shading units a GPU has, the greater its ability to render more realistic graphics.
This isn't something that can profoundly impact someone's experience while playing Fortnite but if you're someone who appreciates great graphics, then go for a GPU with a high number of shading units.
Texture Mapping Units(TMUs)
Textures are used a lot in games to render virtual landscapes like roads, beaches, foliage...etc. GPUs come with 'Texture Mapping Units' or TMUs that apply textures and the corresponding behaviour to every pixel that's being rendered on your screen.
So not only are TMUs responsible for having textures appear in the game but also making sure that they exert the right behaviour (for example, water splashing and rippling when a character jumps in).
The number of TMUs in a graphics card indicates how fast it will process textures in-game.
What's my Top Recommended Graphics Card for Fortnite?
If you were to ask me what graphics card you should buy to play Fortnite, I'd probably make a recommendation based on your budget. So for instance, if you had less than $200 to spend, I'd recommend getting the XFX Radeon RX 570 RS XXX.
However, if money wasn't an issue, then I'd pick the ASUS ROG Strix GeForce RTX 2060 as the best video card for Fortnite. It gives you the fastest frame rate out of all the mentioned cards and it's got more than enough Shading Units and TMUs to handle Fortnite's graphics, even on 1080p Epic Mode.
But what do YOU think? Which graphics card would you pick out of these to play Fortnite?