If your keyboard is typing backwards, a keyboard driver might be bugging out. You will have to delete and reinstall it. It will reinstall automatically with the latest software version.
The problem can also be due to accidentally changing your keyboard settings to type right to left. You will have to press the Ctrl + Left shift to fix this.
I recently faced the problem, and I figured that this was due to a minor bug. I was able to get rid of it by updating my driver.
I ran through how I managed this, as well as all the other possible solutions you can try.
How Do You Fix Keyboard Typing Backwards?
There are many fixes to get rid of the keyboard typing backward problem, and they include: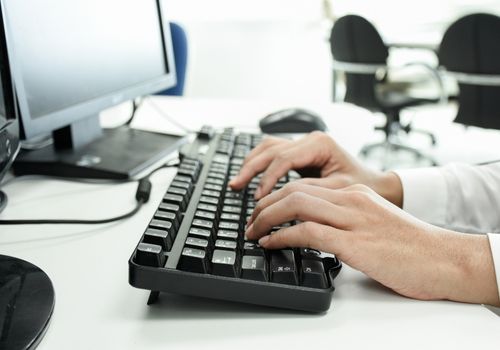 Solution 1: Restart Your Computer
Restarting your computer might do the trick. The problem may be due to a minor software glitch which the restart should be able to clear.
I probably don't need to tell you how to reboot your PC, but here's what you do:
Click on the Windows icon from the taskbar
Click on the Power button
Select Restart from the options
Wait for your computer to reboot
Solution 2: Run Keyboard Troubleshooter
If it's a more stubborn glitch that you're dealing with, you can launch the keyboard troubleshooter to get rid of it.
Here's how:
Press the Windows Key
Search for Troubleshoot
Click on the Troubleshoot Settings option
Scroll down to the right
Click on Keyboard
Select the Run Troubleshooter option
Follow the on-screen instructions
Solution 3: Update Your Operating System
Sometimes, the issue can be due to an outdated operating system. You probably haven't updated it in a while so it could be bugging out.
If you're using an older Windows version, update prompts may have been appearing.
Follow the below steps to fix this:
Click on the Windows key
Go to Settings
Click on Update and Security
Tap on Windows Update
Click on the Check for Updates button
You will have to sit back and relax until the latest updates are installed. It could take a while, as the particular update that you're installing may be large.
Solution 4: Reinstall Keyboard Driver
As mentioned earlier, I was stuck with a backward typing keyboard because a driver was bugging out.
To fix this, I had to open the Device Manager, and then uninstall the driver.
Follow the below steps to do this:
Press the Windows Key and the X button at the same time
Go to Device Manager
Expand the Keyboard option on the list
Right-click on the Standard PS/2 Keyboard (its name will differ depending on your computer model)
Select the Uninstall Drivers button
Follow the onscreen instructions to uninstall the driver
Restart your computer
Solution 5: Change Keyboard Shortcut
Your keys may be acting up because you changed your Keyboard settings. There is an option that will let you start typing from right to left.
To fix the backward typing, press the CTRL and Right Shift key together.
Solution 6: Change Region Settings
Although I haven't had luck with this fix before, I know quite a few users who have been able to get their keyboard working again by changing their computer's regional format.
Here's how:
Click on the Start menu from the task bar
Search for the Control Panel
Open it
Go to the Region option
Go to the Location Tab
Click on the dropdown menu in the Home Location
Select the United States
Click Ok to confirm the changes and restart your PC
Solution 7: Change Browser Settings
Some browsers come with special settings that allow you to type backwards. You may have enabled this feature and forgotten to change it back.
You will know if this is what you're dealing with if your keyboard gives you trouble only on these apps.
Here's what you do on Google Chrome:
Copy and paste "about://flags into Google's search Bar
Press Enter on the address bar
Go to Force UI Direction
Choose the Left to Right option
Save your changes
Restart Google Chrome afterwards
If the above didn't help, double-check your extensions. Follow the below tips to get rid of the right typing:
Launch Google Chrome
Open Settings
Click on Extensions from Google Chrome Settings
Disable each of your extensions one by one and check whether you can use your keyboard keys like normal
You can also try resetting Google Chrome Settings. This will revert any faulty configurations that you've saved. Just remember that all your customizations would be cleared, so you will have to set them back up again from the top.
Here's what you do:
Open Google Chrome
Go to the Settings menu
Click on Advanced
Scroll down
Tap on the Restore Settings to their Original Defaults option (under Reset and Clean Up)
Confirm the change
FAQ
Answered below are some popular questions.
Why is My Keyboard Typing Backwards?
There are many possible reasons why your keyboard may be typing backwards:
You may be dealing with a minor glitch. You should be able to take care of it by rebooting your computer. If it's a particularly stubborn one, you will have to launch the keyboard troubleshooter. Also, try removing the USB cable if you're using an external keyboard. This can get rid of minor software problems.
Your operating system may be bugging out if you have not updated it in a while. Downloaded the latest Windows version to take care of this.
You may have meddled with your browser settings. If you can't figure out what you changed, go ahead and reset your browser configurations. This will revert them back to their factory default.
You may be typing backward because your computer assumes you're in a foreign location. Change your system's region to solve this.
There is a special system button that automatically makes you type backwards instead of left to right. Press Ctrl and left shift key to undo this.
Your keyboard driver may be bugging out. To get back to regular left typing, uninstall the driver. It will automatically reinstall with the latest software version.
Why is My Laptop's Keyboard Acting Weird?
If your laptop keeps malfunctioning, regardless of whether it's typing backwards, you could be dealing with a minor software problem. Either restart your computer or update your driver software.
Quite a few users have noticed their keyboard malfunction after they've enabled the Num Lock button. You can disable this by pressing the Num lock key and the Fn button at the same time.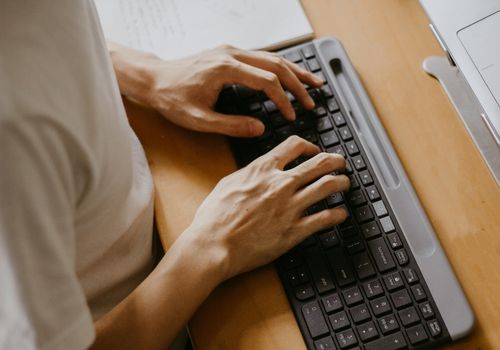 Final Thoughts
There are many reasons why your laptop keyboard or external keyboard is giving trouble. You could be dealing with an outdated keyboard driver.
You will have to delete and reinstall the keyboard drivers, then reinstall them with the latest software version.
The problem can also be due to your keyboard settings being configured incorrectly. You may have done this by accident.
I not only ran through how you can change your keyboard typing direction, but also some additional information.