In my opinion, the i9-9900K from Intel is one of the best processors currently out there for commercial-scale video and photo-editing. It's excellent for gaming too, as it aptly demonstrated during the two months I've had it. With a base clock speed of 3.60 GHz and a boost clock speed of 5 GHz, this thing is fast! So if you're all about that 60fps life, this processor could make you very happy with the smooth gaming experience it provides.
First things first though. To get the most out of this processor chip, you'll need to pair it with a motherboard that can adequately support it. In this article, you'll read about what I've personally tested with the Intel i9-9900K and why I think you should consider them.
So what's the best motherboard for i9-9900K? Read on and find out!
Best Gaming Motherboard for I9
The ASUS ROG Maximus XI Hero is an ATX Z390 gaming motherboard with included 5-way Optimization technology. This means that you can configure any aspect of the system from audio to GPU to storage. The Maximus XI Hero also features Optimem II technology which reduces crosstalk, which is when signals from one circuit interfere with signals from another.
The Maximus XI Hero can easily be overclocked with the dedicated onboard clock generator, allowing you to squeeze every bit of 'juice' out of it to power high-end games. It comes with an AI overclocking system which does it all, if you're not comfortable configuring it out yourself. You don't have to worry about the overclocking spiking the thermals too hard either, thanks to the configurable cooling controls.
The Maximums XI Hero has been tweaked to provide flat frequency response, meaning it doesn't add its own colour to the sound output. I particularly liked this since it allowed me to apply my own EQ settings to the games' sounds. Furthermore, it's fitted with two operational amplifiers, which packs a bigger punch into the sound output.
Pros
Made for overclocking
Excellent cooling system
Onboard Wi-Fi
Contains PCle 3.0 and 2 PCIe X16 Slots which means it can support an extremely powerful external GPU
Contains 4 DIMM slots for a total of 64 GB in RAM.
Comes with M.2 connectors meaning you can install an NVMe SSD for blazing high read and write speeds.
RGB Customization
Cons
The M.2 screws holding the covers down are welded into place with thread-locks so depending on your installation requirements, you may have to strip them out and reposition them.
The Asus ROG Strix Z390-E has a few things in common with its cousin, the Maximus XI Hero, although it is slightly cheaper and a tad smaller. To begin with, it has an ATX form factor, meaning it's targeted for those with large custom PCs. It also comes with 2 PCle x 16 slots and 4 DIMM modules, like the XI Hero.
You also get 5-way optimization technology with the Z390-E, complete with AI overclocking. Essentially, the built-in sensors will use smart prediction and thermal telemetry to figure out how and when the processor should be overclocked. As expected, the Z390-E also has impeccable cooling systems. You're given a widget through which you can manipulate the onboard Fan Xpert 4 system but honestly, I've never had to touch it. The system never really overheated during my gaming sprints but then again, I don't game as often as some people do.
The integrated audio solution found in the Z390-E is the same as the XI Hero's. The sound output is neutral and raw because it hasn't been EQ'd in any way but it's pretty powerful thanks to the built-in amplifiers. Something the Z390-E has over the Hero XI is that it has a more DIY friendly design. This meant that I had an easier time setting it up. If you fumble up the setup a bit, there's nothing to worry about. The built-in MemOK 2 technology automatically fixes boot failures that could be caused by instability.
Pros
Excellent for overclocking
DIY Friendly
Great cooling capabilities
Onboard Wi-Fi
Contains PCle 3.0 and 2 PCIe X16 Slots which means it can support an extremely powerful external GPU
Contains 4 DIMM slots for a total of 64 GB in RAM.
Comes with M.2 connectors
RGB Customization
Slightly cheaper than the Hero XI while still having pretty much the same features.
Cons
The SATA ports are located under the graphic card slots. So if you wanted to change out the storage, you'll need to remove the graphic card every time.
The Gigabyte Z390 AORUS ULTRA features a multi-cut heat sink, which is the sort that dissipates heat at a faster rate. This, combined with the motherboard's thick thermal pads, allows you to overclock without worries of over-heating. The AORUS ULTRA also comes with Smart Fan 5 software which gives you readings on the flow rate and temperatures at different locations. This meant that I could always keep a careful eye on the unit and make sure everything was functioning normally.
This motherboard features AORUS 360 Armor which means the I/O, memory slots and PCIe slots are layered with protective material. As a result, you never have to worry about anything coming apart.
Unlike the aforementioned Asus ROG-series motherboards, the Z390 AORUS ULTRA does not come with a smart overclocking system. This means that if you wanted to overclock for smoother gaming experiences, you'd have to set it up manually.  
Pros
Excellent cooling systems
Highly durable build
Comes with 4 DIMM slots for RAM Modules
Comes with PCIe 3.0
Fast onboard Wi-Fi
Comes with M.2 connectors
RGB Customization
Cons
Overclocking has to be configured manually
Only has one PCIe x 16 slot, which means you'll only be able to fit in one large GPU
The MSI Z390-A PRO LGA1151 features its proprietary Core Boost technology which supposedly keeps all signals undistorted and delivers them to their correct destinations with pinpoint precision. Essentially, this means that you don't have to worry about the slowing down of operations which can otherwise translate to frame rate dips in games and severe lagging in video/photo editing software.
The Z390-A PRO has an extended heat sink which means that it has more surface area with which to dissipate heat. This meant that I could play intensive games or multi-task with large Adobe applications without having the motherboard overheating.
MSI's PCIe Steel Armor slots are quite handy when you're dealing with large graphics cards. They have heavy solder points which cause the motherboard to hold on to the card tighter, preventing any form of sagging.
One of my favourite things about Z390-A is its incredible speed. It's fitted with Turbo M.2 connectors which allow NVMe SSDs to transfer at files at speeds of up to 32GB/s. This is handy if you're working on massive projects and can't waste too much time on file transfers.
Lastly, I want to point out that the sound quality produced from this motherboard was quite excellent. It might have a lot to do with the above-mentioned core boost technology and the fact that all the sound components are kept well-isolated from the rest of the circuitry.
Pros
Durable and intelligent circuitry
Excellent sound reproduction
Contains PCle 3.0 and 2 PCIe X16 Slots which means it can support an extremely powerful external GPU
Comes with 4 DIMM slots for RAM Modules
Cons
Does not come with any form AI overclocking system
No RGB customization
The second motherboard I tried out from Gigabyte was also from the Aorus series – the Z390 AORUS MASTER. Like with the AORUS ULTRA, this MASTER features an excellent cooling system. It has a Fins-Array heat sink which has a larger surface area for heat dissipation. Plus with the included Heatpipe and thermal baseplate, the AORUS MASTER keeps the temperature from spiking too hard when you overclock.
In addition to this, the motherboard's (storage) slots are equipped with thermal guards as well. So if you have a couple of SSDs you want to fit in there, the guards will make sure that their transfer speeds aren't bottlenecked due to overheating.
Similar to its cousin, the ULTRA, the AORUS Master comes with the AORUS 360 Armor technology. This ensures that you've got a solid foundation for building up your gaming rig.
The AORUS MASTER has a bit of an advantage over the ULTRA when it comes to sound output. It's integrated with Realtek technology which produces fantastic surround sound. If you're an audio engineer, this should complement your studio monitors quite nicely. Plus its overall performance should make running any Digital Audio Workstation (DAW) a breeze.
Pros
Excellent cooling systems
Durable construction
High-quality sound output
Comes with 4 DIMM slots for RAM modules
Comes with 3 M.2 slots
Cons
Overclocking has to be configured manually
Only one PCle 3.0 x16 slot meaning it can only support one large graphics card.
The ASUS Prime Z390-A, though not from the ROG series, have a lot in common with both the Hero XI and the Strix. It's got the same 5-way optimization feature that allows you to sit back and let the CPU handle all the overclocking. The Optimem II does a great job of reducing signal interference, which would otherwise slow things down. Imagine having the frame rate dip harshly while you're playing a competitive online game! That would be disastrous.
Like the aforementioned ROG motherboards, the Prime Z390-A also comes with Fan Xpert 4, meaning you can keep an eye on temperature levels and even map the temperature of compatible ASUS graphics cards, making sure that your gaming experience remains consistently smooth. Something that the Prime Z390-A has over the ROG series motherboards is sound quality. It features Realtek audio technology with an impedance-sensing circuit that automatically tweaks the gain when there are power supply changes. This makes sure that the optimal volume range is always maintained.
The PCIe slots in the Prime Z390-A are heavily fortified which means that you can install heavy graphics cards with external power supplies without having to worry about sagging.
Pros
Excellent for overclocking
No crosstalk
Excellent cooling structures
Superb Audio Quality
Fortified PCIe slots for accommodating heavy GPUs
Contains PCle 3.0 and 2 PCIe X16 Slots which means it can support an extremely powerful external GPU
Contains 4 DIMM slots for a total of 64 GB in RAM.
RGB Customization
Cons
RGB light strips have the older, non-addressable 4 pin headers
FAQ
If you aren't a tech nerd, then you've probably got some burning questions about motherboards and processors. So take a few minutes, and check out this simple FAQ I've put together. If you already know your stuff, then onwards to the reviews!
Is the i9-9900K still worth it?
It certainly is. While the processor was launched in late 2018, it's still putting out excellent performances today. It's very fast even by today's standards and can support video game releases on high graphic settings without suffering significant frame rate drops. For instance, I've been playing The Division with it for the last few weeks at 1440p and so far, the frame rate hasn't dipped below 200! With GTA V at 1440p, the frame rate remains steady at 160 FPS which is also really impressive.
When it comes to productivity, the i9-9900K still holds its own against newer releases. With eight cores at its disposal, things like editing in Photoshop or snipping videos in Final Cut Pro is a breeze. I've had no problems whatsoever with multitasking either, which is great news for all content creators and hustlers out there.
Plus, intel recently discounted the price of the i9-9900K so this is probably the best time to grab one.
How do you find motherboards that support i9-9900K?
To determine motherboard-processor compatibility, you need to take a look at what socket and chipset the former contain. The i9-9900K is the 9th generation Intel Core processor, which means that it's only compatible with an LGA 1151 socket and is best paired with the Z390 Chipset. For a full list of the exact chipset models which 8th and 9th generation Intel Core processors are compatible with, check out this handy motherboard guide.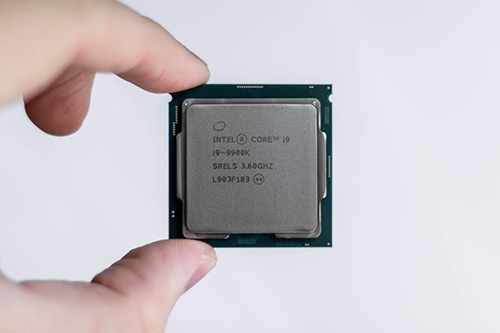 Okay, but how do I make sure that the motherboard is compatible with my PC rig?
Great question! Once you've narrowed down a few motherboards that suit the i9-9900K, you'll need to consider a few other factors as well, before you buy it for your PC, including:
Form Factor – form factor refers to the size of the motherboard, which should, in turn, correspond to the amount of space you've got in your PC. PCs with full-size tower cases can support the largest motherboard size, which is 'ATX' (12 x 9.6 inches). However, if you've got a smaller case, you might want to go for a Mini-ITX or Micro-ATX, depending on the amount of space you've got to work with.
Larger motherboards can also support a higher number of components. If you're a gamer or you work with 3D animation software, you might need more than one GPU. In that case, go with either the Micro-ATX or ATX sizes, which can support up to 3 and 4 GPUs respectively. Similarly, the bigger the motherboard, the more SATA ports and RAM slots it can support.
Room for Expansion – if you figure you might be upgrading your PC in the future (i.e. adding more components to it), then you'll want to have a motherboard with enough expansion ports. Expansion ports allow you to add more components, like graphic cards, storage devices, sound cards...etc. These days, most motherboards come with Peripheral Component Interconnect Express (PCIe) ports.
PCIe ports are available in four different sizes, with the default standard being PCIe 3.0. When you're buying a motherboard, make sure it has enough PCIe slots and that they're the right size for the type of components you want to add in the future.
GPU Compatibility – if you're a graphic artist/editor or a gamer, you've likely abandoned integrated GPUs in favour of more powerful external ones. Hence when you're choosing a motherboard, you need to make sure that it can support the type and amount of GPUs you have. To determine this, first you'll have to check whether the motherboard has a PCIe slot large enough to contain the GPU. So measure the GPU's width and height and on the motherboard. You'll need to measure the distance from the backplate to any other component that could block a huge graphics card.
If your graphics card is an especially powerful one, chances are it needs external power. In that case, your motherboard will need to have enough room to house the external power supply, meaning you'll need to PCle slots in total for outfitting the GPU.
 In general, most GPUs require PCIe x16 slots and the type should be PCle 3.0.
RAM Slots - if you're doing intensive work on your PC, then you likely need a lot of RAM (most probably 16 to 32 GB these days). The number of dual in-line memory module (DIMM) slots that a motherboard contains determines how many RAM modules you can fit into it. Mini-ITX motherboards typically have only 2 DIMM slots while ATX ones can have up to 8.
Storage - Storage is undoubtedly one of the biggest issues for video and image editors as well as graphic artists since they have to deal with very large files. These days, permanent storage comes in two different types: hard disk drives (HDD) and solid-state drives (SDD). The former is usually cheaper while the latter offers much faster file transfer speeds.
A lot of motherboards come with SATA connections, which allow you to plug in both HDDs and SDDs. However, another connection type known as NVM Express or NVMe is becoming increasingly common. It offers more bandwidth at lower power and latency levels. While SATA provides 600 MB/s read and write speeds for SSDs, NVMe is way ahead with transfer speeds of 3GB/s and 1.5GB/s for read and write. There are two types of NVMe SSDS: the larger ones that can be plugged into PCle slots and the more compact ones need M.2 Connections. So if you own the latter kind, make sure that the motherboard you're getting has M.2 connections.
I'm confused by some of the jargon used. Can you explain what they mean?
Certainly! Here's what you need to know:
12+1 Phase VRM – Voltage Regulator Module is an important component found in a motherboard. Its job is to convert the 12-volt power sent by your computer's power supply into a safer voltage, typically between 1.1 volts to 1.3 volts. This helps protect the other components inside the motherboard. Multi-phase VRMS spread the power load over a larger area, reducing the amount of heat produced and improving energy efficiency. Usually, you'll come across numbers like '12 + 1' when reading product specs. The numbers have to do with the number of phases in the VRM and how they're dedicated to different components within the motherboard.
MOSFET – MOSFET stands for 'Metal Oxide Semiconductor Field Effect Transistor' and is a semiconductor device used for switching and amplifying electronic signals. What's important to know is that it controls the voltage and current flow between the power source and motherboard and it works in conjunction with the VRM to ensure that there is no overloading.
RGB – RGB is an acronym for 'Red, Green, Blue' and in the context of motherboards, it refers to flashy lights that are included with most modern units.
Overclocking – To put it simply, overclocking means to put your processor in 'turbo' mode. When you overclock a CPU, you get more power than normal, which is great when you're playing graphics-intensive games or multi-tasking with big applications. Overclocking places more stress on the motherboard and the processor but the effect can be negated with good cooling systems.
GPU – GPU is an acronym for Graphics Processing Unit, which is your graphics card. It's what allows your computer to generate pictures and video.
In this article, you will come across other model-specific jargon which I've made sure to elaborate on.
Can you use one motherboard to power two i9 CPUs?
Currently, there are no dual i9 motherboards for Intel processors. This is because it would be useless and Intel doesn't provide dual-socket support in their consumer-grade chips. 
What brands should I generally look into if I wanted the best MoBo for i9 9900k?
When it comes to z390 motherboards, three brands tend to dominate over the rest: MSI, Asus, and Gigabyte. In my experience, all three brands put out high-quality products so it doesn't matter which of the three you choose. Just make sure that you're buying the best motherboard for your needs.
Related Posts:
The Best Z390 Motherboard For 9900k Chipset
In this section, I've reviewed several core i9 motherboards that personally tested. Full disclosure: not all of these units were factory new when I tried them since I borrowed a few of these from my friends. However, I made sure to get ones that hadn't been modified in any way whatsoever.
The motherboards were tested out with the same PC rig and I made sure to spend at least a couple of days testing out each one.
In Conclusion
The Intel i9-9900K is perfect for anyone who plays high-end game titles or uses large, complicated applications such as Photoshop, Blender...etc. However, to make the best use of the processor, you'll need a core i9 motherboard that can keep up. The six I've reviewed above are what I can confidently recommend but you'll have to determine which one works best for you. For instance, if you want the absolute best for gaming, then I'd recommend the ASUS ROG Maximus XI Hero, which is what I use personally.