With its initial release in 2016, Overwatch became an instant hit with players. Its roster of likable characters and fun gameplay mechanics made it a global obsession, especially among young gamers.
Today, Overwatch doesn't have the same amount of hype surrounding it but it's still a popular game nevertheless. Around 15-20K people still watch Overwatch streams on Twitch each month. This means that you'll have no trouble finding matches if you're thinking of getting into it.
While Overwatch doesn't demand the latest and greatest PC hardware to run, you'll need a capable CPU and a graphics card to play it without stutters. As we all know, stutters are a death sentence in the world of competitive gaming!
So what's the best graphics card for Overwatch?
That's exactly what I'm going to be addressing in this blog post, so keep reading to find out!
Product Reviews
The below-listed graphics cards meet the minimum Overwatch video card requirement and a few even surpass the recommended requirements. However, the actual performance will vary depending on what CPU you're running.
The Specs:
6GB GDDR6
1 x HDMI, 3 x DisplayPort
PCI Express 3.0 x16
NVIDIA ANSEL
Base Clock: 1530 MHz
Boost Clock: 1830 MHz
About the NVIDIA GeForce GTX 1660 Chip:
TDP/Recommended PSU: 125W/350 W
Shading Units: 1408
TMUs: 88
While the GTX 1660 Super is technically a 'budget' card it's still more than capable of delivering great performances. With a boost clock of 1830 MHz, it can keep Overwatch running at around 235 frames per second on the 'High' setting. I did notice that the frame rate dipped during larger fights but this is easily taken care of by switching to a lower resolution setting.
The GTX 1660 Super comes with 6GB of GDDR6 RAM, which is around twice as fast GDDR5. Combine this with the GPU's 88 Texture Mapping Units and it's pretty much guaranteed that all the graphics in Overwatch are rendered extremely fast.
Finally, this graphics card comes with NVIDIA's Ansel software that allows you to capture in-game screenshots and share them. It even allows you to create 360-degree shots.
Pros:
Fast and powerful, despite being a relatively low-cost card
Allows in-game screenshots
Cons:
Not as smooth on the High-res settings during intense match moments
The Specs:
8GB GDDR6
PCI Express 3.0 x16
Base Clock: 1470 MHz
Boost Clock: 1680 MHz
1x HDMI, 3x DisplayPort
About the GeForce RTX 2060 Chip:
TDP/ Suggested PSU: 175 W/ 450 W
Shading Units: 2176
TMUs: 136
The RTX 2060 has a slightly slower boost clock than the GTX 1660 but it still manages to produce a higher FPS. This is because, first of all, it's got 8GB in V-RAM which means that it can load up more objects and textures at once. Secondly, it's also got more Shading Units and TMUs which means that it's less of a struggle to render graphics on the screen.
In High settings, this graphics card was able to keep the FPS above 315 most of the time. While large firefights did cause some significant dipping, I didn't feel the need to switch to a lower setting.
Something I love about this Gigabyte VGA is the Windforce 2X cooling system. It features two 100mm fans which spin in alternate directions, leading to more efficient heat dissipation.
Pros:
Enough V-RAM for Overwatch
Very fast FPS event at High-res settings
Effective air dissipation
Cons:
A little on the expensive side
The Specs:
Base Clock: 1257 MHz
Boost Clock: 1366 MHz
1x DVI, 2x HDMI, 2x DisplayPort
PCIe 3.0 x16
About the Radeon RX 580 Chip:
TDP/ Suggested PSU: 185W/450W
Shading Units: 2304
TMUs: 144
The Sapphire Radeon Pulse RX 580 offers a lot for its price point. For instance, it offers 8GB of V-RAM, but keep in mind that it's GDDR5 and not 6 which means that it won't be as fast the RTX 2060. Furthermore, it has a decent boost clock speed of 1366 MHz which caps off the frame rate at around the 120s on the High Settings.
If you don't want to experience stuttering during large matches, I recommend playing at Medium Settings instead.
This graphics card ships with Intelligent Fan Control III software which tries to keep the fans as quiet as possible. When you're doing light work, the fans don't spin at all and only start to back up when you load up a game or a heavy application.
Pros:
Excellent performance for this price point
More than enough V-RAM for Overwatch
Great cooling system
Cons:
Not very suited for playing Overwatch at the High Setting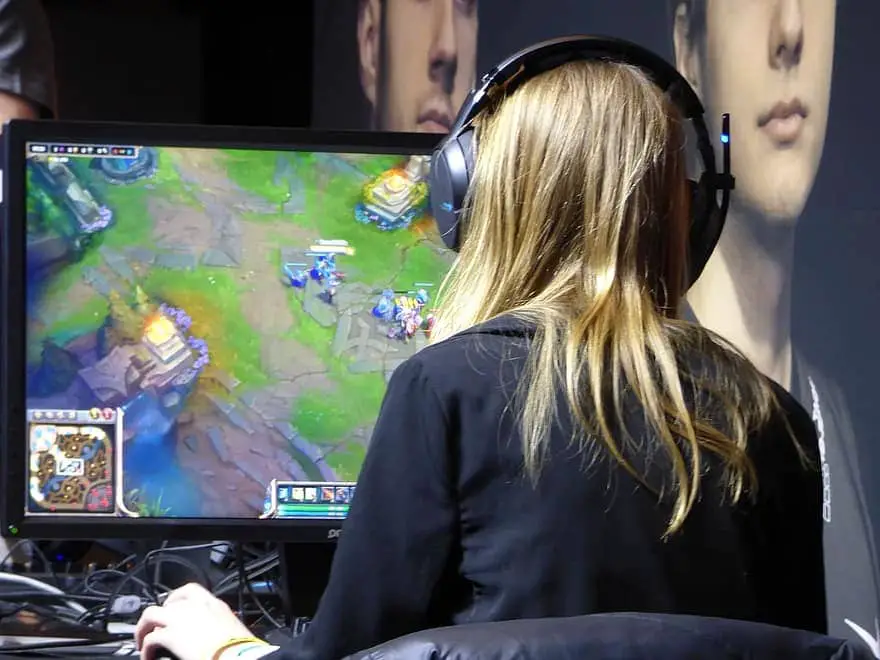 Best GPU for Overwatch
The Specs:
Base Clock: 1350 MHz
Boost Clock: 1650 MHz
2x HDMI, 2x DisplayPort, 1x USB Type-C
PCIe 3.0 x16
About the NVIDIA RTX 2080Ti Chip:
TDP/ Suggested PSU: 250 W/ 600 W
Shading Units: 4352
TMUs: 272
In all honesty, an RTX 2080Ti is pretty overkill if you just want to play Overkill. However, if you want an extremely powerful graphics card and you don't mind the high price tag then go for it.
This graphics card has a boost of 1665 MHz which isn't out-of-this-world like you might expect from this price point. However, it leverages power differently, through the use of 'CUDA Cores'. CUDA is a programming language developed by NVIDIA that can create thousands of parallel processors. This means that tasks like rendering in-game scenery and drawing character models can be handled much faster by the GPU.
The RTX 2080Ti is nothing short of a beast, allowing you to run Overwatch on Ultra while still keeping the FPS at around 150 FPS. It's also got 11GB of V-RAM which means that you can play pretty much any Triple-A title that's out right now.
Lastly, this graphics card comes with GPU Tweak II technology which allows you to toggle between different performance modes or customize your own. These change up the GPU performance, making it easier to overclock when needed.
Pros:
One of the most powerful graphics cards on the market right now
Allows you to play Overwatch on the Ultra setting
Has almost twice the recommended V-RAM for Overwatch
Easy to overclock
Cons:
Expensive
It's a very large graphics card with a length of 300mm
Eats up a lot of power
The Specs:
Base Clock: 1530 MHz
Boost Clock: 1740 MHz
1x DVI, 1x HDMI, 1x DisplayPort
PCIe 3.0 x16
About the NVIDIA GeForce GTX 1650  Chip:
TDP/ Suggested PSU: 100W/350W
Shading Units: 1280
TMUs: 80
What if you just wanted a GPU that just fulfilled the minimum spec requirements for Overwatch? Then I'd recommend the Geforce GTX 1650. It's got 4GB of GDDR6 V-RAM which is what Blizzard lists as the minimum amount of V-RAM needed to play Overwatch.
So as you might guess, you're not going to the best performance for Overwatch out of this graphics card. Despite the impressive boost clock speed of 1740 MHz, the lack of V-RAM and the relatively low Shading Unit count holds it back. If you want to play Overwatch on this graphics card, then you're better off having your settings at Low for optimum performance. If you try to push it to Medium, you may experience some stutter.
This graphics card comes with MSI's afterburner technology which makes overclocking much easier. It lets you access variables like clock frequency, voltage, and fan speed so that you can configure them to your liking.
The MSI GeForce GTX 1650 Super Ventus delivers exactly what you might expect from a graphics card in its price point.  It's hands down one of the best cheap graphics card for Overwatch that I've tried.
Pros:
Low-priced but can still run Overwatch
Easy to overclock with MSI Afterburner
Cons:
Pretty much restricts you to the Low setting on Overwatch
Specs
Base Clock: 1519 MHz
Boost Clock: 1708 MHz
1x DVI, 1x HDMI, 3x DisplayPort
PCIe 3.0 x16 socket
About the NVIDIA GeForce GTX 1070 Chip
TDP/ Suggested PSU: 150W/350W
Shading Units 1920
TMUs: 120
The GTX 1070 is a well-performing GPU, especially when it comes to e-sports titles like Overwatch. It's got a Boost clock speed of 1708 MHz and when combined with the 8GB of V-RAM, you get an FPS that hovers around the 145 mark on High settings. When you've got a lot of players battling on-screen, you can expect this to take a dip but I didn't experience any stuttering whatsoever.
This GTX 1070 graphics card comes with a software called 'Freeze' which automated fan control based on the internal temperature. It automatically turns off the fans when the internal temperature is low enough. This helps increase the fans' lifespans since they're not turned on 100% of the time.
Pros:
Powerful enough for Overwatch on High Setting
Excellent thermals
Cons:
A bit on the expensive side
The Specs:
Base Clock: 1291 MHz
Boost Clock: 1392 MHz
1x DVI, 1x HDMI, 1x DisplayPort
PCIe 3.0 x8
About the NVIDIA GeForce GTX 1050 Ti Chip:
TDP/ Suggested PSU: 75W/350W
Shading Units: 768
TMUs: 48
The GTX 1050 Ti is another budget GPU that fulfills the minimum requirements for running Overwatch. It offers 4GB of GDDR5 V-RAM and its boost clock speed stands at a decent 1392 MHz. In short, with the GTC 1050, Ti Overwatch can be played in Low settings without any noticeable stuttering.
Like the more powerful RTX 2080Ti, it comes with the GPU Tweak II software which gives you an easy-to-use visual interface for overclocking. However, considering that this graphics card only comes with a single fan, I wouldn't overclock it for very long periods, unless of course, you've got a really good cooling system set up in your PC rig. Typically, you don't have to worry about Overwatch overheating GPU as it's not a very demanding game but overclocking tends to overexert your card.
Pros:
Able to run Overwatch smoothly on Low res settings
Easy-to-use overclocking interface
Compact card
Specs
Base Clock: 1272 MHz
Boost Clock: 1575 MHz
1x HDMI, 3x DisplayPort
PCIe 3.0 x16 socket
About the AMD Radeon RX Vega 64 Chip
TDP/ Suggested PSU: 295W/600W
Shading Units: 4086
TMUs: 256
Rounding up my list of graphics cards for Overwatch is another AMD VGA – the MSI RX Vega 64 AIR Boost. It features a base clock speed of 1272 MHz and a boost speed of 1575 MHz, allowing it to retain a 150 FPS on the High setting.
Bump up the resolution to Ultra and the FPS drops down 30 points, which still isn't a problem. However, for big matches, I'd recommend having it on High or Medium for ultra-smooth performance.
This graphics card has an incredibly high number of Shading and Texture Mapping Units which allow it to render very realistic graphics. Lastly, it comes with MSI's afterburner technology which makes overclocking a fast and easy thing.
Pros:
Fast and enough to play on the High Setting
Realistic graphics
Easy to overclock
Overwatch GPU Buying Guide
What exactly does Overwatch require from a GPU to run optimally? Here's what you need to know:
Official Overwatch PC Requirements
According to Blizzard, here's what you'll need to run Overwatch on the lowest as well as the optimal settings:
Minimum System Requirements:
Minimum graphics card for Overwatch GPU: NVIDIA GTX 460, Radeon HD 4850, or Intel HD Graphics 4400
Minimum CPU: Intel Core i3 or AMD Phenom X3 8650 (modern equivalent: Intel Pentium G4560)
Memory: 4 GB RAM
While you can technically run Overwatch on an intel graphics card, we still recommend a good aftermarket GPU from NVIDIA or AMD.
Recommended System Specifications:
Recommended graphics card for Overwatch:  NVIDIA GTX 660 or Radeon HD 7950 (modern equivalent: RX 560)
Recommended CPU: Intel Core i5 or AMD Phenom II X3 (modern equivalent: i3-8100)
Memory: 6 GB RAM
Note:  it appears that the NVIDIA GTX 660 Chip has been discontinued. However, the cards I've recommended above should perform equally as well for Overwatch, if not better.
Setting Graphical Settings
Depending on whether you go with a GPU that meets the minimum requirements or the recommended requirements, you'll need to set your Overwatch graphical settings appropriately. Inside the game, you can tweak settings such as render scale, texture quality and local fog detail to get the best out of your GPU's capabilities.
If you want to improve FPS with very little impact on the graphics then try taking these steps:
Set the Dynamic Reflection to Medium/Low
Set the Local Fog Detail setting to low
If you'd rather sacrifice more on graphics and optimize for performance, try:
Turning off Dynamic Reflections
Setting Shadow Detail to Medium/ Low
Setting Lighting Quality to Medium/Low
The above tips should help if you're using a GPU that's not very powerful. If you're still experiencing performance issues (i.e. the frame rate isn't smooth), then try lowering the render scale. This might make your game look pretty awful but you'll get rid of any stuttering.
How do you check whether a graphics card is good for Overwatch?
Perhaps you want to check whether you can play Overwatch not using GPUs listed above but one that you've come across on your own. There are several factors that you need to look out for to determine this:
Video RAM
Video RAM or 'V-RAM' refers to how much temporary memory you're graphics card contains. When you instruct your PC to render 2D or 3D graphics, the particular graphic is first written into the V-RAM. The larger the V-RAM, the more data it can hold at any given time. As a result, graphics are rendered faster.
With games like Overwatch, where there are a lot of 3D textures and objects to render, you need to have a large amount of V-RAM. That's why 6GB is the recommended amount. While 4GB works fine, you might sometimes see lags in rendering which can be annoying.
Clock Speed
Clock speed measures how fast your GPU can render graphics. So a slower clock speed means that objects and textures will take faster to appear on the screen.
This can be a huge problem with esports titles like Overwatch because you need to be well aware of your virtual environment to have a better chance of winning. You can't have items and obstacles render only when you get close to them.
Fortunately, Overwatch isn't a very demanding game so you'll be just fine with any of the above-mentioned graphics cards.
Form Factor
With great power comes great... size? Typically more powerful graphics cards are larger. Take the RTX 2080 Ti for instance. It's 300mm in length which means it's going to need the largest graphics card port: a PCIe x16. This is true for most of the other graphics cards on this list as well.
Port sizes on motherboards are typically denoted as 'x4', 'x8', 'x16'...etc. Hence, always check what size slots your motherboard has before you purchase a graphics card.
Shading Units
All GPUs have 'shaders' which are programs that render various 2D and 3D effects. They add lighting, hue, saturation, brightness, blur, shadows, and more to graphics to make them look more realistic.
Overwatch, despite being an e-sports title, contains a ton of nuance and detail in the graphics. As a result, you'll need a graphics card with a lot of shading units to render them. The more shading units the GPU has, the more realistic the graphics will look.
Texture Mapping Units(TMUs)
Textures are used in every game to render environments like deserts, forests, and water bodies. Texture Mapping Units or TMUs in GPUs are responsible for attaching textures to each pixel on the screen and also for applying texture behavior.
So things like the wooden texture on crates and the reflections on glass and water are all thanks to TMUs working their magic. The higher the TMU count on a GPU, the faster it's able to render textures in-game.
What's the Best Video Card for Overwatch?
Objectively speaking, the ASUS ROG STRIX GeForce RTX 2080Ti is the most powerful graphics card on this list. Hence it would be the best graphics card for playing Overwatch.
However, it's a bit overkill for Overwatch. So if you're not planning on playing the latest Triple-A games and you're just interested in playing Overwatch and similar e-sports titles, then I recommend the Gigabyte GeForce RTX 2060 Windforce OC 8GB. It produces fantastic Overwatch benchmarks with high FPS even in High and Ultra settings.