Cooling is one of the hottest things (pun intended) being talked about in the PC world. If you are building a PC from scratch for high-performance usage you need to pay attention to thermal management.
If not, I guarantee that you'll be replacing components quite frequently.
While there are so many ways to cool your build, in this article we'll be paying attention to the best airflow cases. Because we know even the little things give you an edge in performance and longevity.
Product Roundup
Dimensions
16.3 x 8.5 x 17.8" (413 × 217 × 453 mm)
18.5 x 7.9 x 16.9" (471 x 200 x 430mm)
15.2 x 9.1 x 15" (387 x 230 x 381mm)
16.3 x 13.1 x 18" (415 x 332 x 458mm)
17.7 x 9.1 x 18.2" (450 x 232 x 463mm)
Motherboard Type
Mini-ITX, Micro-ATX, ATX, E-ATX
ATX , Micro-ATX , Mini-ITX
Case Drive Bays
2 x 2.5/3.5" | 4 x 2.5" | 2 x 5.25"
Front Ports
2 × USB 3.0, Audio In & Out
2x USB 3.0, Audio In & Out
2 × USB 3.0, Audio In & Out
2 × USB 3.2, Audio In & Out
Product Reviews
FRACTAL DESIGN manufactures some of the best cases in the market today. They have a minimalist design without anything too fancy but the end result always feels premium.
The MESHIFY C is easily the simplest case on our list and is hands down amongst best air cooled pc cases. This is due to the massive front mesh that allows air to easily go in or out depending on the air pressure inside the case.
The casing has a total capacity for 7 fans and it comes with 2 pre-installed fans as well (one intake and one exhaust). It also has a cage for the power supply with a maximum length of 175mm(6.9") and this also helps with cable management. Cable management is made even more convenient with the cutouts made for cable routing. 
For the side panel, you can choose between a matte panel or a tempered glass. The tempered glass is personally my favorite. It's ideal for those open case fans. 
You can also fit a liquid CPU cooler with a max height of 170mm(6.7"). I won't be getting into that because we are covering the best airflow cases.
CORSAIR is a familiar name for anyone in the PC world. It's no surprise that we have two CORSAIR cases on our list.
The ATX case has a dimension of 18.5 x 7.9 x 16.9"(471 x 200 x 430mm) and a weight of 10.6lb (4.8kg).It features 4 drive bays( 2.5 x 3.5") located at the bottom strategically to avoid obstruction of airflow, cut-outs for cable management, and a maximum of 5 fans. This is the lowest in our roundup. 
Again, you can pick your choice of side panel. You can choose between opaque, tempered glass, or acrylic. The top GPU slots can hold cards with a max length of 414mm (16.3") which is the longest on our list.
The CARBIDE 100R has 7 expansion slots and supports ATX, Micro ATX, and Mini ITX motherboards.
Our only Mini Tower(Micro ATX ) case comes from COOLER MASTER.
Naturally, since it's a MICRO ATX case the dimensions are smaller, and it also weighs less. The dimensions are set at 15.2 x 9.1 x 15" (387 x 230 x 381mm) and it weighs 8.2lbs (3.7kg).
It also has only 4 expansion slots.
The front panel has a mesh design and you don't have to worry about dust because it comes with pre-installed dust filters that you can easily remove and wash. Another cool feature is that the filters are magnetic so you can opt to keep them on or remove them if you think it hinders the air flowing into the case.
Even though it is the smallest it supports a maximum of 6 fans, a maximum length of 360mm (14.2") for the GPU, and a maximum 160mm (6.3") PSU length.
The other CORSAIR case is also another Mid Tower (ATX) case but this time in the shape of a cube. It's a cube-based Mid Tower.
The CARBIDE AIR 540 is one of CORSAIR'S flagship cases.
I prefer the CARBIDE 100R because the side panels in this seems a bit unsteady. The case has the highest number of expansion slots and supports 6 fan mounts. Inside the case, it's split in two with the motherboard in the front partition and everything else goes into the rear partition.
The case supports MINI-ITX, MICRO-ATX, ATX, E-ATX type motherboards. Out of the 6 fan mounts, the case comes pre-installed with 3 fans (2 140mm (5.5") intake and 1 140mm (5.5") exhaust).
The cube shape helps a lot with cable management and the case has a rubber exterior to dampen the sound of the fans.
Related Posts:
A stunning case from BE QUIET!
As always, we expect silent operations from Be Quiet when it comes to their fans and cases. I mean what else can we expect from a brand named be quiet right?
They always deliver.
The front mesh is split into two with a strip of ARGB LED lights going through the middle making this the only case on our list that comes with pre-installed lights. These can be controlled using the LED button. 
It supports a maximum of 6 fans and comes with 3 PURE WINGS 2 fans also installed. While all the other cases have USB 3.0, the PURE BASE 500DX has USB 3.2 Gen1 Type-A and USB 3.2 Gen 2 Type C ports in the front panel.
It also is the heaviest case on our roundup.
There's plenty of space to compensate for the weight and you can fit a CPU cooler with a maximum height of 190mm (7.5"), a GPU with a maximum length of 369mm(14.5"), and a PSU with a maximum length of 225mm (8.9").
Thermal Management FAQ
Why is cooling and ventilation so important?
Time for a quick physics lesson, all the components inside your PC is made up of circuits with electricity flowing through them.
So, these small circuit components have some kind of resistance in them, and they resist the electricity. This resistance causes some of the electricity which is energy converting to heat according to the 1st Law of thermodynamics.
Because of this process, modern components are made to dissipate heat cause if not they will just melt. So, in the contexts on PC's the heat dissipates from hotter objects to the heat sink.
To make sure this dissipation occurs the heatsink needs to maintain a lower temperature around itself. For this to happen, we use cooling and ventilation fans.
We must ensure the fans are placed properly and air pressure is set accordingly.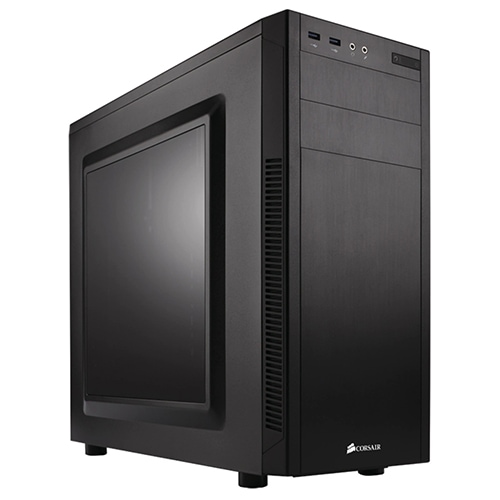 What is PC Air Pressure?
If you've built a PC before or purchased a case before you would have seen slots for intake and exhaust fans.
Simply put, intake fans will bring air in and exhaust fans will send hot air out.
Ideally, we would want a neutral pressure inside, but you would need an airtight case for this. Getting an airtight is quite hard because cases have mesh, holes, slots, and tiny gaps that you can't control.
The real situation is that we can only either maintain a positive pressure or a negative pressure. A positive pressure is when the intake fans draw more air than the exhaust fans can push out. A negative pressure is created inside when the exhaust fans push out more air than the intake fans draw in.
An easy way to know whether your PC has a positive or negative pressure is to do a simple calculation using the CFM of your fans. The higher the CFM, the louder the fan will be so pay attention to sound ratings. At the end of the day, you don't want a PC that sounds like you are in an industrial factory. Your goal should be to build the best quiet PC case for your components.
Add up the CFM rating for all the fans that draw air in, subtracting it from the total CFM rating for all the fans that push air out. Just like that, you will know if you have a positive and or negative pressure inside.
Moving on to which is better positive or negative pressure, in my opinion, positive pressure works best due to one main reason: it prevents dust from entering in.
Dust is one of the main reasons for PC's to overheat and lose efficiency. If you don't have filters installed some of the main ways dust enters your PC are through ventilation holes and those tiny gaps you can't control.
If you maintain positive pressure inside your casing then air will be pushed out through these tiny gaps and if you have a negative pressure then air will be sucked in along with more dust causing quite a few problems.
Some techies do claim that negative pressure gives a lower ambient temperature and it does because I've tried it but only by a couple of degrees. This insignificant change shouldn't be the reason you accumulate more dust inside your build.
How many fans do I need and how to position them correctly?
The number of fans depends on the slots on the casing and also whether you are going to maintain positive or negative pressure.
For simplicity, if we take some intake and exhaust fans with the same CFM then to have a positive pressure you will need one more intake fan that the number of exhaust fans and vice versa for negative pressure.
Moving on to positioning, a fan can be used as an intake or exhaust fan by simply fixing it in different orientations. Air will always travel through one side and come out the other. It's a one-way street.
Ideally, you should place intake fans in the front of your casing and exhaust fans at the back. If your case has vents for fans on the top these should be used for exhaust because hot air will rise.
Think of a hot air balloon. The side and bottom vents should be used for intake.
Apart from fans and ventilation what other ways can I use to cool my PC?
Use fan filters where possible to keep out the dust. Dust is one of the main reasons for heat apart from other causes. More dust means the cooling efficiency drops.
Cable management: ideally the air flowing in and our must not have any sort of obstruction.
Use liquid cooling: Some new super fact processors require liquid cooling to bring out the best. Liquid cooling is a completely different story for another day.
Keep your PC on top of your desk and not the on the floor because that way it accumulates less dust.
Clean it: Always try to clean the insides for dust and keep your PC spotless for maximum efficiency in performance and cooling.
What about open cases?
Now if you have an open case you don't have to pay attention to thermal management unless you live in the middle of the desert and the temperatures outside the casing is more. Then you've got a problem with heat dissipation.
But this isn't the biggest problem with open cases, it's dust. If dust can accumulate in a closed casing imagine the amount of dust in an open build.
If you like looking at all the components running harmoniously together, I would recommend a glass panel casing and also maybe throw in a few RGB lights to make it flashy.
That brings us to the end of an informative read. I hope you were able to learn something new regarding cooling your PC.
Hopefully, you'll make a good choice for the PC you are building, planning to build, or upgrading.