Whenever you push your processor and graphics card to handle high-end games or other heavy applications, a lot of heat is generated as a result. Even if you've got a ton of open space or ventilation in your PC case, you still need a way to dissipate the heat quickly so that it doesn't damage the inner components.
This is where case fans come in. In this article, I'm going to be reviewing what I consider to be the best 140mm fans.
120mm vs 140mm Fans
The default case fan size is 120mm but I, like a lot of other gamers, video editors, and 3D animators, prefer 140mm ones because they can push more air out and thereby keep the internal temperature cooler. This means that 140mm fans allow you to exert your processor and GPU for longer than 120mm ones.
Product Reviews – 140mm PC Fan
To make this review as fair as possible I made sure to use the same rig when testing out each fan. This meant that the only variable was the fans themselves.
The fans mentioned below are what I shortlisted after thorough testing. Once I had the fan installed, I ran a couple of high-end games and loaded up Adobe Premiere Pro and other processor-intensive applications. I made a note of how the fans performed with extended use and ultimately determined which ones I'd be happy recommending.
Quietest 140mm Fan
The Specs:
Size: 140 x 140 x 27 mm
Fan Speed: 800 RPM
Airflow: 46 CFM
Noise Level: 0.08 Sone
Bearing: Fluid Dynamic Bearing
This fan certainly lives up to its name because it's extremely quiet while in operation. According to the product specs, the noise level is rated at 0.08 sone which we gather is somewhere between 10 to 15dB. Sone is a unit that factors in both pitch and volume so it's hard to convert it directly to decibels.
The low noise level probably has a lot to do with its motor which is made from a combination of an alloy and a lubricant, resulting in a movement with very low friction. Also, it's got a leak-free fluid bearing which further contributes to the fan's silent operation.
The Arctic F14 has got an airflow rating of 46 CFM and a fan speed of 800 RPM. These figures are quite decent and while I wouldn't recommend this fan for intense gaming marathons and other heavy applications like 4K video rendering, they're definitely suited for people who don't max out their processor's capabilities on a daily basis.
Lastly, the Arctic F14 doesn't come with RGB lighting which I don't consider to be a deal-breaker.
Pros:
The quietest fan on this list
Likely to have a long lifespan due to the fluid bearing
Cons:
CFM and RPM are comparatively low
The Specs:
Size: 5.51 x 0.98 x 5.51 inches
Fan Speed: 1000 RPM
Airflow: 61.2 CFM
Noise Level: 19.8 DB
Bearing: Rifle Bearing
Despite being a budget case fan, the Be Quiet BL040 is quite powerful. For starters, it comes with nine fan blades which can reach a maximum speed of 1000 RPM. This allows the fan to push out 61.3 cubic feet of air per minute, ensuring that the built-up heat doesn't linger inside your case for too long.
Despite being so powerful, the BL040 doesn't get very loud, reaching only 19.8 decibels at maximum speed. This case fan is fitted with a rifle bearing which is pretty similar to a sleeve bearing but is much quieter and has a longer lifespan. Rifle bearings have spiral grooves in them, which allow them to pump out a lubricant from a reservoir. This means that there's less friction when the fan moves, resulting in noise reduction.
According to Be Quiet, the BL040 is supposed to have a lifespan of about 80,000 hours because of the rifle bearing.
This slim 140mm fan comes with Pulse Width Modulation (PWM) feature which connects to the motherboard and allows you to control the speed and thereby the noise level of the fan. I find this quite useful while playing games because I could ramp up the fans to max speed to ensure the processor and GPU didn't overheat.
Pros:
Doesn't get too loud even at max speed
Durable
Comes with PWM
Cons:
It's hard to think of any, especially given the low price
One of the best RGB 140mm Fans
The Specs:
Size: 5.51 x 5.51 x 0.98 inches
Fan Speed: 1300 RPM
Airflow: 51.5 CFM
Noise Level: 25 DB
Bearing: Hydraulic (Fluid) Bearing
One of the main features of the Corsair LL140 is the included RGB lighting system. You get access to 16 different RGB LEDs, allowing you to completely customize the look of your rig. The LL140 comes bundled with Corsair's Lighting Node PRO which is an RGB controller that connects compatible fans to the Corsair Link software. Using the software and controller, you can toggle between a large number of flashing light modes including 'Rainbow Wave', 'Colour Cycle', 'Visor'…etc.
The Corsair LL140 is quite powerful too, capable of reaching a maximum RPM of 1300. With the included PWM you have full control of the speed. It's also got a pretty decent airflow rating of 51.5 CFM. So you can game with it as long as you're not over-exerting your processor the entire day.
However, compared to the other case fans on this list, the LL140 does get a tad noisy. At max speed, you can expect the noise level to reach around 25dB. However, I feel that this unlikely to bother most people.
Pros:
Impressive RGB Lighting System
Powerful RPM
Decent CFM
Can expect a long life span due to its hydraulic bearing
The Specs:
Size: 5.51 x 5.51 x 0.98 inches
Fan Speed: 1200 RPM
Airflow: 66.4 CFM
Noise Level: 25 DB
Bearing: Sleeve Bearing
The Air Series AF140 Corsair is a quite capable case fan. It's got a high Airflow rating of 66.4 CFM which is more than enough for PC rigs running video rendering applications and graphics-intensive games. Its blades are powerful and can achieve a max fan speed of 1200 RPM, which means the performance is comparable to the Corsair LL140. Despite this, the fan doesn't get as loud as you might expect. Its noise level peaks at around 25dB, which isn't bad at all.
Just like the Corsair LL140, the AF140 offers beautiful RGB illumination thanks to the four built-in LED lights. However, it doesn't come with the same RGB controller, which is understandable given the extremely low price point.
Lastly, each AF140 contains a sleeve bearing. Sleeve bearings have porous 'sleeves' which contain either oil or grease, allowing them to self-lubricate. Sleeve bearings are less durable at high temperatures because the lubricant dries up faster. If it's constantly subject to temperatures of around 50 degrees Celsius, it'll have a lifespan of about 30,000 hours. So keep that in mind if you're buying this fan to support your long gaming marathons, which can undoubtedly lead to some high temperatures.
Pros:
Very high CFM and RPM
LED Illumination
Cons:
Can get a tad noisy at max fan speed
Doesn't come with a PWM
Lifespan gets shorter when constantly subject to high temperatures
Highest CFM140mm Fan
The Specs:
Size: 5.51 x 0.98 x 5.51 inches
Fan Speed: 1500 RPM
Airflow: 82.5 CFM
Noise Level: 24 DB
Bearing: SSO Hydrodynamic Bearing
What initially drew me to this Noctua 140mm case fan was the aesthetic. The combination of the brick red blades and the beige housing piqued my interest. However, this fan was more than just a pretty thing to look at.
If you inspect the blades very closely, you'll see three grooves at the very end that are known as 'flow acceleration channels'. These exist to reduce flow separation (i.e. stop the air from going off in several directions). As a result, the fan achieves high airflow efficiency and can reduce noise levels as well.
The Noctua NF-A14 has silicon pads fixed at the edges of the housing. These absorb minute vibrations that are produced when the blades rotate at a very high speed. As a result, these fans are less likely to rattle inside the case at high RPMs.
The NF-A14 can achieve a max fan speed of 1500 RPM, allowing it to push out an outstanding 82.5 cubic feet of air every minute! The fan does all this while keeping its noise level below 24 dB most of the time. It also comes with a PWM that allows you to tweak the fan speed between 300 and 1500 RPM.
Finally, the NF-A14 contains a Self-Stabilizing Oil Pressure (SSO) bearing. Essentially, it's a hydrodynamic bearing with a magnet thrown into the mix. The resulting magnetic field stabilizes the rotation of the fan, leading to greater airflow efficiency as well as a long lifespan.
The Noctua is one of the best static pressure fans that the 140mm category has to offer. If you aren't familiar with the term 'fan static pressure', it refers to the amount of resistance that the fan has to work against to blow air in the desired direction. Static pressure fans are commonly used on or in front of large components like GPUs and radiators, where airflow might be typically blocked off.
Pros:
Very powerful
Efficient Airflow
Highest CFM out of all the fans on this list by far
Can Expect to last a long time
Cons:
The colours might be off-putting to some
My Pick for best 140mm Fan
My choice ultimately comes down to the fan that allows me to do processor-intensive tasks for the longest period. If a cooling unit with 140mm fan dimensions can allow me to play games for several hours at a stretch without having to give my CPU a break, then I'm sold.
In light of that, my choice would be the Noctua NF-A14. It's one of the best airflow fans and also one of the best static pressure fans I've come across. Thanks to the high CFM and RPM, this fan can keep my NVIDIA RTX 2080Ti from overheating when I'm gaming at very high resolutions. Plus I trust it to last a long time, thanks to its special SSO bearing.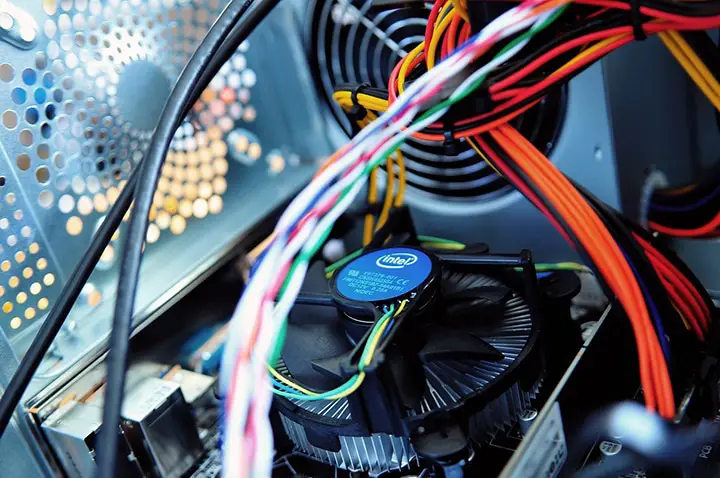 Buying Guide
If you haven't shopped for computer fans before, you might not be familiar with the jargon that's typically seen in product specifications. That's why I've put together this handy buying guide, so you know which factors to consider when buying a 140mm PC fan.
What size case fan should you go for?
Fan cases come in a variety of different sizes, with the commonest ones being 20mm, 90mm and 140mm. Bigger fans will be able to dissipate heat quickly due to the increased size of the blades. So if you're a serious gamer or you tend to run a lot of heavy applications like video editing software, then I'd recommend going for a 140mm. Otherwise, if you're a casual gamer or you just generally don't put your processor under too much stress, then a smaller-sized fan should serve you well.
The size of the case will also determine what size of fan you can go for. Typically, product specifications on Amazon or the manufacturer's website will tell you what size of fans the case can support and how many.
Watch out for Noise Levels
You can easily determine how noisy a fan might be by looking at the decibel rating on the product specifications. Usually, noise ratings for case fans range from 10 to 36 decibels (dB).
For some people, high noise levels may not be much of a nuisance. For instance, if you always game with your noise-canceling headphones on, you won't be bothered by fans whirring. However, if you're using your PC for something like music production, then you're going to need a fan that stays quiet most of the time.
Airflow
The airflow rating tells you how much warm air is pushed out by the fan and simultaneously, how much cool air it brings in. It's measured in CFM (cubic feet per minute) and the higher its value, the greater the fan is at keeping the interior temperature low.
Fan Speed
This is of course self-explanatory. Fan speed is measured in revolutions per minute or RPM, so keep an eye out for that on the spec sheet. A lot of modern case fans come with a feature called pulse-width modulation (PWM) which allows you to control the fan speed. This can come in handy when you're trying to shave off some noise.
The Type of Bearing
A lot of people don't pay attention to the type of bearing in their case fan but this can make a difference. For instance, ball bearings are very durable so they can, in turn, increase the lifespan of the fan. On the other hand, fluid bearings help bring down the noise rating and sleeve bearings usually make the product less expensive.
If you find this article helpful, make sure to share it on social media.