Silence is a key ingredient for an immersive gaming experience. CPU coolers are by far the biggest contributors to noise output, especially air coolers.
A quiet PC case can help dampen loud coolers so that you don't annoy everyone in the house every time you do something processor-intensive on your PC.
What's the best Quiet PC case for you?
In this post, I've reviewed several cases that I had the opportunity to test out personally. Hopefully, this provides some clarity as to what PC case is right for your needs.
Product Reviews – Best Quietest Computer Cases
Despite being a budget PC case, the Carbide 100R from Corsair packs plenty of features. Most of its sound dampening capabilities come from its side panels which are insulated with noise-isolating materials. While I'm not sure what the material is, I've found it to be quite effective, sufficiently dampening even the NZXT Kraken X72 3-fan unit that I mounted inside of it.
You don't need to buy an aftermarket cooler for this case since it comes with two stock 120mm fans. It also includes a 3-speed fan controller, allowing you to reduce the fan's noise level when you're doing light work.
This ATX case features a mesh-free front panel, which further reduces the ability for noise to escape. Inside, you'll find four hard drive trays which can house either 2.5" or 3.5" hard disks of your choice. Mounting hard drives is quite easy and you don't need any tools at all to do it.
The I/O panel sports two USB 3.0 ports for hooking up peripherals or external storage devices. Just having two ports is fairly limited but you can always get a USB hub to get around that problem. In addition to these, you also get a headphone port and a microphone port.
 Pros:
Great value for money
Excellent at dampening out loud fan noise
Easy storage mounting
Cons:
The R5's side panels are made of industrial sound-dampened steel. It contains noise-reducing material throughout its construction, allowing it to effectively absorb most of the sound emitted by fans and other components like radiators. Furthermore, the case comes with ModuVent fan slot covers that give you the option of covering up the fan slots, improving sound absorption.
The fans themselves are Fractal Designs own Dynamic GP-14 140mm ones which were designed with noise output in mind. They're fairly decent fans, capable of reaching a max RPM of 1000. However, I would recommend replacing them with a more powerful cooler if you plan on overclocking your processor.
Like the Corsair Carbide Series 100R, the Fractal Design Define R5 comes with a three-speed fan controller that can be accessed via the front panel. You can control up to three fans with it and it's quite handy if you want to cut down the noise level even further or to bring up the fan speed when you're doing something processor-intensive.
The R5 has dedicated bays for both SSDs and HDDs. They are two SSD-specific trays that are placed behind the motherboard tray and an entire HDD cage system that can house a maximum of eight 2.5" or 3.5" drives. The HDD trays are quite sturdy and therefore won't rattle when the drives kick into high performance.
The I/O contains two USB 3.0 and two USB 2.0 ports so you've got a fairly decent variety. Also, you get an Audio in/out port.
Pros:
Excellent sound dampening capabilities
Supports a large amount of storage
Decent I/O
Cons:
Fans aren't all that powerful
The Pure Base 600 ATX case from be quiet! features a very versatile construction, allowing tons of room for customization. For instance, its three HDD slots can be moved around to make room for a large graphics card and its ODD is entirely removable to allow more room for coolers and drives.
The case comes with a removable cover for its top vent. You can remove it if you want an improved airflow or keep it on for better sound-dampening.
The Pure Base 600 sports a few different sound-dampening measures. For example, its tempered glass side panel, which affords you a complete view of all your components, is decoupled from the case with rubber materials. This prevents any rattling noises when the coolers are working at maximum capacity.
The included Pure Wings 2 fans are pretty quiet too, only reaching 19.2 dB at full speed. You can reduce the noise even further using the 3-step fan controller that comes with the case.
In addition to these measures, the top, side, and front panels contain sound-insulating material that prevents vibration.
The only downside to this case is its limited I/O. It only contains two USB 3.0 ports which means you'll have to buy a USB hub if you want to connect lots of peripherals to it.
Pros:
Versatile construction
Noise dampening measures
Tempered glass side panel provides easy access
Silent fans
Cons:
The Nanoxia Deep Silence 3 has a few tricks up its sleeve when it comes to noise dampening. Firstly, the case is quite thick which means a bigger barrier against sound waves. It contains rubber vibration isolators to prevent rattling while coolers are working at maximum capacity. In addition, each of its drive doors is insulated to contain the noise.
The Deep Silence 3 comes with a removable top panel. You can take it off if you want better airflow or leave it on for sound muffling.
This ATX case comes with 8 drive cages for mounting 5 hard disk drives and 3 solid state drives. These cages are modular, meaning that you can shift them around to make space for other components, including large graphics cards.
The three fans that were pre-installed seemed decent enough. However, if you tend to overclock your processor often, I'd highly recommend springing for a powerful aftermarket cooler.
Lastly, the front panel I/O features two USB 3.0 ports, a single USB 2.0 port and headphone and microphone jacks. You also get two fan controllers which you can use to reduce fan noise when you're not doing anything heavy with the processor.
Pros:
Excellent sound dampening
Good ratio of HDD and SSD bays
Cons:
I'd replace the fans for heavy work
I/O is a bit limited
The Thermaltake Suppressor F31 is an ATX PC case with a lot to offer. To start with, it has sound-dampening panels built into its top, front, and side panels. I found these to be rather effective at muffling noise, even with an aftermarket triple fan AIO unit mounted inside the case.
The case comes pre-equipped with two 140mm fans: a 'Turbo' fan mounted in the front and a 'Riing Blue' LED fan mounted in the rear. The former has a max RPM of 1000 while the latter can reach 1400. If you're planning on overclocking your processor often, I'd seriously consider replacing the Turbofan with a more capable cooler.
Related Posts:
The Thermaltake Suppressor F31 contains a tempered glass side panel that showcases all of your components and provides easy access to the interior. The panel 4mm thick meaning it's probably more durable than your average glass side panel.
On the inside of the case, you'll find fully modular drive cages that you can move around to make way for larger components. Plus the included 5 drive bays don't need any tools to be removed and reattached.
The Riser GPU Support Bracket is a special feature that comes with this case. It supports vertical mounting of large graphics cards and in combination with the optional Thermaltake PCIe x16 riser cable, prevents sagging and reduces the weight applied on your motherboard.
The I/O panel features two USB 3.0 ports, two USB 2.0 ports, and one HD Audio jack.
Pros:
Excellent at sound dampening
Tempered glass panel provides easy access to the interior
Modular drive cages with 5 bays
Riser GPU Support Bracket
Cons:
I'd replace the front fan before doing any heavy work
The Silencio 352's is a micro ATX case which means it's slightly smaller than an ATX.
The case's front and side panels are lined with foam material to absorb any noise generated from the inside. As per my experience, the case stays relatively quiet even when I'm doing heavy work on an overclocked processor.
The Silencio 352 features two XtraFlo 120mm fans whose blades have a unique wave shape to produce better airflow. XtraFlo fans are capable of reaching 2000 RPM but can also be dialed down to just 600 RPM using the PWM fan control. Meanwhile, the rubber pads fitted around the edges of the fans' housing helps to keep it from making too much noise while spinning at high speeds.
Like a couple of other cases on this list, the Silencio 352 comes with a removable top cover which you can take off for better cooling. You can choose to keep it on if you'd rather have better sound dampening. The case contains air filters located in the top, bottom, and front panels. This means that you may not have to clean the case as often to clear away dust.
When it comes to storage, this Micro ATX case can accommodate a maximum of four 3.5" drives and three 3.5". This is quite impressive, considering that it's not a full-size tower case. Finally, its I/O panel includes two USB 3.0 ports, two USB 2.0 ports, one audio in/out, and one SD card reader.
Pros:
Pretty quiet thanks to the foam dampeners
XtraFLo fans are quite powerful
Air filters remove the need for constant maintenance
Decent amount of storage bays for a Micro ATX case
Cons:
Can't house ATX motherboards
The be quiet! Silent Base 601 has a lot going on in terms of sound-dampening. It's one of the most silent pc cases I've come across.
To start with, the Silent Base 601 contains insulation mats of 10mm thickness places on its front, top and side panels which help to stamp out loud noises. Like the Pure Base 600, this case too comes with two pre-mounted Pure Wings 2 140mm fans which are both powerful and silent. It also includes a 3-step fan controller which allows you to control up to three fans.
The air inlets on the fan units are specially designed to prevent rerouting of incoming air. The ultimate result is that it helps to shave some of the noise caused by turbulent airflow.
The Silent Base 601 contains decoupled HDD cages. Since they're decoupled, if the drives start vibrating that movement won't be transferred to the rest of the interior. The case also comes with a PSU shroud which allows you to have your power supply unit installed at the rear rather than inside the case. This helps clear up a lot of space in the interior.
The be quiet! Silent Base 601 is rather easy to handle. Its side panels contain a mounting system with push-pins that make it a breeze to detach and reattach. This is good news if you're the sort of person that upgrades your PC often, replacing components.
The case contains a glass windowed side panel that keeps all of your components in view. It's great for showing off all your fancy hardware as well as your excellent cable management skills.
The I/O panel on this case isn't the best. It features two USB 3.0 ports, one USB 2.0 port, an audio jack and a mic jack.
Pros:
Effective noise-dampening
Low-noise fans
Easy-handling of side panels
Cons:
I/O panel could have been better
What's my Pick for Best Silent PC Case?
Instead of focusing on what's the quietest computer case, I'm going to choose my overall favourite from the list.
All things considered, I'd go with the be quiet! Silent Base 601. It has several sound-dampening features that all add up to make it one of the quietest mid-tower cases I've come across.
In addition, it appears to be built very well and I found the PSU shroud to be a nice touch. It allowed me to mount my SFX power supply on the outside and make more room for future upgrades on the inside.
The Silent Base 601 is an ATX. If you're specifically looking for a smaller case, I'd recommend the Cooler Master Silencio 352 - a capable and quiet micro ATX case.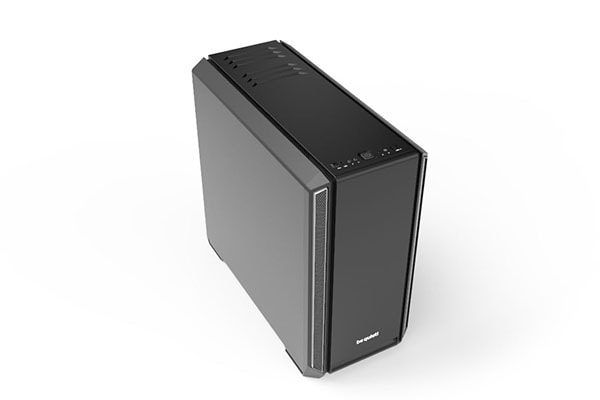 A Brief Guide for Buying PC Cases
Do you know how to find the case that's right for you? In this buying guide, I've outlined the most important considerations when shopping for a PC case: size and features
SizeWhy does size matter? Size is particularly important when it comes to motherboards because they come in three different form factors:  ATX, Micro-ATX, and mini-ITX.
ATX motherboards generally measure 305mm by 244mm and they can only fit into full tower cases or ATX cases. micro-ATX and mini-ITX motherboards on the other hand can fit into smaller cases, depending on their exact dimensions. Therefore you should always consider your motherboard's form factor before you buy a PC case.
In addition, the larger the PC Case, the more components you can fit in. If you're a creative professional or a gamer, then you may have lots of components for your PC build, including multiple GPUs, SSDs/HDDs, and RAM modules. In that case, I'd recommend going for an ATX case.
ATX cases are also ideal if you don't have many components right now but plan to add more in the future. Hence, you should also consider your future PC build ambitions before you decide which case size to go with.
Features
A lot of PC cases on the market come with all sorts of features. But it can sometimes be hard to distinguish between additional features and those that are useful. So to help you out, I've put together this small list of what I think are the most important features to focus on when trying to find the right PC case:
Soundproofing
I talked about all sorts of soundproofing features while reviewing PC cases. These can range from sound-proofing panels to decoupled HDD cages. In general, you might want to go for a PC case that has at least some measures put in place to dampen out internal noise.
Storage Bays
Storage is quite important when you're a gamer or a creative professional. Before you buy a PC case, check how many drive bays it has for hard disk drives and solid-state drives.
Drive cages and bays tend to take out up a lot of space in PC cases. If you plan on mounting large graphics cards or a PSU, then you might want to go for a PC case with modular cages that can be repositioned or removed to clear up space.
I/O
If you're a gamer, you might have a lot of gaming peripherals that you want to connect to your PC. In that case, make sure that you get a PC case with a varied I/O panel.