Please note that prices on this website are subject to variations, therefore some prices could be over the price limit mentioned in the post.
Contrary to popular belief, you don't need to shell out thousands of dollars to build an excellent gaming PC. In this blog post, I'm going to show you how you can do it for less than $700.
Full disclosure: this isn't going to be 'super-powerful' PC by current standards. A 700 dollar gaming PC build is going to have its share of limitations. For example, you wouldn't be able to buy a high-end graphics card within this budget, limiting your ability to play the latest games on the highest resolution settings (think Ultra and Epic).
The Goal:
This build should be enough to play most modern games at 1080p in at least Medium settings. You should be able to run e-sports titles like Fortnite and CS: GO at around 120 - 150 FPS at this resolution. Also, you should be able to play some of the latest Triple-A titles at 1080p on low to medium settings while having the FPS stay above 60.
Here's a summary of the parts I would recommend for a gaming pc build under $700. Next, we'll take a closer look at each model.
| | |
| --- | --- |
| Component | Model |
| CPU | AMD Ryzen 5 2600 |
| Motherboard | MSI B450M Gaming Plus |
| RAM Modules | Corsair Vengeance LPX 16GB |
| Storage | ADATA SU635 240GB |
| Graphics Card | Gigabyte GeForce GTX 1660 OC |
| PC Case | Cougar MX330 |
| Power Supply | Thermaltake Smart 500W |
Product Reviews
While the price was a huge concern, I also made sure to choose components that were both reliable and powerful. In this section, I'm going to be reviewing my picks so that you can understand why I chose them.
The Specs:
6 cores/12 threads
AM4 socket
Base Clock Speed: 3.4 GHz
Boost Clock Speed: 3.9 GHz
TDP: 65W
The Ryzen 5 2600 offers a lot, despite being a somewhat 'budget' CPU. For starters, it features 6 cores and 12 threads. Cores are the units inside a CPU that do the actual processing. The greater the number of cores, the better the CPU is at multi-tasking.
Six cores are plenty for playing the latest games as well as running other processor-intensive software like video-editing and 3D rendering programs.
The Ryzen 5 2600 uses a technology called Simultaneous Multithreading or SMT to split each core into two virtual cores known as threads. This further increases the number of tasks it can handle at any given time. Intel CPUs at this same price point don't come with this technology and that's one of the main reasons I chose an AMD CPU.
Overclocking in the Ryen 5 2600 is automated by the AMD SenseMI technology. This is a saving grace for people who aren't comfortable with manually optimizing the CPU for overclocking. However, even without overclocking, the 2600 can reach a boost clock speed of 3.9 GHz which is still enough to play some of the latest games, albeit at lower resolutions.
Lastly, the Ryzen 5 2600 comes with an AMD Wraith Stealth Cooler, meaning you don't have to hunt for an aftermarket cooler. That being said, you might want to get a few case fans if you plan on gaming for many hours at a time.
Pros:
Powerful
Easy to overclock
Comes bundled with a cooler
Cons:
Will need to overclock to play latest games at higher resolutions
The Specs:
AM4 Socket
B450 Chip
2 PCIe 3.0 x16 slots
64GB Max RAM capacity
 1 M.2 Slot
6 SATA Slots
As indicated by the name, this motherboard was primarily made for gamers. It features a lot of gaming-focused features, including a dedicated gaming port for connecting your peripherals.
Once you've got a keyboard or mouse connected to it, you can use the included software to tweak its settings. This motherboard also includes a bunch of MSI gaming tools including a boost for your voice transmissions over live streams as well as a one-second overclocking feature.
The B450M Gaming plus comes with steel-reinforced PCIe slots for mounting your graphics card. These will prevent your graphics card from sagging over time. Also, these slots are PCIe x16 which are the largest size. This means that they'll support mounting large graphics cards.
The motherboard comes with 4 DIMM slots, supporting a max RAM capacity of 64GB. In terms of storage, you can either plug in a regular SSD to any one of the 6 SATA slots available. In addition, you also get an M.2 slot for connecting a much faster NVMe SSD.
The B450M Gaming Plus comes with the Hysteresis software which automates temperature monitoring and dynamic control of fan speeds. If you wanted to, you could connect up to 6 fans onto this motherboard and control them all through the BIOS. 
Pros:
Gaming-focused features
Sturdy build
Supports large graphics cards
Includes an M.2 connector
Excellent thermals
Cons:
You'll most likely need to upgrade the BIOS if you want to switch to third-gen Ryzen in the future
The Specs:
8GB DDR4 x2
XMP 2.0
8-layer PCB
Aluminium Heat Spreader
The Vengeance LPX RAM modules have low profile designs, meaning they'll fit in even the smallest PC cases. In our case, the PC case is an ATX so space isn't an issue to begin with.
The Vengeance LPX ships with the XMP 2.0 software and what it does is restrict the module to its safest max speed. This will ensure that that there isn't heat throttling with prolonged use. In addition, each module comes with its own Aluminium heat spreader which dissipates heat pretty quickly.
The Vengeance LPX modules are quite fast and that's largely because of the 8-layer PCB. The PCB or 'Printed Circuit Board' is the green board that contains all the memory chips. In each layer of the PCB, there are multiple traces and circuits which carry data. The greater the number of PCB layers, the better isolated the traces are, which in turn translates to cleaner signals.
In summary, the Corsair Vengeance LPX RAM modules are sturdy, high-quality components that are well-suited for any gaming rig. 
Pros:
Compact
Fast data transfer
Can keep up with prolonged gaming sessions without overheating
Cons:
It's hard to think of any
The Specs:
240 GB
520 MB/s and 450 MB/s in read and write speeds
SLC caching
LDPC error debugging
SSD Toolbox and Migration Utility tool
There's a lot that I like about this SSD from ADATA. First of all, it's got decent read and write speeds of 520 MB/s and 450 MB/s respectively. This will cause the installation to speed up and also allow games to load pretty fast.
The SU635 uses a protocol called Single Level Cell (SLC) caching which allows it to store one bit of data per cell inside its memory. Without getting into too much detail, this means that it can transfer data at high speeds while at the same time, consuming minimum power.
Two very useful tools come with the SSD: the Low-Density Parity-Check and the SSD Toolbox and Migration Utility Tool. The Low-Density Parity-Check is a software that examines the code making up your data, detects any errors, and fixes them. This helps to make sure that the data doesn't get corrupt over time.
The SSD Toolbox and Migration Utility Tool help to make the switch from HDD to SDD easier. It enables you to make a secure backup of your operating system and safely transfer it to your SSD.
Pros:
Fast data transfer speeds
Useful tools for migration and ensuring data health
Cons:
240 GB isn't enough if you want to have several games stored in the PC at once. For instance, Doom Eternal requires 50GB of free space and it doesn't even have very large open maps like a lot of other games.
The Specs:
6GB GDDR6 V-RAM
1 x HDMI, 3 x Displayport
PCIe 3.0 x 16
Base Clock: 1530 MHz
Boost Clock: 1830 MHz
This graphics card comes with 6GB of V-RAM which means that it fulfills the minimum requirements of new Triple-A games like Doom Eternal. If I'm being honest, an 8GB graphics card is ideal for the best gaming experience but that would mean going beyond the budget. Nevertheless, the GTX 1660 OC is still quite capable.
Graphics cards have programs called 'shaders' that allow them to apply effects like shadows, lighting, blur, hue...etc. to 3D objects. The greater the number of shading units, the more detailed the graphics are going to be. In the case of the GTX 1660, it has 1408 shading units which are a very decent count. In addition to this, its texture-mapping count is pretty high which means textures and texture behaviors should load quite fast.
The GTX 1660 is compatible with NVIDIA's Ansel technology which allows you to take HDR and 360-degree in-game screenshots. It also works very well with the Open Broadcaster Software so you can have high-quality Twitch and YouTube live streams.
Lastly, the graphics card features excellent cooling thanks to the two in-built Windforce fans.
Pros:
Decent amount of V-RAM
Produces highly-detailed graphics
Compatible with NVIDIA's ANsel and Open Broadcaster Software
Cons:
A lot of game developers list 8GB of V-RAM in their recommended requirements
Related Posts
The Specs
ATX
11.2 pounds
7 x 16.8 x 18.6 inches
I/O: USB3.0 x 2, USB2.0 x 2, Mic x 1, Audio x 1
7 PCI slots
The Cougar MX330 is not only a well-built PC case but also allows a lot of room for future upgrades. It contains 7 PCIe slots which means that you can connect the essentials and have a few remaining.
Being an ATX case, it offers up plenty of space. You can fit in graphics cards that are up to 350mm long. The GTX 1660 is only 224mm so there's no issue at all there. But it means that you can upgrade to a very large graphics card like an RTX 2080 without having to switch cases.
This case comes with a convenient glass side panel which means you can add or remove components without having to unscrew anything. It also means you can flaunt your cable management skills as well as the nice gear.
The MX330 allows you to install up to five fans as well as a radiator to improve cooling. However, you can depend on the AMD Wraith Stealth cooler and the ventilation provided by the cases' mesh front panel for now. It should be fine as long as you don't plan on gaming for several hours on end.
The I/O panel is pretty good as well. You get four USB ports (with two being USB 3.0) as well as one Mic and Audio jack. However, if you do want to connect more than a gaming keyboard and a mouse, then you'd have to get a USB Hub.
Pros:
Lots of Expansion Slots
Can accommodate large graphics cards
Mesh ventilation
Cons:
Would have liked to see more USB 3.0 ports
The Specs:
500 Watt continuous output
80% efficiency with typical usage
Built-in 120mm fan
Built-in protective features
The Thermaltake Smart 500W fits our needs quite well for this build. It's 80% efficient with normal usage, which is rather decent for a power supply unit.
I've had a ton of bad experiences with overheating PSUs in the past but the Thermaltake's built-in 120mm fan takes care of that problem. The fan is pretty quiet and I've hardly noticed it even when I was gaming without headphones.
Lastly, protective features like the Over Power Protection (OPP) and Short Circuit Protection (SCP) ensures that the Smart 500W doesn't suffer any damage during a surge or shortage.
Pros:
High efficiency
Enough power for out built
Well-protected against surges and shortages
Excellent casing
Cons:
What is required to build the best Gaming PC under $700?
Before we get started, let's take a look at the types of components you'll need to build a proper gaming PC. In other words, we're going to be talking about the PC build-essentials.
If you've already built a PC before and you're well aware of the different types of parts you need to get, then feel free to skip to the next section where I review my hardware picks and explain why I picked them.
 CPU
The Central Processing Unit or CPU is the brains of your entire PC setup. It takes in whatever commands you enter and executes them. This includes everything from loading up a simple program to rendering complex graphics. It also oversees asynchronous operations that are necessary for the normal running of all the different components in a PC.
When you're choosing a CPU for your build, you don't ever want to cheap out. In our case, we're going to allocate a significant portion of our budget to the CPU and spring for the AMD Ryzen 5 2600.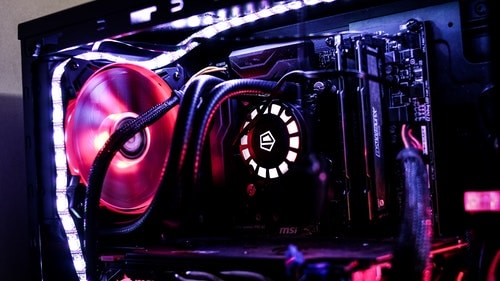 Motherboard
The motherboard is where you mount all the essential components like your CPU, graphics card, RAM modules, SSDs...etc. Hence, you need to make sure that the one you're buying has enough slots for everything you want to mount and is compatible.
Motherboard-CPU compatibility is the main concern. This can be determined by cross-checking its socket and chipset with the CPU's requirements. This information can typically be found in the product specifications.
The Ryzen 5 2600 requires a motherboard that has an AM4 socket and either a B450, X470, or 570 chip. With that in mind, I chose the MSI Gaming Plus B450M.
RAM
'Random Access Memory' or RAM refers to the information that your CPU stores temporarily while it is running. This is information that it requires at that moment and also in the near future, including which webpages you've currently got open in the browser, your unsaved progress so far inside a game...etc.
The greater the RAM, the more temporary data the CPU can hold without having to fetch from your hard drive. Fetching from the RAM is faster which means that games and other applications can be loaded up and updated much quicker.
Most games these days require 16GB of RAM to run smoothly. That's why I chose to include two Corsair Vengeance LPX 8GB modules in the list.  
Storage
Permanent storage comes into main formats: hard disk drive (HDD) and solid-state drive (SSD). Gamers usually prefer the latter as it offers much faster data transfer speeds. SSDs are quite handy when you're dealing with large game files. They can speed up the download/installation process as well as boot up time.
The downside is that you're going to get less storage for the money you spend than if you were going for an HDD.
For this build, I picked the ADATA SU635 240GB. Now, I'm well aware that 240GB is a relatively low amount and it severely restricts the number of games you can have installed on your PC at one time. However, by sacrificing storage, we're able to spend more on RAM and a good graphics card while staying within the $700 budget.
Graphics Card
The graphics card is what allows your computer to render 2D and 3D graphics on the screen. More powerful graphics cards can render more details in games, including more realistic textures as well as smoother physics.
There are a couple of things you should look at when buying a graphics card. For instance, it's Video RAM or 'V-RAM' determines how much data on graphics it can hold at any given time. That's why large open-world/sandbox games require you to have a graphics card with a high V-RAM.
Since we saved money on storage, we can go ahead and splurge on a Gigabyte GeForce GTX 1660 OC which comes 6GB of V-RAM.
PC Case
Your case size should correspond with your motherboard's form factor, whether it's ATX (largest), mini-ITX, or Micro-ATX. In our case, we picked a Micro-ATX motherboard so we can go with any PC case size.
For this build, I chose the ATX case Cougar MX330. Having an ATX case means that you'll have room to add more components in the future, whether it's another RAM module or a case fan.
Power Supply Unit
If you want to determine how much power you need to supply, simply look at the product specs of both the CPU and GPU. In our case, the AMD Ryzen 5 2600 requires 65W while the Geforce 1660 guzzles up 350W. However, if you wanted to overclock the Ryzen, you'll need to provide more power.
Considering this, I chose to go with the Thermaltake Smart 500W.
Best Gaming PC under $700 (Prebuilt)
If you don't want to go through all the hassle of picking out and putting together computer parts, then you might consider buying a prebuilt gaming PC. In that case, I would recommend the SkyTech Blaze (RX 580 Version):
This gaming PC features an older AMD Ryzen 3 1200 Quad-core processor. It has a max clock speed of 3.4 GHz which isn't too bad. However, you might need to overclock to play some demanding games.
This build comes with an AMD RX580 graphics card with 4GB of V-RAM. It should let you play titles like DOOM, For Honour, and Resident Evil 7 while keeping the frame rate well above 74 FPS. However, you'll see the frame rate dip significantly if you try playing newer titles unless you sacrifice greatly on the resolution.
The SkyTech Blaze comes with 8GB of RAM which should be enough for older titles and e-sports games like Fortnite. In terms of storages, this build gives you a 1TB HDD which means that you can have a lot of games installed at any given time.